Ombre nails are taking over as a massive style trend this year. Rainbow ombre kicks things up a notch. Colors are a great way to express emotion and style. And I love that you can go with bright, dark, pastel, or glitter. The sky's the limit. 
I used to worry that rainbow ombre nails were hard to coordinate with my outfits. Fortunately, I got brave and started trying the combination with a variety of closet staples. I'm especially a fan of rainbow nails with bold garments, like red skirts.
If you're looking for some manicure inspiration, check out my favorite rainbow ombre nail designs. And remember, when in doubt, add glitter.
1. Long Neon Coffin Shaped Ombre Nails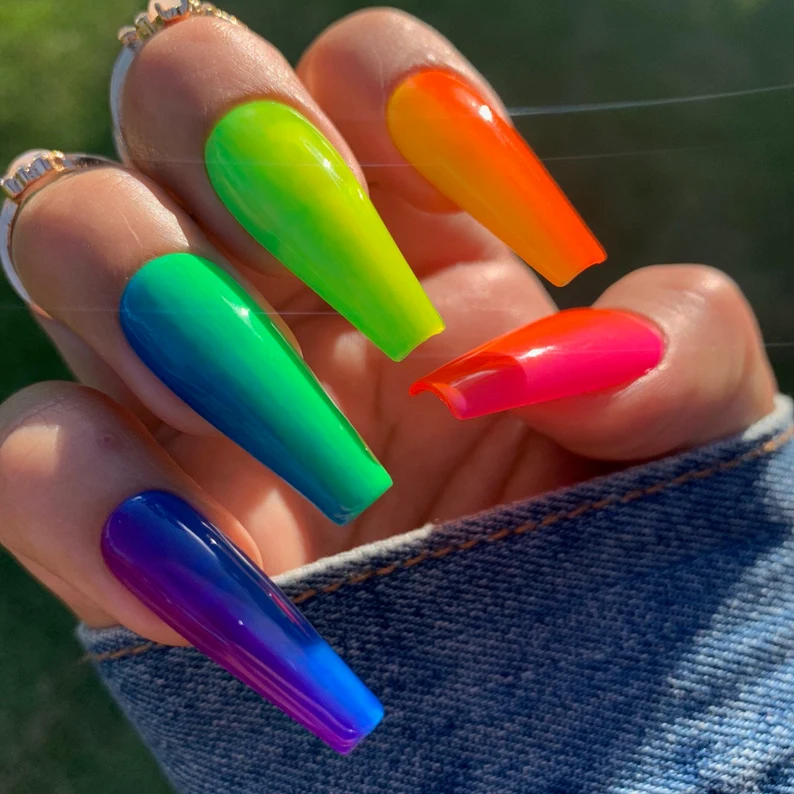 Vivid ombre nails in a gradient of color are my jam. I love how this set of press-ons blends from one color to the next in a striking ombre effect. These are the perfect summer nails. Buy these nails at Etsy.
2. Pastel Rainbow Press-On Nails
Sparkle embellishments add a little fun to these pastel ombre nails. The gradient from baby blue to purple with a rainbow accent is a great combination. Buy these nails at Etsy.
3. Horizontal Ombre Effect on Rainbow Sparkle Nails
These glittery ombre nails look like they've been dipped in sugar. A coffin shape is perfect for the horizontal rainbow gradient the nail artist chose for this look. Buy these nails at Etsy.
4. Short Iridescent Ombre Nails in Pastel Rainbow
How much do you love these short oval nails? They look sweet and feminine in a dazzling array of iridescent pastel colors. That's my kind of rainbow! Buy these nails at Etsy.
5. Rainbow to Nude Ombre Coffin Nails
Ombre nails come in all styles, but I'm obsessed with this color to nude fade. The color blend on these press-on nails is so smooth. I love the selection of bold colors. Orange, pink, yellow, blue, and purple are great choices. Buy these nails at Etsy.
6. Colorful Ombre Selection With Rounded Stiletto Tip
I love the gentle retreat into pink at the base of these nails. The pastel shades look perfect on rounded stiletto tips. I like how versatile this ombre combination is. You could wear this look with anything. Buy these nails at Etsy.
7. Bright Rainbow Gradient Nails With Gemstones
Ombre is more fun when each color slowly blends into a new one. These bright rainbow press-ons do just that. I love the added gemstones on the nail bed. Perfect for pride month or brightening an outfit. Buy these nails at Etsy.
8. Cotton Candy Rainbow Ombre Nails With Glitter
Blue, pink, purple, and green blur together with a pop of sparkle in these flirty coffin-shaped nails. I love how the rainbow ombre looks with glitter added, especially when the twinkle is subtle. Buy these nails at Etsy.
9. Extra Long Matte Rainbow Nails
Pale rainbow nails look divine in matte. There's something elegant about the extra-long coffin shape in pastels. These would look great with a denim jacket. Buy these nails at Etsy.
10. Short Oval Nails in Rainbow Ombre Glitter
I enjoy subtle color changes on ombre nails. This set delicately transitions from one shade to the next. The glitter turns up the volume on these jewel tones. #addsomesparkle  Buy these nails at Etsy.
11. Vertical Ombre Pastels With Square Shape
Vertical ombre nail designs are gaining popularity this year, and I'm digging it. The square shape on these long press-ons enhances the effect. I'm loving the pastel rainbows this season. Buy these nails at Etsy.
12. Ombre Paint Drip Effect on Press-Ons
These unique nails are to die for. I always get excited for artsy effects on press-ons, and this paint drip look is everything! Rainbow ombre over a nude base with a square tip? Sign me up. Buy these nails at Etsy.
13. Ombre Floral Embellishments on Coffin Nails
This spring-inspired design is one of my favorites. Small rainbow ombre flower embellishments in a range of bright and pastel tones. Who says the floral vibe can't be an everyday look? #flowersfordays Buy these nails at Etsy.
14. Ombre Jelly Nails in Rainbow Colors
Jelly shoes are a summer staple. These jelly-inspired nails keep the summer energy going all year long. I love the translucent glossy look of this ombre style. Buy these nails at Etsy.
15. Iridescent Opal Base with Rainbow Ombre French Tips
This set of press-on nails proves short nails can be just as stylin' as long ones. The rainbow ombre french tips look amazing over iridescent opal polish. This look will turn heads. Buy these nails at Etsy.
16. Rainbow and Ombre and Hearts, Oh My!
Rainbows are fun and lovable, making hearts a perfect accessory. These white accent hearts really stand out against the colorful chrome base. Ombre-rific! Buy these nails at Etsy.
17. Nearly Matte Colorful Candy Ombre Nails
These coffin nails remind me of the jelly-inspired set we saw earlier. This set looks more opaque, with a subtle matte finish. I love the bright candy color choices. Buy these nails at Etsy.
18. Ombre Sunsets and Dandelion Fluff
When I was little, I loved making wishes on dandelion fluff. These ombre sunset rainbow nails are super nostalgic. The dandelion silhouettes add a warm, unique touch. Buy these nails at Etsy.
19. Neon Ombre Rainbow Swirl Nail Art
Swirl nail art is trending, and this rainbow ombre design is killer! I'm loving the 90s neon vibes. The nude base was a perfect choice to make these colors pop. Buy these nails at Etsy.
20. Colorful Ombre Almond Nails With Milky Base Coat
The semi-translucent white base on these almond nails adds an opal effect. Ombre tips in varying shades of the rainbow finish the look. This style would look great with a full-color sleeve or hand tattoo. Buy these nails at Etsy.
21. Unicorns, Moons, and Rainbow Ombre Nails
Yas queen! This is such a fun and flirty look. I love how the tiny decals are girly but empowering. Every woman has a little magic in her; why not wear it on your nails. Unicorns, crescent moons, and sparkles. #perfection Buy these nails at Etsy.
22. Wild Texturized Jelly Nails in Rainbow Colors
The ombre effect on these nails isn't the most extraordinary thing about them. Swirly texturized embellishments make these rainbow ombre press-ons totally eye-catching. I enjoy the artistic energy they bring. Buy these nails at Etsy.
23. Holy Flaming Ombre Nails, Batman!
Feeling a little spicy today? These ombre rainbow nails are the perfect accessory. I'm really feeling the subtle white flame decal on these unimposing almond nails. They're subtle but feisty. Buy these nails at Etsy.
24. Retro Square Nails With Ombre Glitter and Hearts
Something about these square nails takes me back. Retro manicures are so in right now! Color ombre glitter on pale pink with heart accent nails is a great combination. Love the shape! Buy these nails at Etsy.
25. Square Tipped Spring Color Ombre Nails
More textured ombre nails! They're everywhere this year, and I really like the jelly-like appearance of this set. It lets the bolder textured embellishment stand out. #squaretipsforthewin Buy these nails at Etsy.
26. Sidewalk Chalk Pastel Ombre Nails
I can't get over these pastel nails. They give me instant sidewalk chalk vibes, but in the best way. Rainbow colors in a dazzling ombre amps up the look. Buy these nails at Etsy.
27. Long Coffin Nails in Jelly Ombre Colors
Get it, girl! These nails are gorgeous. Candy colors with a jelly-like translucent gloss make these my go-to look for beach days. #soakupsomesun Buy these nails at SHEIN.
28. Wide Coffin Nails in Matte Cotton Candy Ombre
Love! These stunning matte nails are ethereal and feminine. Baby blue, pastel pink, and a hint of purple put these ombre nails at the top of my list. The extra wide coffin tips are so unique. Buy these nails at SHEIN.
29. Mix and Match Rainbow Ombre With Heart Accent Nails
This is a fun set of press-ons. Ombre rainbow nails and solid accent nails with heart embellishments are a surprisingly sweet combination. I like how the ombre nails are different, but the colors are cohesive. Buy these nails at SHEIN.
30. Bright Rainbow Nails With Texturized Ombre
This adventurous little set of press-on nails offers a fun textured effect. Rainbow ombre and solid pink accent nails will have you feeling like a unicorn princess. The almond shape is a great touch. Buy these nails at SHEIN.
31. Crazy-Long Square Shaped Nails in Rainbow Pastels
This manicure is outrageous! Super-long square nails in pastel rainbow ombre make a statement. I adore the interspersed solid nails as accents. It really ties the look together.
32. Vertical Ombre Stiletto Nails With Black Drip
This rainbow look has witchy vibes, perfect for autumn. The bold colors change gradually from nail to nail in a vertical ombre effect. I love the black paint drip accents.
33. Perfectly Pastel Rainbow Ombre French Tips
Pastel french tips blend onto a nude base to create the perfect ombre rainbow. This design is even sweeter in a short coffin style. These nails are youthful and fun!
34. Almond Ombre French Tips
Bright, colorful, ombre french tips make these almond nails shine. I have an affinity for long nails, but this medium style is perfect for the shape and color.
35. Rounded Square-Tipped Nails in Bold Rainbow Ombre
Long rounded square shaped nails elongate this ombre look. I've seen a lot of rainbow ombre designs, but these bold colors stand out. I love the intense orange and bright blue.
36. Water Drop Effect on Rainbow Ombre Nails
Check out the 3D water drop effect on these cute little square-tipped nails. The colors are beautiful, but the embellishments are what really make them unique. The white swirls at the tips enhance the watery vibes.
37. Stars, Moons, and Palm Trees With Rainbow French Tips
Bonfire beach nights are the perfect setting for these tropical nails. Black stars, a moon, and a palm tree add depth to a natural nail base with colorful french tips. The ombre on the rainbow tips gives off sunset energy.
38. Ombre Mermaid Colors With Sparkly Embellishments
I can't get over these mystical colors! These nails have "mermaid" written all over them. Even the added sparkle at the edge of each nail creates a glittery scale look. #underthesea
39. Short Round Ombre Nails in Colorful Gradient
Vertical ombre rainbows add a bold touch to these short round nails. Sometimes short nails are difficult to dress up, but this colorful design does the trick. I'd love to see this with some tie dye. 
40. Ombre Easter Egg Rainbow Nails With Floral Accents
The pastels on these short almond nails give me Easter energy. I like how the ombre effect is subtle compared to the bold flower accent nails. These are a great spring nail look.
41. Iridescent Glitter Rainbow Manicure
Shimmery iridescent ombre nails are my jam! I can't get enough of this gel polish look. It changes colors in the sunlight, alternating ombre rainbows from nail to nail.
42. Almond Nails with Rainbow Tips and Gemstones
These unique french tips slay. The extra line just below the ombre tip gives it a ballet slipper appearance. Gemstones add to the girly vibe. #funandflirty
43. Extra Long Flower Power Ombre Nails
Super long square nails stun with bright tips fading into pastel ombre. Tiny white and colorful daisies add a flower power vibe I'm really feeling. I'd wear these with a floral crop top and low-rise jeans.
44. Ombre Jelly Nails With French Tip Outline
A solid outline at the tip of each nail creates the perfect border for this rainbow ombre design. Square tips are a nice vessel for this look. Loving the translucent candy colors.
45. Stiletto Rainbow Nails With Inverted OmbreEffect
Most ombre nails start at the tip. These stiletto rainbow nails offer an inverted effect. I love the subtle glitter on each nail. It creates a frosted look at the tip of these press-on nails. 
46. Rainbow Ombre Glitter and Gemstones
Glittery rainbow nails razzle-dazzle with ombre and gemstone embellishments. I love this look on almond nails. It adds a little je ne sais quoi to the design.
47. Cheetah Print on Ombre Rainbow Stiletto Nails
Stiletto tips are feisty, to begin with. Add neon colors and cheetah print to the mix, and you've really got something. I adore this wild manicure design for adding a pop of color to an otherwise dull day.
48. Wet and Wild Ombre Manicure
If you thought those animal print nails were wild, check out these 3D water drops. This set of rainbow ombre nails looks like it just came out of the pool. I like the way the colors look through the embellishments. 
49. Vertical Ombre Colors on Super-Short Nails
There should be more hype for natural short nails. This beautiful ombre rainbow design adds life to short oval nails. This is a great look between gel or press-on sets.
50. Artsy Floral Rainbow Nails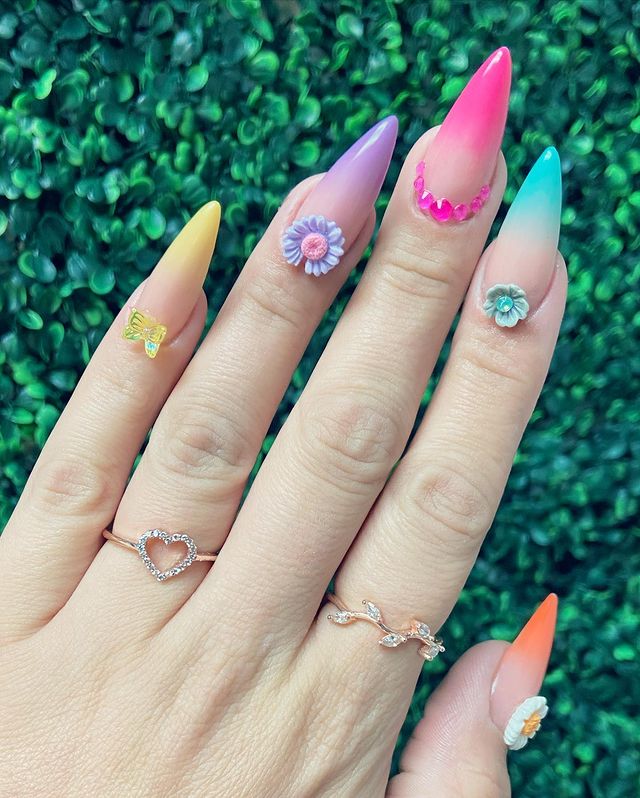 I can't stop staring at these ombre floral rainbow nails. The 3D flower embellishments accent the color of each nail. They're vibrant, girly, and totally fun. 
51. Dark Rainbow Ombre With Gold Leaf
Rainbow nails rarely use gold leaf. These darker colors make the metallic embellishment stand out. The matte finish also adds to the sparkle in the gold. #perfectpairing
52. Iridescent Glitter in Ombre Tipped Almond Nails
Rainbows are eye-catching already, but throw some glitter at them, and wow! These iridescent ombre rainbow nails are jaw dropping. Talk about mermaid vibes.
53. v-Shaped Ombre French Tips
French tips are my fave. These rainbow tips are so funky within a v-shaped pattern. Although the nails are round coffin tips, it adds a little stiletto vibe to the look.
54. All Glitter All the Time Stiletto Rainbow Nails
These super long stiletto nails really shine. I love the translucent appearance of this manicure. It creates an illusion of glitter suspended in jelly. The length and shape make this design a star.
55. Rainbow Ombre Pastels With Gold and Flower Embellishments
The marbling look of these pastel ombre nails makes them super unique. I adore the added gold leaf for a geode effect on the transition line between colors. The use of color is really smart here. Orange makes the gold pop.
56. Melted Gummy Bear Coffin Nails
Many rainbow nail styles resemble candy, but this one takes the cake. Bright colors blend together in a melted gummy bear-inspired ripple of a rainbow. #yum
57. Leopard Print and Rainbow Ombre Nails
More wild animal print on ombre! I really enjoy the choice of color here. It has major Lisa Frank vibes. The black leopard print adds just a little touch of fierceness to the design.
58. Vertical Ombre in Bright Rainbows With Flower Decals
Black floral outlines bring life to these neon nails. I really like the vertical ombre look on this set of almond press-ons. If you're looking for a way to jazz up a rainbow, this is it.
59. Asymmetrical Ombre French Tips
The asymmetrical french tip is back. I love the scalloped edging of the french tip in gold. The metallic shine adds to the glossy effect on these nails. Ombre rainbows bring the look to life. 
60. Sparkly Square French Tips in Ombre Rainbow
Rainbow french tips seem to be a theme. This set of nails does it in style with glitter ombre tips. The shape of the french tip resembles an oval nail, while the actual press-on is a square tip.
61. Intergalactic Ombre Space Rainbows
A fully black base coat with a smoky neon rainbow ombre creates an intergalactic look I love. The black really accents the bright colors and sparkling details.
Summary and Top Picks
This blog shines a light on my love of rainbow ombre nails. Being fearless with color opens the doors to so many amazing style combinations. I hope you found a few new looks to try out on your own nails. 
I adore all of these colorful ombre designs, but these are my favorites:
#5 Rainbow to Nude Ombre Coffin Nails: Coffin nails just look better in rainbows. This ombre style looks fantastic blended onto a nude base.
#26 Sidewalk Chalk Pastel Ombre Nails: Pastels are one of my favorite color profiles in ombre nails. These sidewalk chalk-inspired shades are flawless!
#51 Dark Rainbow Ombre With Gold Leaf: Dark ombre rainbows are hard to come by. These deep colors accentuate the glitter in gold leaf embellishments. 
Rainbow ombre nails are already eye-catching, but I love being bold with length and embellishments. When you wear rainbow ombre, do you prefer a subtle or vivid style? Comment and let me know!