We all have a favorite nail color but there are times when we just don't want to choose. I mean, can't we have it all? Of course we can. I'm about to ease some of your concern because I've got the solution of ombre nails. 
Ombre nails feature a gradient of colors and tones. You must be seeing this cute style everywhere because they are continuously trending. The freedom you have to combine different colors is what draws a lot of people into the ombre nail mania. 
Oftentimes, a light color blends flawlessly into a darker shade, but it can be the other way around too, and with the bonus of cool nail art, they can really boost your mood.
That's why, I've compiled a list like none other of 100 amazing ombre nail ideas. Be prepared to bookmark this page for all the ombre nail inspo that you'll need this year.
1. Nude Ombre French Tips
Let's lay the foundation with nude ombre french tips. It's a staple nail look that can be worn with any outfit and it'll complement it perfectly in a chic way. You can get these nails at Etsy.
2. Luxurious Nude and Silver Glitter Ombre Coffin Nails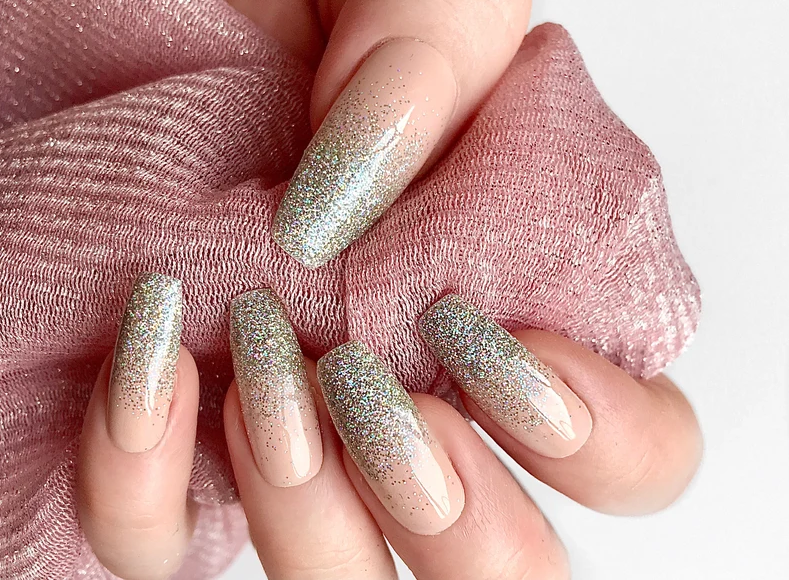 Be dramatic, in a classy fashion; with silver glitter cascading from a nude base, an automatic and stunning ombre finish will be created, giving your nails a luxurious look. You can get these nails at Etsy.
3. Glossy Wine Red and Black Ombre Coffin Nails
Go for a sultry vibe with wine red and black ombre nails. Both colors are daring with an aura that will cause anyone to stare. Plus, a glossy finish equals femininity. You can get these nails at SHEIN.
4. Sophisticated Gray and White Ombre Coffin Nails
Be a part of the ombre nail trend with this crisp and sophisticated look. Gray and white are neutral shades, but they are far from dull, especially when combined together for a classy blend. You can get these nails at Etsy.
5. Cute Rainbow Ombre Coffin Nails
Go rainbow style with cute multi-colored ombre coffin nails. Wear them to add a fun flair to your favorite pieces that you'll be rocking in Spring. You can get this nails at Etsy.
SEE ALSO: 35 Rainbow Nail Design Ideas Trending
6. Pastel Multi-Colored Ombre Coffin Nails
Enjoy softer multi-colored nails with a pastel gradient. A combination of purple, blue, white and pink makes for an adorable ombre design that grants a fresh, youthful look. You can get these nails at SHEIN.
7. Blush Pink and White Glitter Ombre Coffin Nails
With a little glitter you can make white and blush pink ombre nails even more mesmerizing. Accessorize your fingers with stacks of gold rings to easily enhance them. You can get these nails at Etsy.
8. Deep Blue and Purple Ombre Nails with Silver Glitter
Overlays of glitter on dark-toned nails are ideal for that exciting night-time event. Show up for the occasion in ombre deep blue and purple nails blended into silver sparkles for that picturesque quality. You can get these nails at Etsy.
9. Bold Matte Red and Black Ombre Coffin Nails
Now for a matte red and black ombre nail design. It's a bolder look than the beautiful glossy version listed above and can be worn for a more mature and posh appearance. You can get these nails at Etsy.
10. Blush Pink and Gold Glitter Ombre Coffin Nails
These blush pink, gold glitter ombre nails remind me of prom night or even a dolled up bridesmaid because of the soft pink shade and the femininity of the gold glitter that give a sentimental aura. You can get these nails at Etsy.
SEE ALSO: 21 Mind-Blowing Long Natural Nail Design Ideas
11. Bright Pink and Orange Butterfly Ombre  Nails
Looking to step out of your comfort zone? Incorporate cute butterfly nail decal along with pink and orange ombre nails for an outdoorsy color combo that will brighten up any outfit. You can get these nails at Etsy.
12. Nude Ombre Coffin Nails
Neutral nails are leading the way right now, thanks to their easy-going and chic undertone that suits every season, particularly fall. 
If you want your neutral nude nail look to be more intriguing choose an ombre style that fades into lighter shades such as cream. You can get these nails at Etsy.
13. Flirty Purple and White Ombre Coffin Nails
Pastel white and purple ombre nail designs will definitely give you the sweet, flirty look you're aiming for. These nails would look so adorable with a floral dress and white sneakers. You can get these nails at Etsy.
14. Pale Yellow and White Ombre Nails
Rock these pale yellow and white ombre nails for a light-toned and laid-back nail look. If you don't want to bring too much attention but still look trendy, this look is just for you. You can get these nails at Etsy.
15. Pastel Pink and Purple Cloud Ombre Nails
Set a relaxing atmosphere with pastel pink and purple ombre nails with a cute cloud decal. It's a dreamy design to amp up your daily looks. You can get these nails at Etsy.
16. Sparkling Light Coral Red Ombre Nails
Make this sweet light coral red nail look your own and have fun with some glitter on top. The sparkling effect is a classy touch that is also adorable. You can get these nails at Etsy.
17. Nude Peach and White Ombre Nails
Long coffin nails can give you a mature and elegant vibe with the right blend of colors. Go for a nude peach and white ombre look to make it happen. You can get these nails at Etsy.
18. Nude and Orange Ombre Nails
Stand out in nude and orange ombre nails for a stunning design that is fitting for Spring. Nude being a neutral color creates a flattering contrast with the vibrant tone that orange has. You can get these nails at Etsy.
19. Nude Pink and White Rhinestone Ombre Nails
Make your nails a statement look that no one will forget by adding rhinestones. The silver sequins will enhance the beauty of pink and white ombre nails, taking them from simple and cute to oh so fancy! You can get these nails at Etsy.
20. Shiny Purple Ombre Nails
Feel magical in these beautiful glossy purple ombre almond nails. They have a shiny mirror effect that makes this look extra special. You can get these nails at Etsy.
21. Deep Purple Ombre Rhinestone Nails
Still in the mood for purple but with a bit more oomph? Try ombre stiletto nails that feature a wine purple shade fading into a much darker hue. Embellish one in a full layer of rhinestones for a classy touch. You can get these nails at Etsy.
22. Girly Nude and Pink Ombre Nails
I think I speak for all of us women when I say we absolutely adore nude and pink. Brought together in an ombre nail look we have a toned-down aesthetic that's complemented by a dash of girliness on each tip. You can get these nails at Etsy.
SEE ALSO: 100 Pink Ombre Nail Design Ideas
23. Long Nude and Brown Ombre Square Nails
If I could describe all this ombre perfection I'd say it reminds me of vanilla ice cream dipped into chocolate goodness with a nude base and milky brown tips. It's amazing how our nails can create the most beautiful depictions. You can get these nails at Etsy.
24. Adorable Periwinkle Blue and Pink Ombre Nails
It's as if the sun was setting in these periwinkle blue and pink ombre nails, and despite being on two different sides of the spectrum, the gentle tone of these adorable colors offers a relaxing vibe. You can get these nails at Etsy.
25. Nude Cheetah Print Ombre Nails
Short and sweet always does it for me, and I love a good nail print that can really put my nails on display; as seen here with these stunning nude ombre nails, shown off by a stylish cheetah print. You can get these nails at Etsy.
26. Matte Multi-Colored Ombre Nails
Multi-colored ombre nails are snatching hearts everywhere these days, including mine. A mix of all your favorite colors in a matte finish can make wearing nails exciting again. Try this look to get that feeling.
27. Glossy Red and Hot Pink Ombre Nails
Red is such an alluring color in and of itself. Fused with hot pink and a glossy glaze, an even more attractive nail look is brought to life.
28. Elegant Nude and Gold Shimmer Ombre Nails
Another ombre nail look with a gorgeous mirror effect; this time, a nude base melding into shimmering gold. With such beauty and elegance, it could be your go-to choice for your wedding day.
29. Pink Ombre Stiletto Nails
If you're a lover of pink, honor that with an ombre blend of some of its shades. Sometimes adding a twist to your fav color can make it more exciting to wear.
30. Cute Nude Peach Ombre Nails
With this ombre design, it's as if you're wearing your natural nails because of how casual neutral shades are. Opt for a nude peach blend to achieve this cute look.
31. Matte Yellow and White Ombre Nails
Yellow and white ombre nails have a lively vibe but they can still complement a classy occasion because no color is overpowering the other. This blend also works for Spring and Summer because of their warm sunny feel.
32. Glossy Blue and Black Ombre Nails
Blue is a conservative and classy color that can be easily associated with all occasions and times of the year. That's one of the reasons it has become a staple nail look even for me. 
Blend blue along with black, another elegant shade, for an ombre nail look, and for that beloved sheen that makes your nails stand out, choose a glossy finish.
33. Multi-Colored Neon Ombre Nails
A mix of bright neon colors with an ombre design is a nail look worth wearing. Play around with a variety of colors and tints, from dark cyan to light green along with tangerine and yellow.
34. Matte Dark Violet and Lavender Ombre Nails
Who doesn't love purple? A girly color that is also sophisticated. An ombre look gives you the opportunity to include multiple shades of this fabulous color.
So, here's an idea; fade dark violet into lavender for one of the most beautiful blends. Seal the deal with a matte finish for the ultimate frosted nail look.
35. Short Glossy Pastel Pink and Purple Ombre Nails
I'm always so mesmerized by pink and purple nails, especially in pastel shades, and when the nails are short acrylics that are glossed over, it makes for such a neat and pretty design.
36. Glossy Pink Ombre Coffin Nails
Give your ombre nails a boost with the introduction of a brighter shade of the same color. With a light pink base that melts into bubblegum pink these glossy ombre coffin nails will be above the ordinary.
37. Short White and Sapphire Blue Ombre Almond Nails
Definitely save this look for winter because while you may be dodging the cold all season you'll still want to look cute. Make it happen with a white base that fades into a faint sapphire blue tip. 
Overall, this short almond shape nail look is giving me arctic-ocean vibes.
38. Short Dazzling Rainbow Ombre Nails
Try rainbow-colored nails in a stacked gradient design for a dazzling look that's easy to pull off. In spite of the multitude of colors, each shade has a subtle quality so none is overpowered.
39. Short Gray and Pink Glitter Ombre Nails
Ever thought of rocking a pink and gray ombre nail look? Well, consider this encouragement to do so. After all, they are two key colors that deliver a classy appearance. So, go for it, with a sprinkle of silver glitter.
40. Multi-Colored Tie Dye Glitter Ombre Nails
There's so much you can do with an ombre nail style such as adding a tie dye effect. If even just at the tip of your nails, a tie dye design will take them to a whole other level of cool.
41. Nude Peach and Coral Red Ombre Nails
Make your nails pop by extending a nude peach base into a beautiful coral red color. This look is ideal for brightening up your daily ensembles, and as you can see, these ombre nails look amazing with denim.
42. Nude and Pastel Purple Ombre Nails
A nude base paired with any muted shade promises a simple and adorable nail look. Bring it all together with pastel purple for a sweet and subtle ombre effect.
43. Purple Holographic Ombre Nails
A lot of women have been catching on to the holographic nail wave recently but these extraordinary nails have been around for a long time. I even remember Beyonce rocking them at the Grammys in 2010.
Holographic nails look great in an ombre style because of the glaring sheen and mirror effect that they give. You can tone this purple ombre look down a bit by keeping a few of your nails in a single shade for a more versatile finish.
44. Black, Brown and White Reversed Ombre Nails
When we're getting our nails done in an ombre design, the lighter shade is generally situated at the base of our nails with the darker shade at the tip but let's agree that there should be no limitations to creativity.
Switch it up and try a reversed ombre look with a black base that fades beautifully into a light brown and white tip; a combination of fun and classy.
45. Short Red Ombre Nails with Silver Sequins
A single accent is all you need to enhance a short and elegant red ombre nail look. Go for silver sequins; they always look stunning with red.
46. Multi-Colored Metallic Ombre Nails
Here's a metallic nail look that is simply out of this world. Various colors make this ombre design what it is; Purple, blue and black, all disappearing into a shimmering gold tip.
Vibe with these ombre nails at a fun party or wear them just to make a statement.
47. Long Blue and Purple Ombre Almond Nails
If you don't want to stick to blue only, invite purple into your ombre nail look. Both purple and blue are known to complement the other effortlessly. Plus, including a different color will make your nails a lot more interesting.
48. Glossy Brown Ombre French Tips
If you want to maintain a nature nail look that is also very cute, I recommend subtle brown tips with a clear base. Because brown is considered a neutral color it blends well with clear polish. Complete this look with a glossy top coat.
SEE ALSO: 100 Vibe-Worthy French Tip Nail Design Ideas
49. Girly Matte Peach and White Ombre Nails
Still in the mood for a natural nail design? Peach and white ombre nails are another great option that will also give you girly flair. Opt for a matte finish for added sophistication.
SEE ALSO: 50 White Acrylic Nail Design Ideas That'll Blow Your Mind
50. Elegant Silver and Jade Green Glitter Ombre Nails
Shine bright like a diamond in silver and jade green ombre nails. Add glitter all over for an elegant ball-worthy appearance.
51. Yellow Ombre Nails with Gold and Brown Nail Decal
Long square shaped nails really have a unique and high fashion look. With this nail shape, wear a yellow-ombre lacquer with gold and brown nail art to make them even more gorgeous.
52. Black, Light Pink and Gray Rhinestone Ombre Nails
Black looks amazing with everything, including with a light pink and gray ombre effect, stylized by classy bronze accents. Go for a long coffin shape so your nails can have a lasting impression.
SEE ALSO: 50 Black French Tip Nail Design Ideas That are Trending Now
53. Glossy Nude and Mauve-Brown Ombre Nails
Muted nail colors allow you to look fab but with a subtle touch. Accomplish that vibe with a nude base and mauve-brown gradient, executed to perfection with a glossy glaze.
54. Glossy Nude and Dark Brown Ombre Coffin Nails
Speaking of fab with a sense of subtlety, coffin nails coated in a nude and dark brown ombre style are just what you need if you're aiming for an au naturel look. 
These nails will look stunning with a casual get-up but also ultra-chic with your dressier closet favs.
55. Matte Multi-Colored Daisy Ombre Nails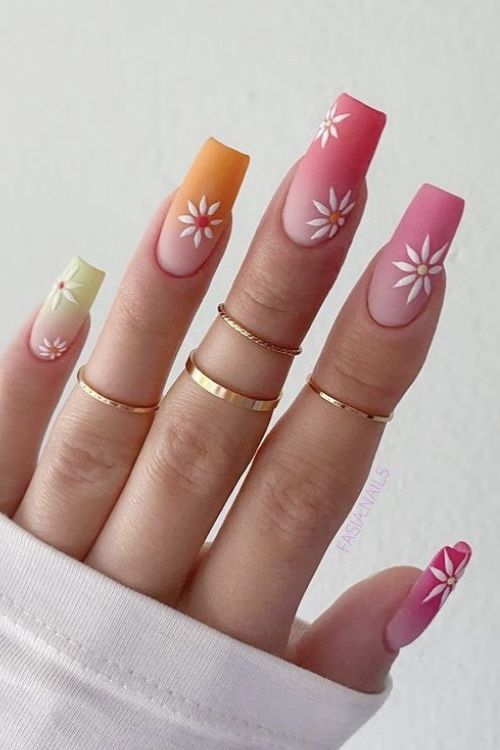 Multi-colored ombre nails are already beautiful but imagine adding cute decor in the form of daisies with a matte finish for a certified Summer look.
56. Short Glossy Red and Light Pink Ombre Almond Nails
Take the edge off of bright red almond nails with a touch of light pink at the tip for an ombre effect. I'd style these nails with gold accessories for that additional glow.
57. Short Deep Purple and Mauve Ombre Almond Nails
With a gradient of deep purple to mauve, these short ombre almond nails are super cute, with a sheen that makes them all the more beautiful.
58. Stunning Sky Blue and Baby Pink Floral Ombre Nails with Rhinestones
Here's a wedding-worthy nail look for you to try out. Whether it's for your special day or if you're just attending, sky blue and baby pink form a stunning combination. Embellish suitably with pink floral designs and rhinestone accents.
59. Tropical Peach and Yellow Rhinestone Ombre Nails
Tell me you absolutely love the tropics without actually saying it, or maybe you're headed for vacay in the Caribbean. 
Either way, these ombre nails will be perfect for you; a peach and yellow gradient with nail decals of coconut trees, along with rhinestone accents for that extra wow factor.
60. Exquisite Orange Gold Glitter Ombre Almond Nails
An easy way to beautify simple orange ombre nails? Simply add gold glitter. Gold and orange make an exquisite combination.
61. Short Black and Red Glitter Ombre Nails
Upgrade a signature black and red ombre nail look by flaunting one in a full coat of red glitter. I guarantee it's the first thing everyone will see wherever you go.
62. Bright Blue Ombre Nails with Gold and Black Glitter
You can also accomplish a stunning ombre effect with glitter on your nails. With a bright blue base, gold and black glitter take turns to make these medium coffin nails sparkle.
63. Short Glossy Black and Green Ombre Nails
Celtic green is one of those shades that really shine at formal events. If you're wondering what nail look to wear for a special occasion, these short glossy black and green ombre nails are more than worth your while.
64. Lime-Green and Silver Metallic Ombre Stiletto Nails
Metallic silver nails are so stylish that they are many times worn without any other color or nail art but you can add your own twist by coating your tips in a bright lime-green shade to create a unique color gradient.
65. Short Red and Black Flame Ombre Nails
Bring your a-game with a red and black flame ombre nail design. This look is really sending a message as the colors red and black, as well as, the flame art all represent the same thing, and that's boldness.
66. Pastel Multi-Colored Holographic Ombre Nails
Bring a balance to shiny holographic nails with a pastel theme of purple, green and pink. These nails look amazing in warmer seasons. Just envision the sun hitting that holographic surface.
67. Glossy Dark Blue Ombre Nails
A light and dark blue gradient nail look is simple and easy to do. The great thing is blue can be enhanced by either gold or silver accents and accessories, thanks to its versatility.
68. Black and Red Glitter Ombre Coffin Nails
Complement an all-black outfit with these stunning red and black ombre nails, sparsely decorating them with just a bit of glitter to highlight this look even more.
69. Luxurious Black and Purple Rhinestone Ombre Almond Nails
Black and purple make for such a super cool ombre nail look and with glitter, rhinestone accents and a glossy finish, these almond-shaped nails are nothing short of luxurious.
70. Chrome Burgundy and Rose Gold Ombre Nails
Look trendy in beautiful burgundy and rose gold ombre nails. This look has a chrome finish that brings a posh appearance to your outfit of the day while also bringing more attention to shiny jewelry.
71. Short Light Pink and Taupe Ombre Coffin Nails
Keep it simple with light pink and taupe ombre nails. Along with its short coffin shape these natural-toned nails are neat and modest, and would work well with office wear.
72. Dreamy Pastel Pink and Purple Cloud Ombre Almond Nails
Cloud nail decals are increasing in popularity and will look perfect overlaying pastel pink and purple ombre nails because they all exude a dreamy daytime ambience. Go for a glossy almond shape to give your nails a girly flair.
73. White and Black Glitter Ombre Almond Nails
You can add intrigue to a solid white almond nail look by lending a few of your nails to an ombre design, with the inclusion of black and glitter on top to make them sparkle.
74. Glossy Nude and Cedar Brown Ombre Coffin Nails
For an ombre look that you can wear everyday, I recommend a nude and cedar  brown mix with a glossy glaze. These nails are so cute and not too loud, so they'll blend right in with your casual day to day pieces.
75. Beautiful Blush Pink and White Gold Glitter Ombre Nails with Floral and Marble Decals
These are hands down some of the most beautiful ombre nails I have ever seen; a blush pink and white gradient adorned by a floral design, marble overlay and gold glitter. I'd rock this look for a birthday celebration or another festive event.
SEE ALSO: 40 Pink and White Nail Design Ideas That Are Trendy AF
76. Pastel Turquoise Ombre Nails
Have you ever worn your nails in a pastel turquoise tint? Now's your chance. This cute ombre look is girly and just right for Spring.
77. Short Lilac and Pink Ombre Glitter Nails
These nails are as adorable as it gets with lilac and pink teaming up for an ombre finish. Definitely add some glitter to these short nails to really make them shine.
78. Pink Floral Ombre Nails
Try these short pink ombre nails for a dainty appeal with a cute floral nail decal to enhance this femininity of the entire look.
79. Purple and Black Ombre French Tips with Silver Glitter
Bring your nails to life with a clear base that fades into a purple and black ombre tip. Complete this gradient look with silver sequins for pops of shimmer.
80. Nude and Pink Floral Rhinestone Ombre Square Nails
Coat square-shaped nails in a nude and pink ombre design for an ultra-chic and feminine aura. Up their vibrancy with bold floral and rhinestone nail decal.
81. Classy Light Pink and White Ombre Almond Nails
Display simplicity and elegance with light pink and white ombre nails. With these subtle colors on almond-shape nails, you'll have a classic look fit for your favorite girly outfits.
SEE ALSO: 100 White Nail Design Ideas That Are Trendy AF
82. Edgy Blue and Black Ombre Almond Nails
Give an edgy vibe to lapis blue nails with black at the base of each along with a glossy finish. This look is perfect if you're in a laid-back mood but still want to keep your nails trendy.
83. Short Glossy Gray and Black Ombre Nails
For a chic look that is long-lasting go for gray and black in a dip-powdered ombre finish. Enhanced by a glossy sheen, these neutral nails will look anything but dull. Accessorize with silver jewelry to complement them well.
SEE ALSO: 100 Black Nail Design Ideas That Are Trendy AF
84. Short Azure Blue Glitter Ombre Nails
Blue nails are always flattering and are considered among the trendiest nail styles that women love. Try this stylish option the next time you get your nails done; a beautiful azure blue shade with navy blue glitter at the tips.
85. Stunning Nude Peach and Black Ombre Nails with Gold Glitter
I've seen this stunning look several times on social media and it's no wonder why. It's a unique nail design and a great blend between girly and sophisticated. 
It starts off with a nude peach base that ends in a black tip with a sparkling strip of gold down the middle.
86. Short Glossy Light Pink and White Ombre Nails
Sometimes you just want your nails to have a glossy glaze so you can look and feel cute everyday. When you're in the mood for that practical, feminine style go for short light pink and white ombre nails.
87. Light Pink and Silver Holographic Ombre Coffin Nails
The fun thing about nails is you can try as many styles as you want to make them unique. Push past the limits by coating your nails in a light pink base with silver holographic tips for a funky and fabulous finish.
88. Long Bright Pink and Yellow Ombre Almond Nails
Accomplish a bold nail look that is also super cute with a gradient style of long bright pink and yellow almond nails. These are signature spring shades that offer you a bubbly and fun demeanor.
89. Chic Nude and Brown Coffin Nails
Play around with multiple shades of brown over a nude base in a stunning ombre style that will elevate absolutely anything you wear.
That's the beauty of the color brown; although neutral and subtle, it's chic. Add extra glam to this coffin nail look with a rhinestone accent here and there.
90. Cute Yellow Sunflower Ombre Coffin Nails
Yellow is one of the most popular colors worn during Spring. Stand out with your yellow ombre look by adding cute nail art. A beautiful sunflower over a glossy top coat will make a world of difference.
SEE ALSO: 100 Cute Nail Design Ideas That Are Trending Now
91. Glossy Pastel Purple and Blue Sequin Ombre Nails
Ombre nails create a great foundation for some stunning designs. In this look, there's an adorable gradient of pastel purple and blue, highlighted by a glossy overlay and sequins.
I also love the cross between the coffin and stiletto nail shapes; proof that you can be as creative as you want with your nails.
92. Matte Turquoise Ombre Coffin Nails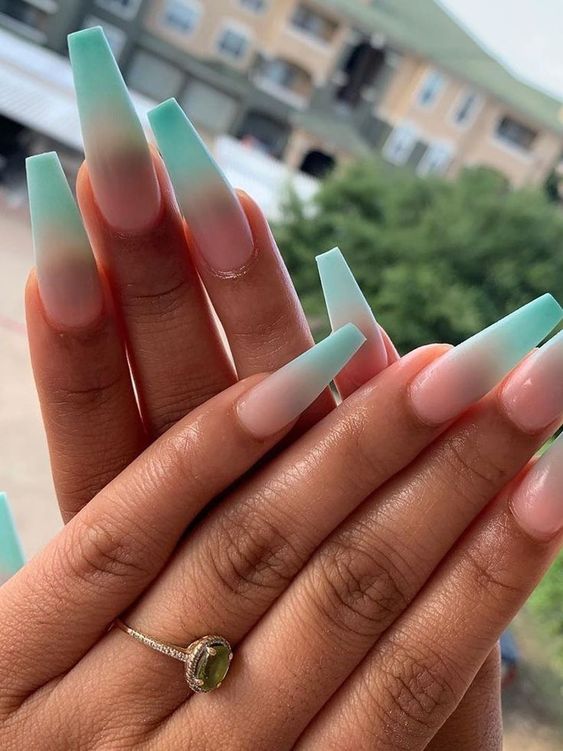 Turquoise is one of the most sweet and feminine shades that also gives a sense of sophistication. It can be worn all by itself in an ombre design or you can spruce it up with silver accents.
93. Gorgeous Pastel Pink and Yellow Ombre Coffin Nails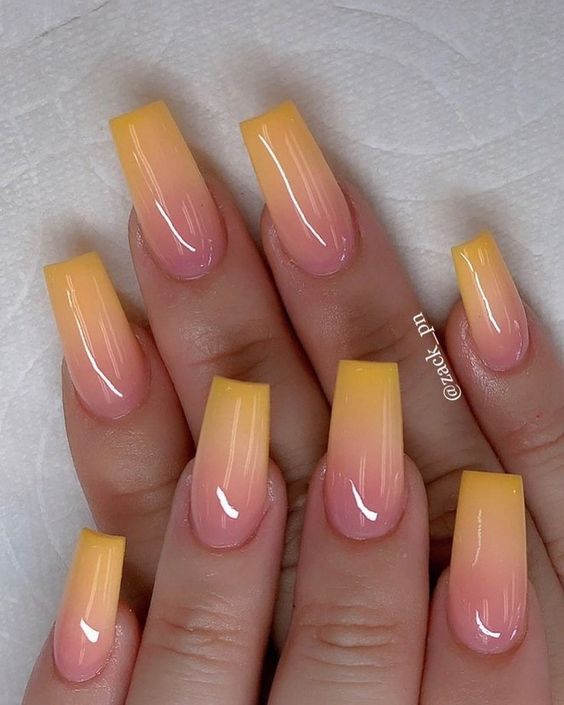 Pastel pink and yellow are two shades that easily complement each other and will give you a gorgeous ombre nail look. Complete the view with a glossy finish.
94. Yellow Rhinestone Ombre Coffin Nails
Yellow typically has a cheerful and personable vibe. You can add to that effect with gold rhinestone accents over a yellow ombre look for a classier approach.
95. Yellow and Green Butterfly Ombre Coffin Nails
Be bold and beautiful in yellow and green ombre nails. Add your own touch and make them even more fashionable with butterfly nail decal.
96. Elegant Short Burgundy Rhinestone Ombre Nails
Opt for elegance with short burgundy ombre nails. Accentuate this easy to do look by adding just a few cute silver rhinestones in a crescent shape at the base of one of your nails.
97. Short Peach and Pastel Orange Ombre Round Nails
Here's a trendy cute nail look that you can rock all season long; peach and pastel orange ombre nails with a short round-tipped shape that really ups the youthful aura.
98. Chic Glossy Gray Ombre Almond Nails
Maintain a sense of mystery in stylish gray ombre nails. It's amazing what this neutral shade can do for your nails as gray is often seen as a dull color but, in fact, it adds a mature and chic appearance.
Go for a short almond shape to add a girly twist.
99. Pastel Purple Glitter Ombre Nails with Floral Nail Decal
Beautify pastel purple ombre nails with an array of designs; add some shimmer with purple glitter at the tips and a few silver sequins, along with beautiful floral nail art.
100. Mix and Match Pastel Ombre Coffin Nails
How about this beautiful mix and match ombre nail style? It consists of a variety of muted shades for a girly look with a coffin shape that is a classic choice for everyday wear.
Summary and Top Picks
Ready to flaunt some ombre nail looks? After this amazing list I can totally relate. There's just so many to choose from and they all give you a brand new feel, so much so that you can't try just one.
There are a few faves that I see myself wearing soon though, and these are, looks 14, 24 and 37 because I believe they would look gorgeous for Spring since it's right around the corner.
What do you think? Of all these beautiful ombre designs, which ones peaked your interest and made it on your immediate to-do list? Share your views along with any questions you have down below.