There's no limit to my love for brown nails. I always say that the impact color now has in the world of fashion is mind-blowing. Brown is slowly becoming the hue everyone wants to wear, even on their nails.
Each shade of brown has its own unique appeal, but one of the most stunning is mocha brown. Mocha brown can be found in a variety of tints, but there's one common characteristic in all. This rich tinge has a subtle undertone that adds a warm, silky touch.
Some of my favorite brown nail designs are centered around this gorgeous shade using the popular acrylic technique, and I just know that by the end of this compilation, you'll be teeming with inspiration. 
To give you an idea, we'll be discussing mocha brown acrylic nails in gradient designs, abstract patterns, and paired with decorative accents. You'll be in awe of the looks you're about to see! Let's begin!
1. Dark Mocha Brown Acrylic Almond Nails With Swirls
Let's kick things off with a deep mocha brown swirl design. It's accompanied by swirls in nude and black for a chic contrast, then played up by gorgeous gold glitter for a classy finish. Buy these nails at Etsy.
2. Mocha Brown Gradient Acrylic Coffin Nails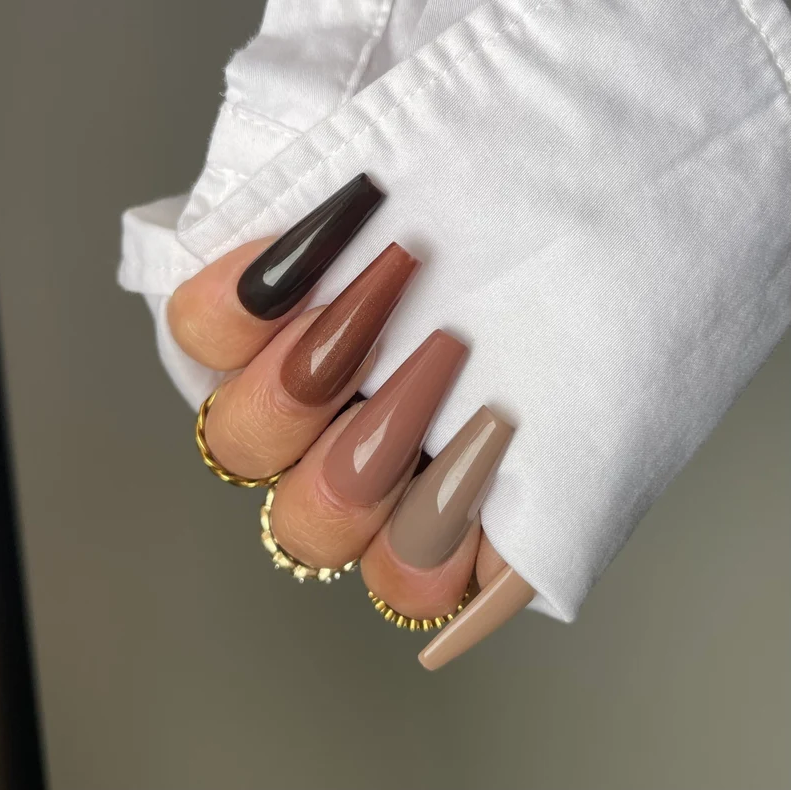 These mocha brown nails are something else! The gradient design is my favorite part which helps keep this look interesting. 
The theme begins on the thumb with a light mocha nude shade before deepening to dark brown on the pinky. Buy these nails at Etsy.
3. Matte Mocha Brown Gradient Acrylic Coffin Nails
Here's another fabulous mocha brown gradient design but with a matte finish. The smooth, crisp finish gives these nails an ultra-chic flair that will have you admiring your nails all day. Buy these nails at Etsy.
4. Mocha Brown Swirl Coffin Nails
I love when nail art is designed over a high-contrast base. Overlaying white coffin nails are mocha brown swirls, and the finished look is so simple yet so cute. Buy these nails at Etsy.
5. Mocha Brown Looping Heart Acrylic Coffin Nails
Instead of swirls, how about hearts? Each heart is fashioned in light to dark shades of mocha brown with white completing the sequence. 
The middle finger is flaunting a full-on looping heart design as the remaining nails feature a creative french tip. Buy these nails at Etsy.
6. Dark Mocha Brown Swirl Acrylic Coffin Nails
Translucent nails amped up by swirls make for such a cute look. Go for mocha brown swirls, overlaying your base from the crown of your nails to the tip, for an effortlessly trendy look. Buy these nails at Etsy.
7. Mocha Brown Ombre French Acrylic Squoval Nails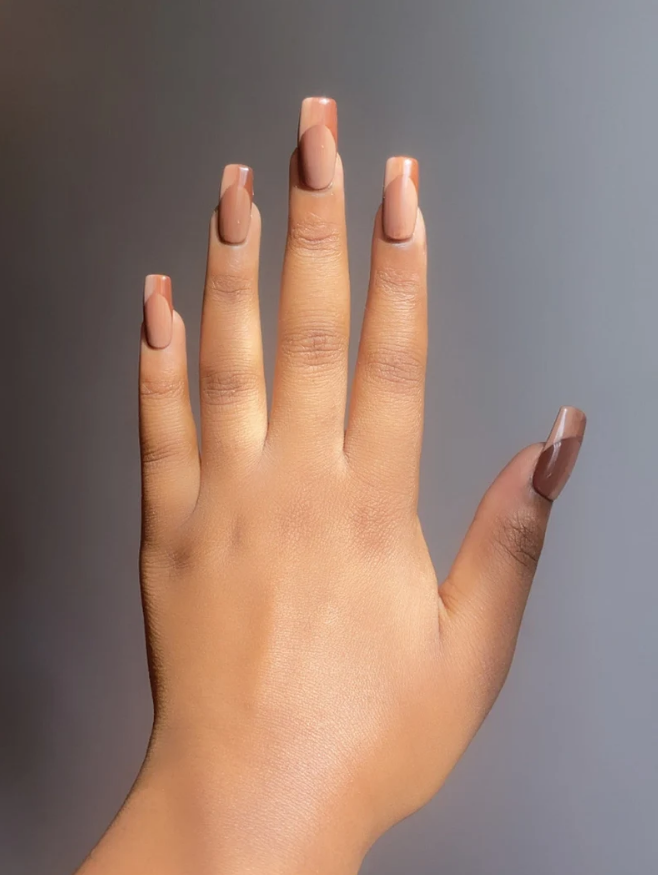 It's not often that I see ombre french tips but believe me when I say I'm a fan! It's a subtle transition from one shade of mocha brown to the next with a glossy finish that highlights this beautiful blend. Buy these nails at Etsy.
8. Mocha Brown Deep French Acrylic Coffin Nails With Swirls
For a more diverse look, pair your swirls with a deep french tip design. Both are always in season and look amazing in one nail combo. Buy these nails at Etsy.
9. Mocha Brown Marble Acrylic Coffin Nails With Gold Glitter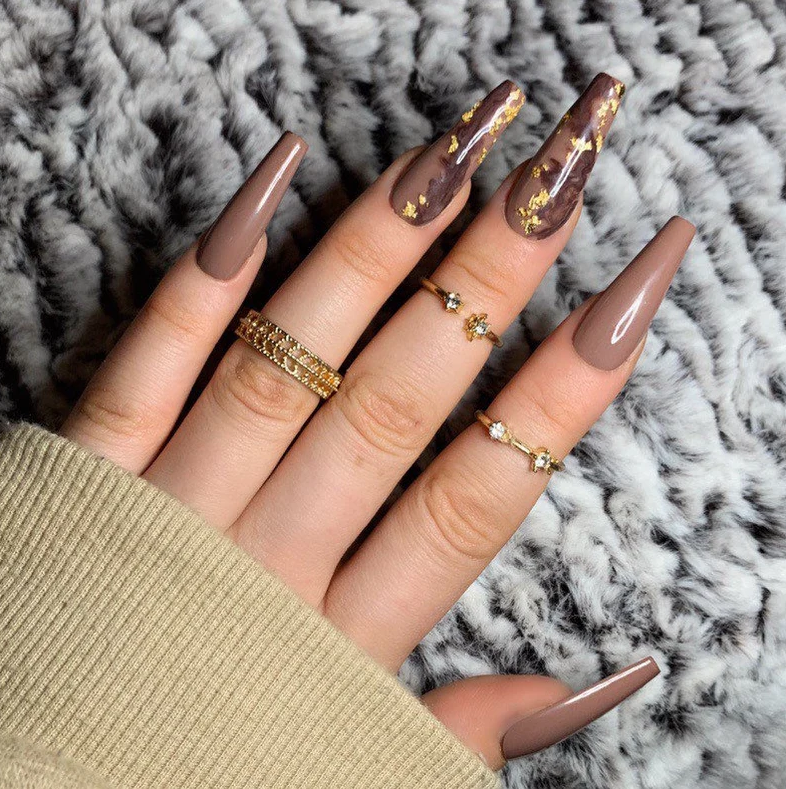 A cute way to dress up your mocha brown nails is with a classy marble design. Complete the look with gold glitter for an eye-catching set of nails. Buy these nails at Etsy.
10. Long Mocha Brown Angled Acrylic French Square Nails
The longer your nails, the more striking your manicure will be, but these mocha brown french tips keep this design on the simpler side. The gold embellishments applied on the ring finger give this look added oomph, making them less plain.
11. Mocha Brown Acrylic Stiletto Nails
For a look that's undeniably classy, mocha brown stiletto nails are just right for you. I love that these nails are on the shorter side as well, with a glossy finish, amping up the elegant quality.
12. Mocha Brown Gradient French Acrylic Almond Nails
Mocha brown french tips in a gradient design? No doubt, it's a yes for me! I love the classiness that french nails bring. Polished in shades of mocha brown the effect is too chic to ignore.
13. Mocha Brown and Nude Marble Acrylic Coffin Nails
One look at these nails, and all I can think about is chocolate dessert. It's a gorgeous marble design featuring a creamy nude base with thick mocha brown swirls that blend beautifully into each other.
14. Mocha Brown Acrylic Square Nails With Daisies
Enjoy a cute mismatched design by alternating between nails polished entirely in mocha brown lacquer and sheer nude nails embellished with daisy designs. The overall look has a girly appeal mixed with a subtle modesty.
15. Mocha Brown Deep French Acrylic Square Nails With Glitter and 3D Flower
If you're one to go all out with your nails, this look has your name written all over it! I absolutely adore the combination of designs, from the deep french tip to the loose glitter and 3D mocha brown flower.
16. Light Mocha Brown Acrylic Stiletto Nails
Here's another gorgeous mocha brown stiletto nail design. This look, however, features a lighter shade. Completed with a glossy finish, it's an effortlessly chic look that'll go with anything you wear.
17. Mocha Brown Acrylic Almond Nails With Glitter and Silver Sequins
Mocha brown nails with glitter guarantee a feminine and classy look. Bring your own twist by trailing glitter halfway on a few nails, completely overlaying the rest. Add a few silver sequins to spruce things up and bring a stunning contrast.
18. Short Mocha Brown Gradient Acrylic Nails
What's better than brown french nails? Mocha brown french nails in a snazzy gradient design. What I love most is the simplicity, thanks to the short length and nude base.
19. Mocha Brown Swirl Acrylic Almond Nails
Dress up a dark nude base with a variation of mocha brown swirls. Swirls make achieving stylish nails so easy as you don't need to pair them with any other design to create a fashionable look.
20. Mocha Brown Acrylic Almond Nails With Stripes, Flowers, and Swirls
Your mocha brown nails can be all you want and more with creative patterns in the mix. This look boasts swirls, flowers, and cute animal stripes for an altogether trendy design.
21. Mocha Brown Gradient French Acrylic Almond Nails
You can never go wrong with french tips, and what I love most about this look is the transition from one shade of mocha brown to the next. It's such a fun look that will have you looking sophisticated too.
Summary and Top Picks
It's time for us to stop sleeping on mocha brown nails. If you're looking for a brown mani, then this beautiful shade is just what you need. Pair the color with any nail art you want, and you'll be amazed at how stunning your new look will turn out.
I've already chosen the designs I'll be trying this year. My top picks from this compilation are:
#4 Mocha Brown Swirl Coffin Nails: I love how the colors complement each other. The mocha brown swirls paired with white are simply gorgeous.
#11 Mocha Brown Acrylic Stiletto Nails: It's the simplicity of this look for me. The single tone with that glossy finish is all the elegance you need.
#13 Mocha Brown and Nude Marble Acrylic Coffin Nails: Those thick mocha brown swirls were all it took for me to fall in love with this design. It has a chocolaty aesthetic that's so pleasing to the eye.
Now, I want to hear from you! Which of these mocha brown acrylic nail designs are the most stunning to you? Let me know what you think in the comments!