Baby blue is one of the most laid-back girly shades you'll ever come across, which makes it such a favorite for creating cute nail designs. After all, a hue fit for the beachy vibes of summer just as it is for the cool winter months is a keeper.
The power of baby blue nails is that the color is so captivating it doesn't need to be accompanied by another, but when it is, a seamless ombre design makes the transition so worth it as you merge the color with a complementary or a contrasting shade.
Baby blue nails fading into pink confirm your status as a girly girl at heart. On the other hand, combined with a nude or white base, the hue manifests an ombre design well suited for the classy lady in you.
You can blend baby blue with any color you desire, and in this round-up, I'll be giving you plenty of ideas to inspire your next look. Here are some super cute baby blue ombre nails that I know you'll love.
1. Baby Blue Ombre Stiletto Nails With Glitter
The glitter effect on these baby blue ombre nails is giving me all the winter feels. It's definitely a plus that this design is on stiletto nails, adding to the whimsical holiday vibe. Buy these nails at Etsy.
2. Baby Blue and Pastel Blue Ombre Coffin Nails
Blue on blue looks super cute when you're fading from pastel blue to baby blue. I also love the matte finish of this design. It brings a chic and crisp look to this ombre blend. Buy these nails at Etsy.
3. Baby Blue and Pastel Pink Ombre Coffin Nails
I can't fangirl enough about how cute these baby blue and pastel pink nails are. Their two of the girliest shades around and so worn together, they make the perfect match. Buy these nails at Etsy.
4. Baby Blue Ombre Coffin Nails
When simplicity is your goal, starting your nail design off with a nude base is the way to go. Give it a girly finish by transitioning to baby blue with a glossy top coat to bring the look to completion. Buy these nails at Etsy.
5. Matte Baby Blue and White Ombre Coffin Nails
Wherever there is white, a chic design is not far behind. Pair white with baby blue for a cool-toned sophisticated look that'll complement your wardrobe's finest. Buy these nails at Etsy.
6. Short Baby Blue Ombre Nails
Short nails polished in a nude to baby blue ombre fade are a dream come true for every girl who wants a simple look that's still fabulous. I can see this mani being a hot topic as you flaunt the look with those bombshell, casual outfits.
7. Baby Blue Ombre Coffin Nails With Flowers, Glitter, and Sequins
These flower decals add so much personality to this look. Applied over slate blue glitter nails, they add a fancy touch as they compliment a cute baby blue ombre design and floral-embellished translucent nails.
8. Baby Blue Ombre Coffin Nails With Holographic Butterflies
For a look that has a touch of fancy but is still on the simpler side, pair your baby blue ombre nail design with holographic butterflies. Overlaying the lower part of translucent nails, these accents add a subtle glow to this mani.
9. Baby Blue Glitter Ombre Coffin Nails With Gold Accents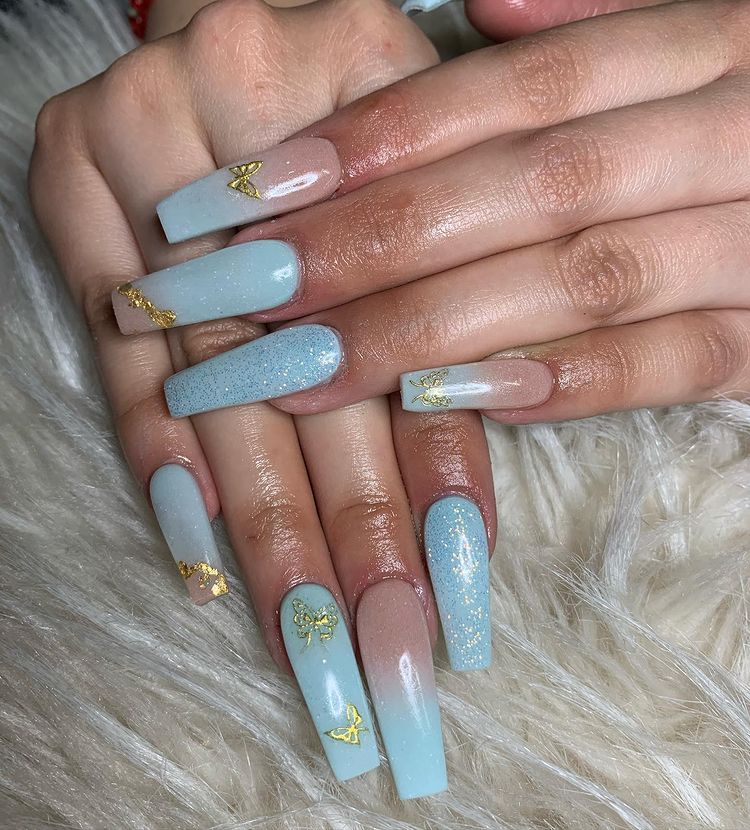 Headed to a formal function where you'll be dressed like a royal? There's no better look to flaunt than these glitter-embellished baby blue ombre nails. 
Enhancing the regal flair of this look are gold accents and gold foil placed at key points to amp up the design.
10. Baby Blue Ombre Almond Nails With Gold Glitter
Sprucing up your baby blue nails is as easy as accentuating the look with gold glitter. There's no nail design that gold glitter can't elevate! 
Simply add the sparkling feature to the crown of select nails. That's enough to set the mood for a classy finish.
11. Baby Blue and Purple Ombre Almond Nails
Baby blue with purple is a combination we don't see often enough, but I'm loving the look. The palette is cool and feminine, with a quirky edge to top it all off.
12. Baby Blue and Nude Ombre Square Nails
Pairing baby blue with white isn't the only way to copy a classy nail design. Nude is a worthy alternative, thanks to its subtle, neutral tone that evokes effortless sophistication
13. Baby Blue Gradient Ombre French Coffin Nails With Sequins and Butterflies
A combination of silver sequins, glitter, and butterflies makes these baby blue ombre nails unforgettable. Adding to their creative edge is a super cute blue gradient french tip design which is another well-known take on the ombre effect.
14. Baby Blue and Pink Ombre Stiletto Nails With Metallic Gold and Polka Dot Daisies
When I'm going for a girly design, there are specific colors and features that I'll turn to—baby blue and pink nails top the list. But another key addition is a gold detail. 
For this look, it's all about the gorgeous metallic gold lines, accompanied by polka dots designed in the shape of daisies.
15. Baby Blue Ombre Almond Nails With Leaf Art
Make your nails one with nature in an adorable baby blue ombre design, amped up by white and baby blue leaves, overlaying a pastel pink base. Leave a trail of silver glitter to add a classy touch.
16. Baby Blue and Dark Blue Ombre Coffin Nails
Looking for variation without breaking the color scheme? Baby blue nails faded into dark blue will give you a cool-toned cute summer ombre design that you'll be showing off every chance you get.
17. Baby Blue Marble Ombre Coffin Nails With Clouds
If you're thinking what I'm thinking, then you agree that these nails are heavenly. Featured are baby blue ombre nails, complemented by a plain white marble design and some trendy cloud art.
18. Baby Blue Ombre Coffin Nails With Clouds
Let your cloud nail art stand out by keeping the design as the only added feature to jazz up your nails. Paired with a baby blue ombre mani, it's the cutest combination.
19. Baby Blue Ombre Almond Nails With Sweater Art and Snowflakes
I can already feel these nails drawing me closer to winter time. The baby blue shade is doing an amazing job at setting that chilly, snug vibe that's synonymous with the season, which makes the sweater art and snowflakes even more fitting.
20. Baby Blue and Pastel Green Ombre Coffin Nails
It's so faint, but the touch of green paired with these baby blue nails adds a subtle glow that gives this look the right vibe for summer.
21. Baby Blue Ombre Coffin Nails With Flowers
The moment I saw these nails, I thought of a simple and elegant wedding design. The flowers are simply divine. I love how they bond in a cluster like a beautiful bouquet, and what better shade to style them with than baby blue?
Summary and Top Picks
Baby blue ombre nails really are in a league of their own. I hope you're as excited as I am to try out your faves from this list because stunning isn't enough to describe these designs.
As for me, my favorites are:
#6 Short Baby Blue Ombre Nails: For its classy flair and simplicity, I'd wear this look over and over again.
#11 Baby Blue and Purple Ombre Almond Nails: What can I say? I'm a huge fan of this unorthodox color combo.
#19 Baby Blue Ombre Almond Nails With Sweater Art and Snowflakes: Any nail design that reminds me of the holiday season while being cute gets an automatic spot.
I'd love to know what you think! Which of these baby blue ombre nails will you be flaunting soon? Let me know in the comments below.