Ever trending in the world of nail artistry is animal print. The likes of leopard spots, zebra stripes, and croc print have become go-to designs for women looking to spruce up their manicures, but still, there is a design that remains incomparable; cow print nails.
There's a freedom you experience with cow print nails. For one, you worry less about achieving perfection, as free-hand cow print designs have become so common, adding a sense of creativity and allowing you to bring your own personal touch to the table.
As these nails are continuing to trend, there is a particular color many women are pairing the design with—brown cow print nails are one of the hottest looks this year. The color fits the design like a glove, and I'm seeing tons of cool ways to try it.
So, don't hesitate to join the trend. This compilation is about to prove that brown cow print nails are so worth it!
1. Brown and White Cow Print Coffin Nails
Brown cow print nails with white are one of the most popular nail trends you'll find. Both colors complement each other easily, as the white base brings each brown spot into the foreground. 

The design is flanked on both sides by nails coated in white and brown for a look that's diverse and super cute. Buy these nails at Etsy.
2. Pastel Brown Gradient Cow Print Square Nails
I've been loving gradient designs more and more these days. Rocking cow print with each nail boasting a different shade that's not too far off is a great way to include versatility without breaking the color scheme. Buy these nails at Etsy.
3. Long Brown Cow Print Deep French Coffin Nails With Daisies
Have you ever imagined cow spots being a part of such a fashionable nail design? That's how versatile this animal print is. 
Styled with daisy decals and a bold brown pinky with abstract line art, this look is beyond creative. Buy these nails at Etsy.
4. Brown Cow Print French Coffin Nails
For a simpler look that's still super cute, dress a few nails entirely in brown cow print, mixing it up on the others by opting for a trendy french tip design. Buy these nails at Etsy.
5. Dark Brown Cow Print Coffin Nails
I love the darker brown nail polish used for this design. It has a rich texture that gives this manicure an inescapable presence that I love. Buy these nails at Etsy.
6. Chocolate Brown Cow Print Coffin Nails
This look is the perfect example of a more free-hand cow print design as opposed to some of the others we've discussed. 

The chocolate brown spots are larger with a splatter art effect to them that brings a creative edge. Buy these nails at Etsy.
7. Light Brown and White Cow Print Coffin Nails
In every compilation, there has to be at least one design that is simply adorable.  This look fits the description as light brown nails team up with white, overlaid by small cow spots in a chic mismatched design. Buy these nails at Etsy.
8. Mocha Brown Cow Print Checkered Round Nails
Flanked by a checkered print, thick gradient lines, and a cute sheer nail, this cow spot design is in great company. It's nail designs like these that I can't stop admiring. Buy these nails at Etsy.
9. Brown Cow Print French Square Nails With Silver Sequins
Thinking of cow print nails for summertime? This look has an irresistible glow. It's paired with silver sequins and completed by a glossy finish, complementing the sassy brown french tips and cute nude base.
10. Short Brown Gradient Cow Print Nails
Keep your nails short and sweet with a multi-shade cow print design, accentuating white nails. It's the simple and cute look you never knew you needed.
11. Light Brown Cow Print Bedazzled Coffin Nails
Never in a million years did I think I'd be saying this, but these cow print nails are so fancy! I love them! The light brown hue paired with white is subtle and very posh. Played up by silver accents, this look is what you call exquisite.
12. Short Half Brown Cow Print Stiletto Nails
Short stiletto nails boasting a half cow print design are so stylish I had to include them in this list. The length and shape are divine, and I can't get over how cute that mismatched design is. I've never loved a nude base as much as I do now.
13. Brown Cow Print French Coffin Nails With Baby Blue Swirls and 3D Flower
Give your cow print nails a boost of color by complementing the brown spots with baby blue swirls. Combine the designs for a dynamic look, amping things up with a trendy french v-tip and 3D floral art.
14. Brown Cow Print Angled French Coffin Nails With Gold Glitter
A little sparkle never hurts. Transform your brown cow print nails by accentuating the look with gold glitter. Trail the decorative feature along the outer line of trendy angled french tips. Complete the look with gold sequins for that added glow.
15. Short Brown Cow Print Round Nails
Coat at least two nails entirely in brown on both hands to complement your cow print design. You may not be in the mood for a full-on animal print design, so adding solid-colored nails is a great idea.
16. Brown and Black Cow Print Angled French Coffin Nails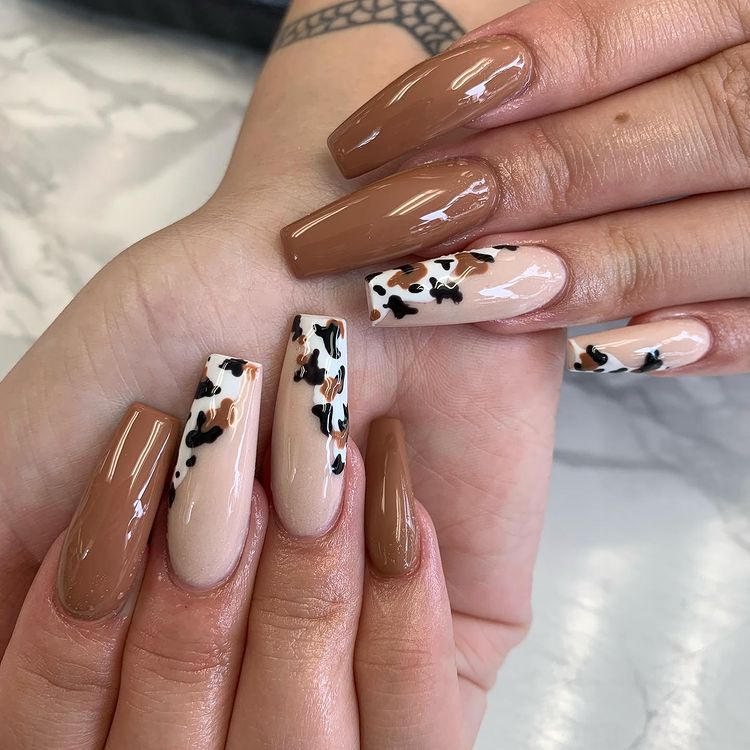 Angled french tips dressed in a cow print design are a recipe for an effortlessly trendy look. For a cute color contrast, pair brown spots with another classic neutral, black, flanked on both sides by nails polished in brown.
17. Short Brown and Black Cow Print Nails
These brown and black cow spots are so cute as they play up chic white nails. This is the perfect look if you want a design that's simple but very fashionable.
18. Light Brown Cow Print Squoval Nails
I'll take light brown nails any season of the year. In a cow print design, they're even more stunning. Design them over white nails for the most realistic look.
19. Glossy Dark Brown Coffin Nails
Brown nail polish dipped in water can create a more eye-catching cow print design as the polish runs slightly over a white base. Complete with a glossy top coat to set the final look.
20. Short Brown and Maroon Cow Print Nails
I can definitely see myself rocking this look for fall. I love the maroon hue on the index and ring fingers. They add a warm and classy touch to these brown cow print nails.
21. Short Glossy Dark Brown Round Nails
The rich texture of these dark brown nails is what caught my eye. Even better, they're paired with cow print nails for an undeniably trendy twist.
Summary and Top Picks
There you have it! All the reasons you need to get cow print nails for your next appointment. This trendy animal design is versatile enough to keep you looking fashionable in any setting, and we stan a manicure we can count on to keep us in style.
Making my top picks from this round-up are:
#2 Pastel Brown Gradient Cow Print Square Nails: I have a soft spot for pastels, and I think the combination of these subtle brown shades is too pretty not to make the list.
#6 Chocolate Brown Cow Print Coffin Nails: The splatter art vibe I'm getting from this designs adds a fun feel to this look, and I'm all for enjoying my new nails.
#7 Light Brown and White Cow Print Coffin Nails: If a manicure is cute, best believe I'll have my eyes on it, and these mismatched cow print nails bring the girly touch every woman needs.
What about you? Which of these brown cow print nails made your top three and why? Let me know in the comments below!