Natural nails are underrated. With so many synthetic designs, it's tough to find a natural look that stands out. To spice up my natural nail look, I go for an ombre top coat. Whether you love polish or wraps, this design will make your fingers fabulous. 
Finding the right color balance is one problem I have with natural ombre nails. Ombre blends from dark to light, or from one color to another, seamlessly. This is harder to do when applying polish yourself. 

The best way to achieve a streamlined ombre look on a natural nail is through practice. Are you looking for some inspiration for your next natural ombre nail style? Here are some of my favorite designs inspired by this year's hottest nail looks.
1. Color Change Ombre Polish on Natural Nails
Color-change nail polish is a smart way to achieve an ombre look without all the blending. These adorable natural short square nails look sassy in a glittery lilac and deep purple transition. Buy these nails at Etsy.
2. Cotton Candy Nail Wraps in Ombre Design
Sometimes I forget how easy it is to transform natural nails with a simple nail wrap. No need for gel tips or acrylic nails here. This gorgeous set of cotton candy-inspired wraps creates a pinky purple ombre I'm loving. Buy these nails at Etsy.
3. Pale Nail Wraps in Subtle Natural Shade
Yet another gorgeous nail wrap design. These subtle pale wraps are the perfect ombre look for ladies who love things simple. These neutral nails go with any outfit. Personally, I love them paired with a black and white skirt. Buy these nails at Etsy.
4. Simple Peach Ombre Nail Design
There's something about the simplicity of these peach ombre nails I'm in love with. The subtle peach shade is a perfect fit for a short oval nail. The gloss finish gives it life. #peachykeen
5. Short Square Pink to White Ombre Glitter Nails
I'm a big fan of the pink to white ombre nail look right now. It takes all the work out of creating a french tip. This natural square-tipped look uses glitter to accentuate the ombre effect.
6. Oval Nails With Green Ombre Center
There's something super creative about nails with an ombre center. It's such a unique look, and the green shades emphasize this vibe.
7. Peach Gel on Natural Nails for Ombre Effect
Peach is a trend for natural ombre nails. This translucent peach look gives me major jelly shoe vibes. I love the all-natural look of these short square nails. Very chic.
8. All Natural Pink Hued Stiletto Nails in Ombre
Stiletto nails are one of the hardest looks to maintain naturally. This set of beautiful pink-hued natural ombre nails is absolutely everything! I love the classic pink-to-white finish on the pronounced pointed tip.
9. Peach to White and Glitter Ombre on Natural Almond Nails
Almond-shaped nails look so fly with an ombre top coat. These peach-to-white beauties are inspiring with a glitter ombre accent nail. Perfect for a special occasion.
10. Reverse French Tip Ombre Natural Nails
Ah! I can't get over these gorgeous natural rounded square tip nails with an ombre finish. They're so unique because the ombre blends from a white base to pink tips. The reverse of a classic french tip. #pinkisthenewwhite
11. Spooky Halloween Ombre Nails With Ghost Accent
This seasonal look puts the "boo" in bougie! I love the black splatter art ombre effect on these nails. The tiny ghost is the icing on the cake.
12. Rose Jelly Nails With Ombre Fade
Jelly nails are super fun, and this natural ombre look really shines. I love the soft rose color fading into the white tips. The rounded square shape adds elegance to the design.
13. Pigment Powder Ombre Nails in Taupe
This is such a unique color blend. I see a lot of pinks and peaches in white, but this taupe/gold ombre makes me happy. It's awesome to see natural nails take on a new life with just a touch of pigment powder.
14. Short Rounded Square Natural Ombre Nails in Blush
This subtle blush is a lovely way to implement a natural ombre look. I like the way the nail artist built up the shape of these nails with gel. It gives them a bubble look that's very in right now.
15. Rounded Square Brown to Nude Ombre
Brown to natural nude is such a fun fall look. This unique ombre style slays with just a hint of caramel at the blend line. The rounded square tips are a great fit.
16. Barely There Cotton Candy Iridescent Ombre on Natural Nails
I love iridescent nails. This subtle look adds just a hint of blue and pink to a natural nail. The ombre effect changes depending on the light.
17. Ombre Pink to White With Gemstone Embellishments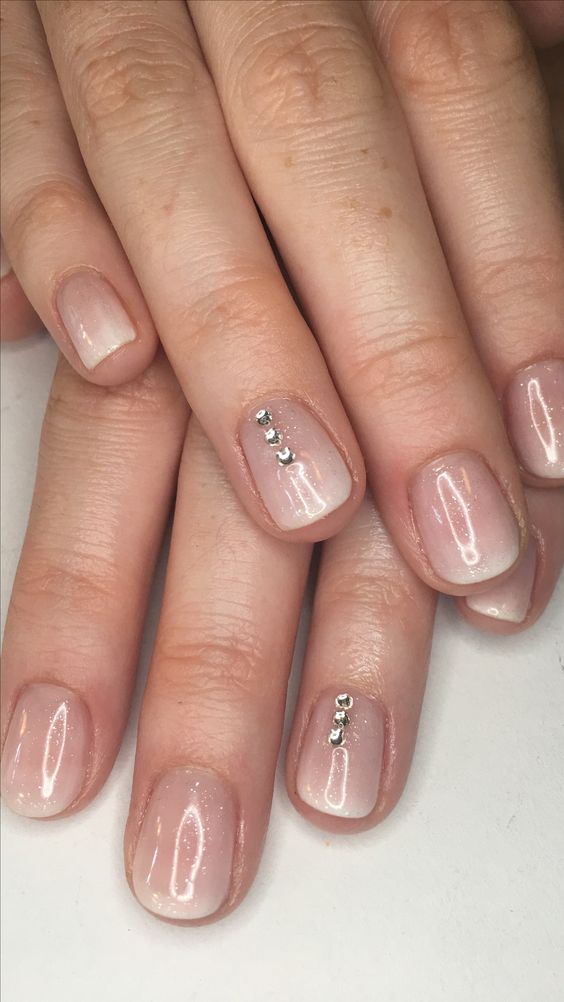 What's better than gorgeous ombre nails? Gemstone-enhanced ombre nails. This chic play on a french tip uses a subtle pink polish to play up the nude undertones.
18. French Ombre on Natural Almond Nails
The french ombre look is trending hard this year. It creates a blended french tip with a soft pink/peach to the white combination. This set of natural almond-shaped nails displays the design perfectly.
19. Short Nude Glitter Ombre Nails
Short nails look amazing with a natural square tip. This vision of ombre glitter is subtle and elegant. I adore the nude polish and white frosted sparkles.
20. Square Glitter Ombre Nails With Midnight Blue Base
It's amazing what you can accomplish with some scotch tape and a little nail polish. These square-tipped natural nails look stellar in midnight blue glitter polish. The glitter creates an ombre effect by blending up into the natural tip.
21. Natural Ombre Dip Powder Nails
These dip nails are to die for. I adore the clear jelly polish look under the subtle glitter finish. Pale pink to white tips give that french tip looks without the extra work.
Summary and Top Picks
Ombre is a subtle way to enhance natural nails without synthetic tips or salon visits. I used to worry about blending ombre colors myself at home. With new color change polishes and nail wraps to use, this issue is non-existent now. 
All these ombre nail styles are a hit, but my top three looks are:
#2 Cotton Candy Nail Wraps in Ombre Design: Who doesn't love cotton candy? These pink-to-blue ombre wraps are a great way to jazz up your natural nails.
#7 Peach Gel on Natural Nails for Ombre Effect: Peach is the perfect natural ombre color palette. These jelly-inspired nails are subtle but fabulous.
#21 Natural Ombre Dip Powder Nails: Dip powder is a natural nail lover's fantasy product. These adorable blush-to-white nails are killing it with confetti glitter.
Hopefully, some of these natural ombre nail looks hit home for you. I'd love to get your take on this style. When you try to add ombre to a natural nail, do you prefer a wrap, polish, or dip? Comment below!