Some thigh ink is big and bold. Sometimes small pieces are more meaningful. With a variety of classic and modern designs to choose from, there's no lack of options for side thigh art. 
When I choose a small side thigh tattoo, I look for ways to make my tiny tat a big deal. Selecting relevant designs makes me feel good about the artwork on my body. I also like to choose placement where it's only visible when I want it to be seen. 
If you're looking for that perfect side thigh art piece but not sure what to get, you're not alone. Here are some of the designs I sorted through during my last search for the perfect tattoo.
1. Black Fine Line Wildflower Bouquet
This sweet little bouquet is an adorable homage to mother nature. I love the simplicity of it all. Wildflowers often represent joy, and this design brings me plenty of that.
2. A Rose Among the Thorns Thigh Piece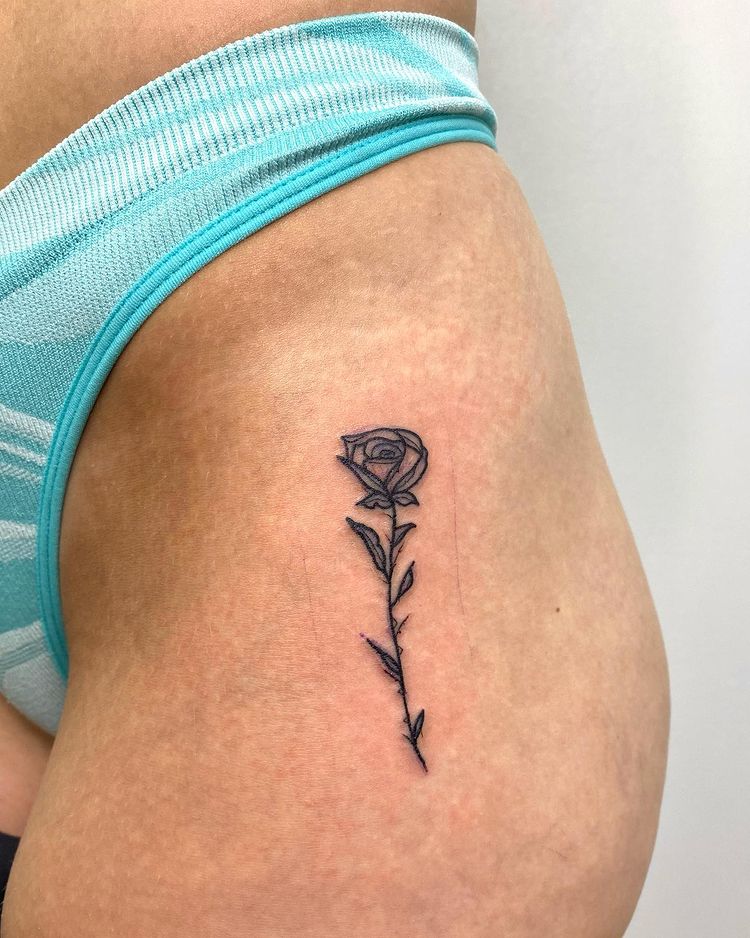 Roses stand for love and devotion. This is another prime example of a super simple tattoo design packing a lot of meaning. I like the bold black linework in this piece.
3. Twin Daisies Side Thigh Tattoo
Flowers are definitely a thigh tattoo trend this year. This small duo of daisies is delicate and feminine. Daisies stand for purity. I love the softness of the design. It's modest and unassuming.
4. Upper Thigh/Hip Teeny Butterfly Tattoos
Matching butterflies for besties is a great small side thigh tattoo idea. I like the high placement. Visible in a bathing suit but invisible at a job interview.
5. Abstract Thigh Art
Art has a way of changing the meaning from person to person. This abstract face tattoo feels uplifting to me. It's shocking how much detail the imagination makes up with only a few inked lines.
6. Faith Script Thigh Tattoo
In life, we grow to have faith in so many things, first and foremost ourselves. This faith tattoo is a wonderful reminder of faith in whatever way it may come to us.
7. Thigh High Lightning Bolt Ink
Bolts of lighting are super trendy this year. I see them a lot in fan tattoos for The Flash or Harry Potter. I like this thigh-high placement for the design. It's sexy yet playful.
8. Ombre Crescent Moon Design
Lunar tattoos are linked to femininity. This beautiful crescent moon looks positively stellar in a blue-to-purple ombre. It conjures images of the night sky and mysteries hiding just beyond our reach.
SEE ALSO: 21 Thigh Tattoos For Black Females to Rock
9. Realistic Skull Side Thigh Tattoo
Whether you believe skills represent mortality, wisdom, or power, we can all agree they're edgy AF. The detail in this small skull tattoo is impressive. #powerfulwomen
10. Card Suits Tiny Thigh Ink
Spades, hearts, clubs, and diamonds come together to make up some of our favorite card games. I love these cute side-thigh take-on card suits. I've seen a lot of queen of hearts tats, but this is better.
11. Bluebells for Gratitude
Bluebells remind us to be grateful and practice humility. It's such a unique tattoo choice. I see thousands of peonies, chrysanthemums, lilies, and roses. It's nice to see bluebells from time to time.
12. Botanical Compass Side Thigh Piece
A compass helps you find your way. This botanical-themed compass tattoo makes me think of a wanderer on a path. Whatever the meaning, I hope she finds her way.
13. Watercolor Rainbow and Hot Air Balloon
Hot air balloons let us experience weightlessness and see the world from above. I like the underlying meaning of this black and white balloon against a rainbow sky. The watercolor ink design is super trendy and makes for a perfect thigh tattoo for women.
14. Je T'aime Tattoos
"Je T'aime" is french for "I love you." I like how this tiny verbose tattoo is easy to hide and has a hidden meaning. For those unfamiliar with french, your love will remain a secret.
15. Roman Numerals XXII
Twenty-two could be her age, the number of books she's reading, or past boyfriends. We don't know, and we won't unless we ask. That's the beauty of Roman numeral tattoos.
16. Snakes for Fertility and Rebirth
Snakes can be powerful predators. This little guy doesn't look too menacing. In the tattoo world, snakes mean rebirth, fertility, and power. This side-thigh tattoo design is certainly a power play.
17. Spanish Cursive Side Thigh Art
In English, the Spanish word "malcriada" roughly translates to "bad girl" or "brat." I love when women have the confidence to ink audacious designs. She's bold, and she knows it.
18. Let's Get Tropical!
A teeny tiny pineapple evokes memories of tropical beaches and fruity drinks with umbrellas. Tiny fruit tattoos are trending this year, and I love how simple this design is.
19. Just a Little Smile From Me to You
A smile goes a long way. This little symbol of peace and goodwill became popular in the 70s and again in the 90s. So, of course, it's back in favor again. It's a perfect choice for a small side thigh design.
20. "But Without the Dark, We'd Never See the Stars"
In life, we must take the bad with the good. This little quote is a good reminder that for light to shine through, there must first be darkness. I love any tattoo with celestial connections.
21. Wavy Legs in Blue and Black
Nautical tattoos are my jam. This little tattoo is so simple. Two lines with peaks, and somehow we see a lake, a river, or the ocean. Water tattoos are filled with healing energy and protective meaning.
Summary and Top Picks
Small side thigh tattoos make a big statement. Because they're tiny, they need to speak for themselves. I hope you found some significant design options for your next tattoo among my faves. 
All of these gorgeous little tattoo designs are stunning, but my top three are:
#5 Abstract Thigh Art: Tattoos are art, and this abstract design is a great reminder. I love that the meaning could be different for everyone. 
#10 Card Suits Tiny Thigh Ink: Card suits might represent a love of games or the opposing forces in life. Either way, this black-and-white design is super fun. 
#19 Just a Smile From Me to You: Who doesn't love to smile? This is the perfect little unassuming side thigh tattoo. 
Butterflies, flowers, and crescent moons are all trendy small side thigh tattoos this year. Sometimes trendy isn't a good enough reason to ink something on my body, though. When you choose a tattoo, what inspires your design choice? Comment below!