As I continue to share some of the best nail designs you can rock throughout the year, there's a popular type of nail accessory that I just have to talk about; I'm referring to acrylic nails.
A staple in the world of beauty, these artificial extensions are a combination of liquid monomer and powder mixed into paste form and shaped together onto your nails to enhance them. 
You may already be familiar with acrylic nails and if not, there's at least one woman you know who's always getting them done. The fact is, some of the most beautiful nail designs you've seen involve acrylic resin. 
So, whether you're new to the world of nail fashion or you've been searching for your next style, this compilation is for you. Here are 50 short acrylic nail design ideas that look amazing.
1. Glossy Pink and White Ombre Acrylic Nails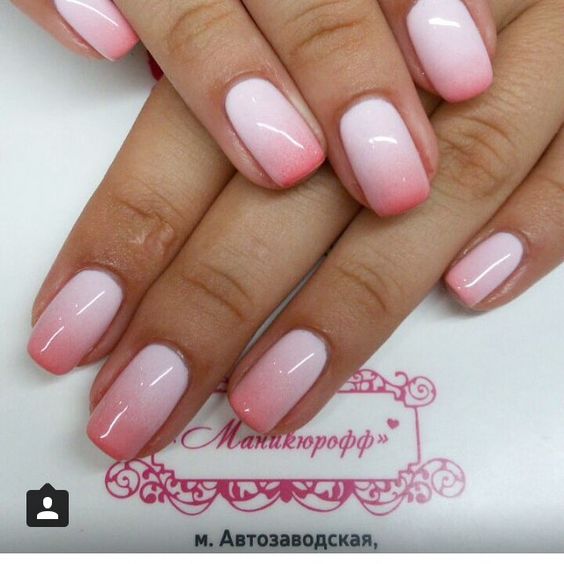 The simplest nail looks can be lifesavers. When you need a style that's quick, easy to do, and super cute too, pastel-themed acrylic nails are the way to go. Make it girly with a pink and white ombre design.
SEE ALSO: 40 Pink and White Nail Design Ideas That Are Trendy AF
2. Chic Nude and Black French Acrylic Nails
A black curved tip design worn with a nude base is a great way to rock acrylic nails. Along with an almond shape, this look is chic and versatile, suited for those laid-back outfits, as well as, more formal attire.
3. Emerald Green and Nude Acrylic Nails with Black Leaves Decal
A classy acrylic nail look that also makes you feel down to earth is a win in my book. You can create that aesthetic by choosing a stunning emerald green shade, lending one nail to a nude base, overlayed by a cute naturistic nail decal.
4. Nude, Blue and White Abstract Acrylic Almond Nails
Feel free to express yourself in a gorgeous abstract art acrylic nail design with a glossy finish. Using a nude base, easily highlight your nails with unique blue and white swirls for a cool and classy tone.
5. Cute Floral French Acrylic Nails
French tips are already cute but they can be so much more flattering with the inclusion of nail art. To enhance this simple look and up the femininity, decorate your acrylic nails with floral patterns.
6. Black, Nude, and Gold Shimmer Acrylic Square Nails
You can achieve many aesthetics with the shade black which is why I love it so much. For this look, these bold and elegant black acrylic nails are made really fancy with gold shimmer here and there.
I also love the addition of a nude base on a few nails to switch things up and make it more interesting.
SEE ALSO: 21 Classy Brown and Gold Nail Design Ideas
7. Sparkling Red Snowflake Acrylic Almond Nails
Save this look for Christmas or rock it for any festive moment in your life; all-red acrylic almond nails, embellished by cute snowflakes and a glossy top coat that highlights this sparkling red shade.
8. Green and White Clover Acrylic Nails
Achieve a festive nail look with shiny green and white acrylic nails. Add a feminine flair to these pretty nails with nail art of a cute three-leaf clover.
SEE ALSO: 50 Pretty Nail Design Ideas That are Currently Trending
9. Nude and Orange Abstract Acrylic Almond Nails
Orange abstract art overlaying the tips of nude acrylic nails is a great idea for a classy design with a touch of vibrance. Maintain that glow on the surface of your nails with a glossy finish.
10. Lilac Daisy Acrylic Square Nails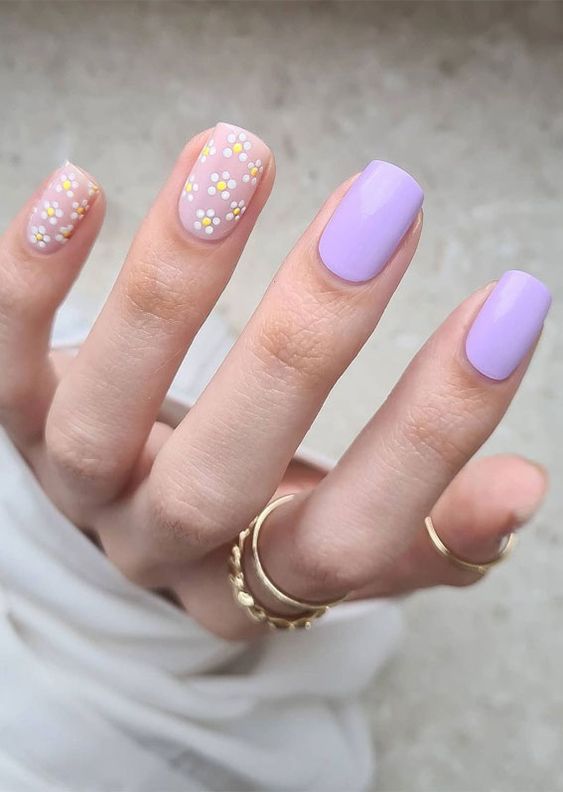 One of the many reasons I love doing my nails is because they make me feel and look extra cute. Even more so when they're coated in a shade as adorable as lilac. Keep that theme going with daisies on each.
11. Multi-Shade Brown and White Acrylic Nails
Here's a fall-worthy acrylic, white and brown nail design that I absolutely adore. With multiple shades of brown, that give a warm, welcoming aura, and one coated in white, these nails are sophisticated and interesting.
12. Red Faux-Sugar Acrylic Nails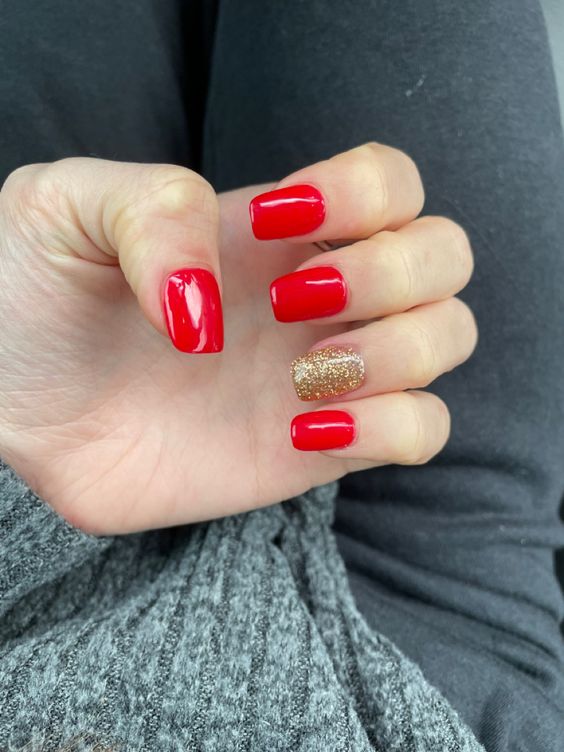 Be as fancy as can be in short red acrylic coffin nails. These stylish ones have a faux-sugar sequin design that really enhances the flirtatious tone of this look.
SEE ALSO: 100 Gorgeous Coffin Nail Design Ideas
13. Nude Rainbow-Designed Acrylic Almond Nails
Rainbow-designed acrylic nails are a go-to look to express yourself or show off your playful side. Opt for a pastel theme with a nude base and inverted hearts for a girly flair.
SEE ALSO: 37 Pastel Rainbow Nail Designs
14. Short White Rhinestone Acrylic Nails
White acrylic nails create such a classy look that you can use to bring off any outfit you wear, and to make them even posher, here's one of my favorite things to do; add rhinestone accents.
15. Brown and Nude Floral Acrylic Coffin Nails
Bring your nails to life with brown and nude shades decorated with cute floral patterns. These floral designs are best placed on lighter-hued nails so the color can be clearly seen.
16. Gray and Pink, Silver Glitter Acrylic Nails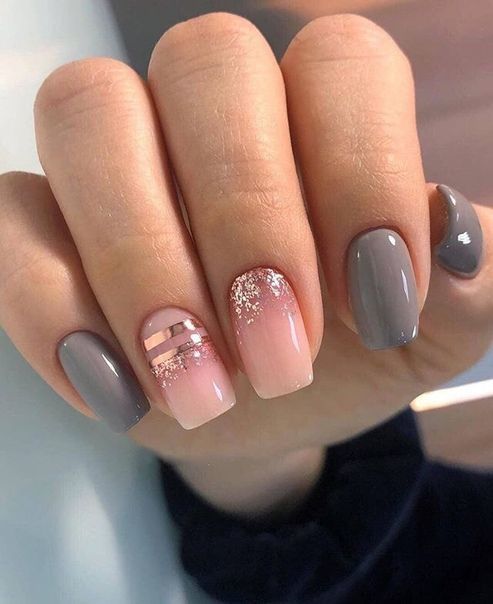 Complement gray acrylic nails with light pink ones decorated with silver glitter. It may seem slight, but this combination brings a refreshing vibe to an already classic look. 
It's a great idea if you're aiming for more unique nails and don't want gray to be the sole color.
17. Glossy Dark Cyan Green Marble Acrylic Nails
These dark cyan green acrylic nails are simply breathtaking. It's a rich shade of green, accentuated by a pretty marble effect and a glossy finish, giving this look a glow that is out of this world.
SEE ALSO: 41 Amazing Brown Marble Nail Design Ideas
18. Pink Ombre Acrylic Coffin Nails
Here's a look that you're sure to love; short pink acrylic coffin nails with an ombre design. Pink is a staple color that we ladies enjoy coating our nails in. Try a subtle shade of this girly color to make a sweet impression.
SEE ALSO: 100 Pink Ombre Nail Design Ideas
19. Orange Glitter Acrylic Nails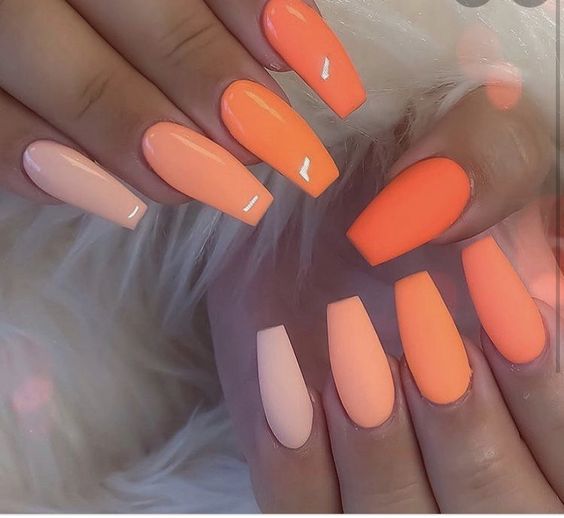 These acrylic nails will be hard to forget with a vibrant orange shade and glitter effect that pops beneath a glossy top coat.
20. Green Acrylic Squoval Nails
These chic squoval-shaped nails are a beautiful representation of how different shades of green complement each other. Multi-shade nails are a growing craze so you'll definitely be a trendsetter among your friends with this style.
21. Nude and Black French Acrylic Almond Nails
For an elegant and bold appeal, a nude base that extends into black tips would look amazing. This black french acrylic design is ideal for everyday wear.
22. Matte Dark Green Acrylic Nails
Short dark green acrylic nails with a matte finish make you look confident and stylish. These nails will go well with neutral-toned outfits and gold accessories that cause them to stand out.
You can also contrast dark green nails with beautiful bright shades for a color-blocking effect.
23. Baby Blue, White Marble Acrylic Nails
Baby blue acrylic nails have such a cute and youthful look, and because of their light color, a glossy finish will only add even more femininity.
It's enhanced by a dual marble design that heightens the elegance of this look.
24. Glossy Nude and Black French Acrylic Nails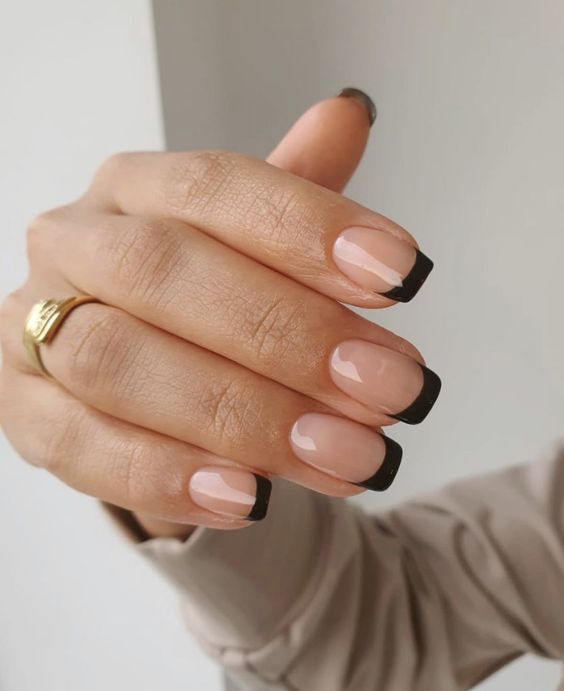 Aren't these french acrylic nails just so classy? It's truly amazing what a single black stripe across the tip of nude nails can do. After all, black and nude are hailed as two of the most sophisticated shades we can play around with.
25. Mauve Brown Acrylic Nails
I love trying out different shades on my nails; you get to see all the beauty that particular color has to offer, just like these short mauve brown nails. With a glossy surface, you'll receive a naturally gorgeous look.
26. Coral Pink Acrylic Nails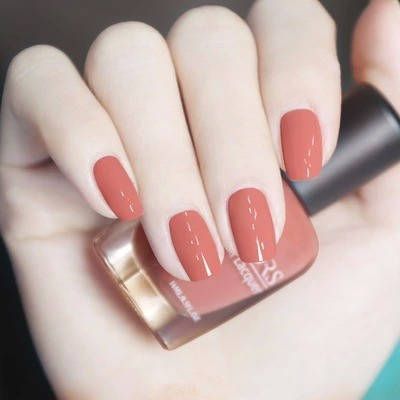 Longing for a manicure that looks graceful and refined? Coral pink is the color for you. Coat this pretty shade over short acrylic nails that melt your heart each time you see them.
SEE ALSO: 100 Pink Nail Design Ideas That Are Trendy AF
27. Fall-Worthy Brown and Green Acrylic Nails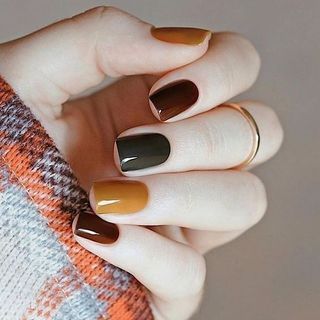 The seasons are fast approaching, so here's a fall-friendly option that is dynamic and ultra-chic; a range of earthy tones, from chocolate brown to caramel and phthalo green.
28. Nude and Black Abstract Swirls Acrylic Almond Nails
Abstract nails have been taking over. Join the fun with chic black swirls, kept to a minimum, painted over a nude base.
29. Nude Acrylic Nails with Multi-Colored Abstract Tips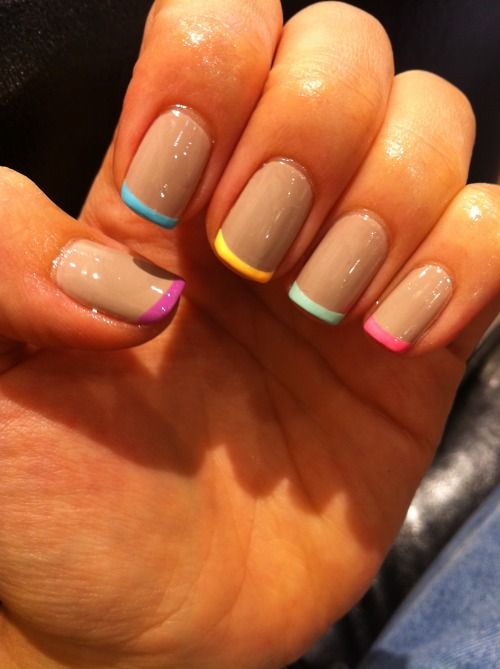 We all want to show out for Summer, and bright colors are the way to do it. If you're not interested in vivid shades all-round, display your favorite colors in abstract designs over a classic nude base.
30. Mint Green Daisy Acrylic Nails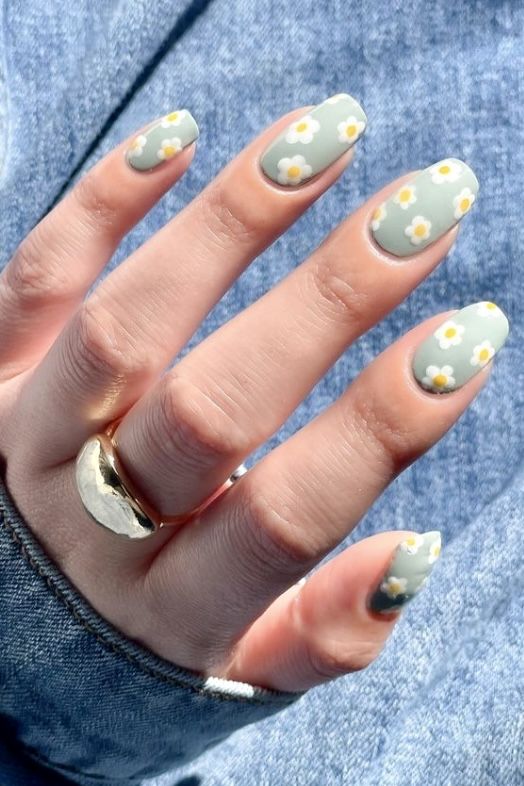 Muted shades are also fabulous for springtime. Prove it with short mint green acrylic nails and cute daisy flowers.
31. Cute Strawberries French Acrylic Nails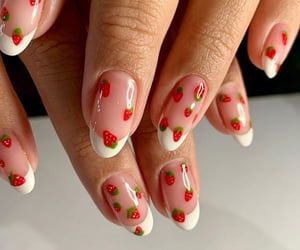 Fruit art is always a sweet addition to any nail look. With Summer a few months away, here's an amazing look for you to try; transform a classic french mani with tiny cute strawberries.
32. Chic Nude, Brown and White Abstract Acrylic Nails
Using brown and white diagonal stripes along the tips of your nails is a simple and quick way to attain a chic, well-put-together look. A matte finish is also best to complement the laid-back vibe.
33. Peach Watermelon Acrylic Nails
Make way for some fruit art on pretty peach nails. Lend your nail with the lightest shade to watermelon decals to get the cutest design.
34. White and Black Abstract Lines Acrylic Nails
Be innovative with black abstract lines gracing white acrylic nails. This look is unusual but extremely chic with a glossy finish that makes the design come alive.
35. Pastel Purple, White Marble Acrylic Nails
Combine a white marble design with pastel purple nails for a classy style that's also adorable. These nails have an elegant flair so I'd definitely style them with some of my formal pieces.
36. Multi-Colored Abstract French Acrylic Coffin Nails
Add your own taste to french acrylic nails with a cool color-blocking design of your fave colors and shades. Save this idea for Spring to dress up your outfits.
37. Glossy Caramel Brown, Cheetah Print French Acrylic Nails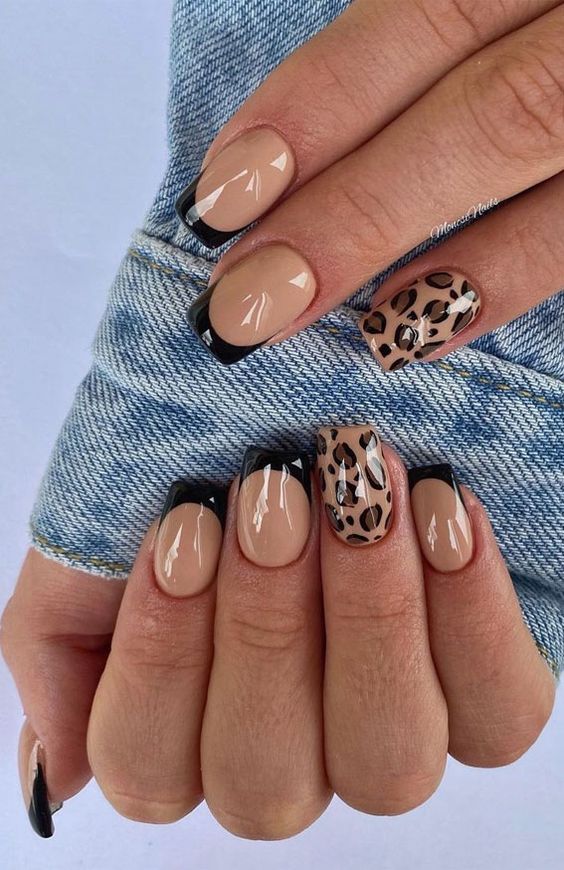 Nails with animal prints are still trending. Complement cheetah spots using caramel brown as the main color, for a neutral and warm-toned appearance.
38. Nighttime Black Acrylic Coffin Nails
Use coffin nails as a canvas to recreate the beautiful nighttime sky, with the moon and shining stars to make it appear real.
39. Black and White, Flame Art Acrylic Nails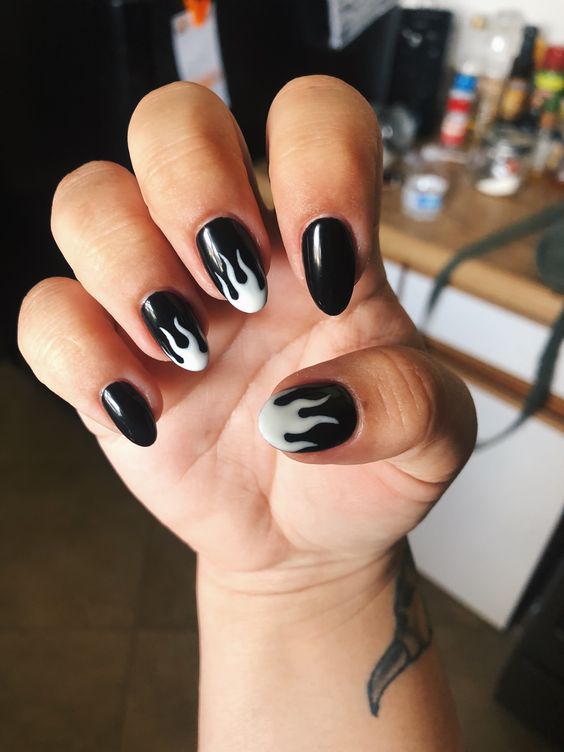 Are you feeling sweet or fierce? Have it both ways with classy black acrylic nails and bold white flame graphic art.
SEE ALSO: 100 Black Nail Design Ideas That Are Trendy AF
40. Light Pink and Gold Glitter Acrylic Nails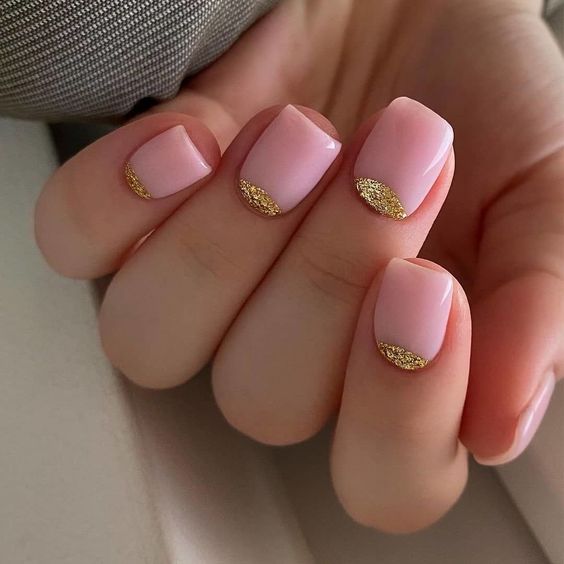 Give your nails an extra glow with gold glitter positioned like a crown at your cuticles. Opt for a light pink base to maintain that feminine aura.
41. Glossy Cherry Red Acrylic Nails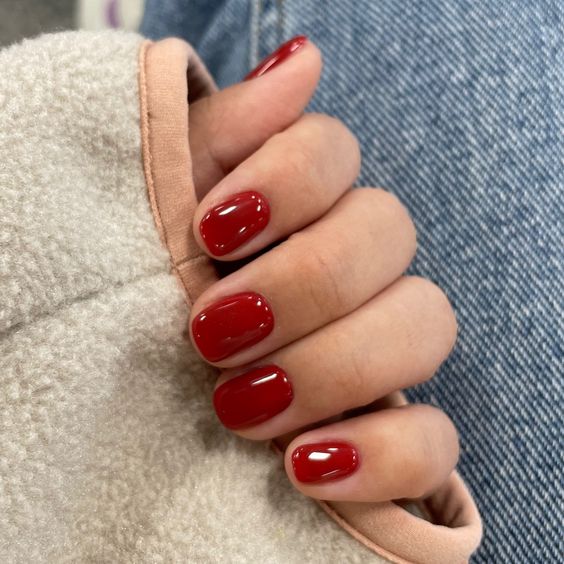 Now for one of the most elegant manicures of them all; short cherry red acrylic nails with a glossy finish. Just the classy look you need to spark intrigue.
42. Yellow and Black, Daisy Acrylic Nails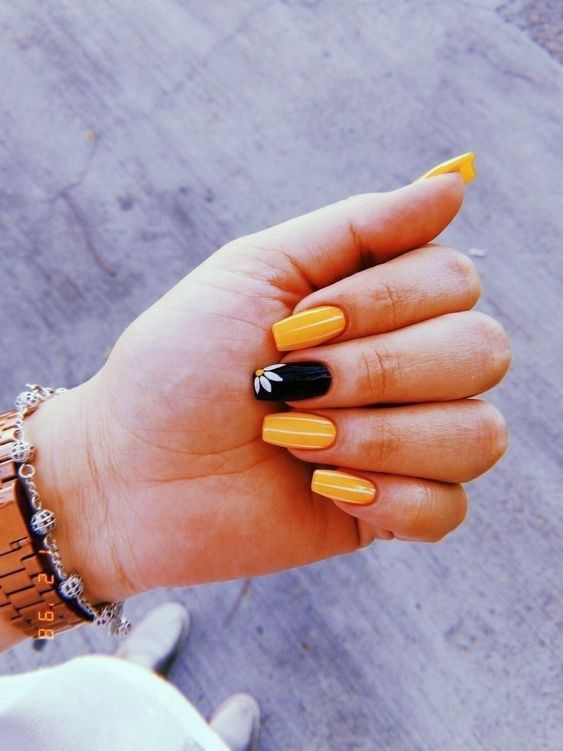 Play up bright and glossy yellow nails with your middle finger coated in black to add a chic touch. Decorate with a cute daisy flower along the tip to soften the appearance.
43. Red Burberry Acrylic Nails
Wear a high-end brand on your nails with this fashionable Burberry design that is amping up the stunning red shade on both sides. 
Burberry is well-known for its signature plaids and heritage prints, so you can bet on these nails that they'll be quite the hot topic.
SEE ALSO: 100 Red Nail Design Ideas That Are Trendy AF
44. Mustard Yellow Swirl Acrylic Nails
Allow a striping brush to do its magic and perform curved strokes and swirls over a few of your acrylic nails for a gentle and feminine flair. Opt for mustard yellow on the remaining nails to make this look pop.
45. Multi-Colored Graphic Art Acrylic Nails
Tell us exactly how you feel with colorful and graphic nail art. From swirl lines to a beaming sun, you don't have to choose with this creative look.
46. Blush Pink and Gold Glitter Ombre Acrylic Nails
Use gold glitter along your tips to bring sophistication to beautiful blush pink nails. With a shimmer effect that meets your nails mid-way, a classy ombre design is created.
47. Wintertime Blush Pink Ombre Acrylic Nails
Go girly for Winter with a blush pink base featuring an ombre design and cute white nail art. A snowflake is included, perfect to bring off the feel of the coldest season.
SEE ALSO: 100 Cute Nail Design Ideas That Are Trending Now
48. Multi-Colored Acrylic Nails with Gold Abstract Art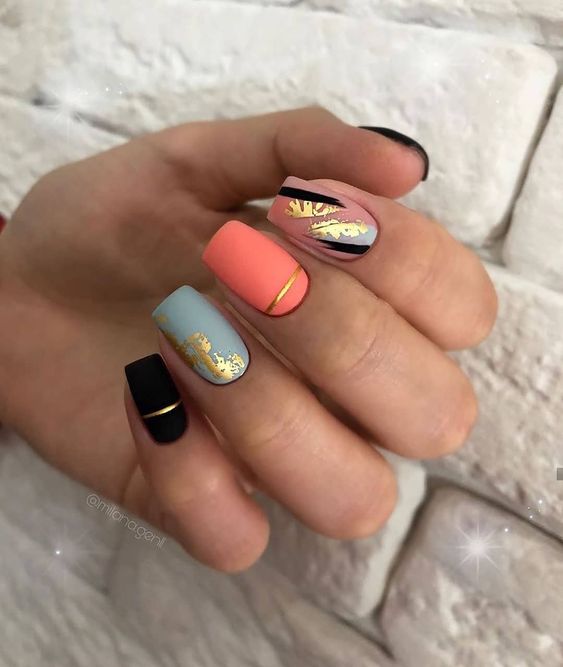 Short acrylic nails can be fashionable too. Paint them in some of the cutest colors you can think of, adding gold art over each to make them fancy.
49. Dark Violet Acrylic Nails
Make a bold statement with dark violet pigmented nails. An exquisite shade, it looks amazing with a glossy finish and when accentuated by gold jewelry.
50. Burgundy Gold Glitter Acrylic Almond Nails
With a bit of gold shimmer, brighten up classy burgundy almond nails for your next special outing.
Summary and Top Picks
I know, there are so many styles to choose from but who says you can't try them all? Your short acrylic nails can be done for specific events or seasonally, so you can switch them up from time to time. That's the freedom you get with nail aesthetics.
Out of all these amazing designs, I was most impressed by looks 10, 24, and 35 because while they are super cute, there's just a simplicity about them that is refreshing which is a quality that can make a big difference. 
Now, I'm eager to know what you think. Were you impressed by these acrylic nail looks? Which designs are your top picks? Let me know your thoughts along with the questions you'd like to ask down below.