Rainbows carry special meanings—plus, they're pretty to look at. It's no surprise that rainbow nail designs are currently trending. I love the variety of styles and combinations, but I'm never sure if I should go full-on or subtle with my colors. 
Rainbow nails are great for adding a pop of color to neutral outfits. You can go minimalist with rainbow french tips or opt for whole ombre rainbow-dipped talons. Rainbow nails let us express our mood and celebrate the freedom to be ourselves.
If you're looking at rainbow nail art but not sure how much rainbow is too much, check out these trendy rainbow nail designs. I don't think there's such a thing as  "too much" with nails.
1. Easter Rainbow Pastel Solid Colorful Press-On Nails
The only thing better than rainbow nail art is pastel rainbow nail art. The almond shape is clean and casual. These soft feminine colors in matte solids look so good together. I like the candy vibes they give off. Buy these nails at Etsy.
2. Rainbow Waterslide Nail Decals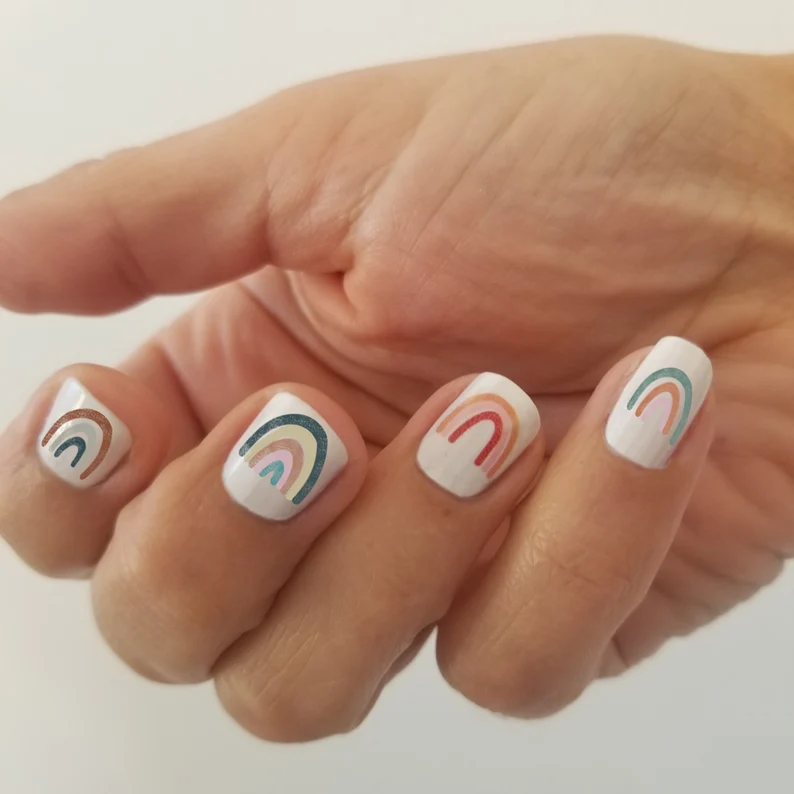 These understated decals remind me of the crayon-rendered rainbows of my childhood. They're simple and sweet, and you can add them to any base color. If you want to wear rainbows on your nails, these are a literal take on the trend. Buy these nails at Etsy.
3. Rainbow Goddess Press-On Nails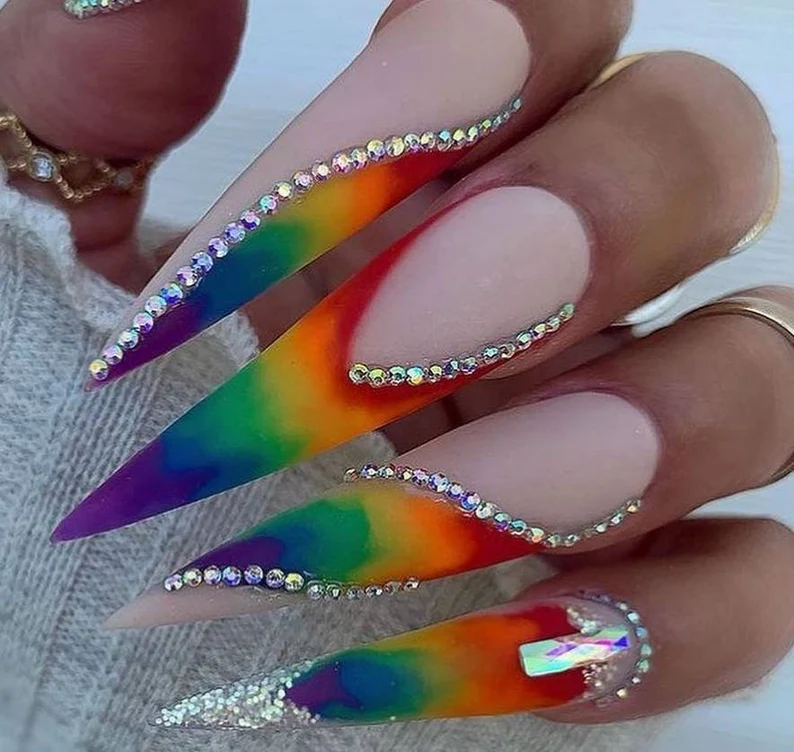 These aren't your grandma's rainbow nails. Rainbow goddess press-ons are statement nails. Between the bold colors, rhinestones, and stiletto shape, they're sure to get you noticed. I like that the rainbows aren't all over but still apparent. Buy these nails at Etsy.
4. Pastel Rainbow Cloud Press-On Nails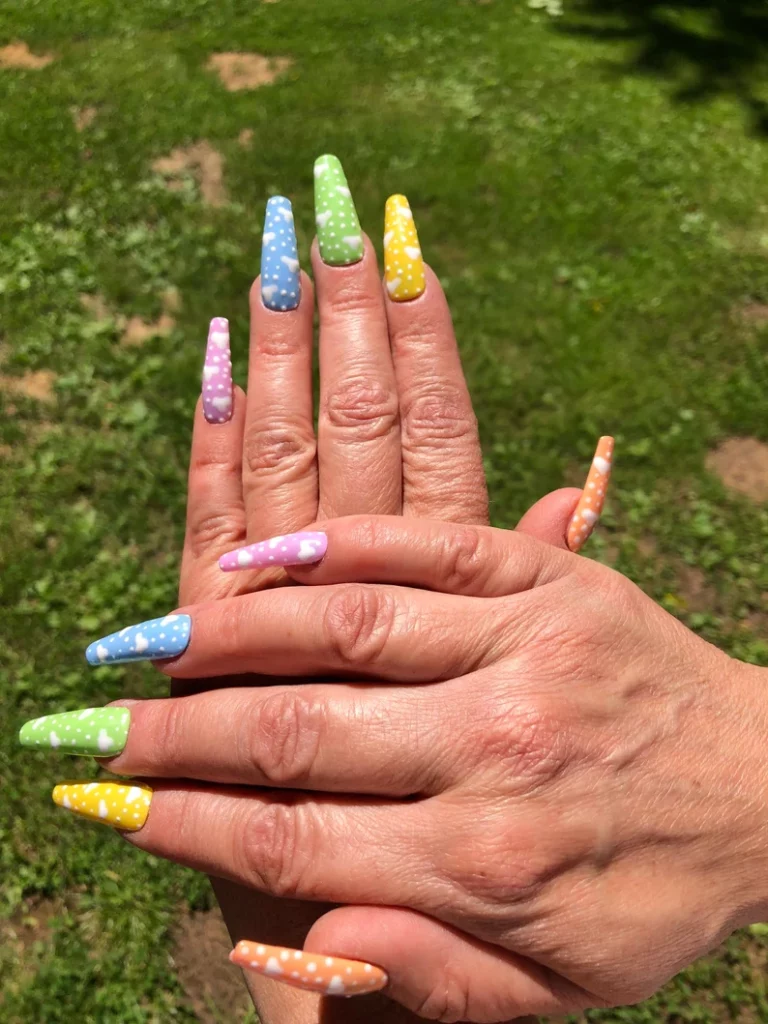 Clouds are soft, dreamy, and live in the sky. They're the perfect companion for pastel rainbow press-ons. I'm a fan of elemental designs, so this fluffy cloud print is right up my alley. Buy these nails at Etsy.
5. Rainbow Tips Press-Ons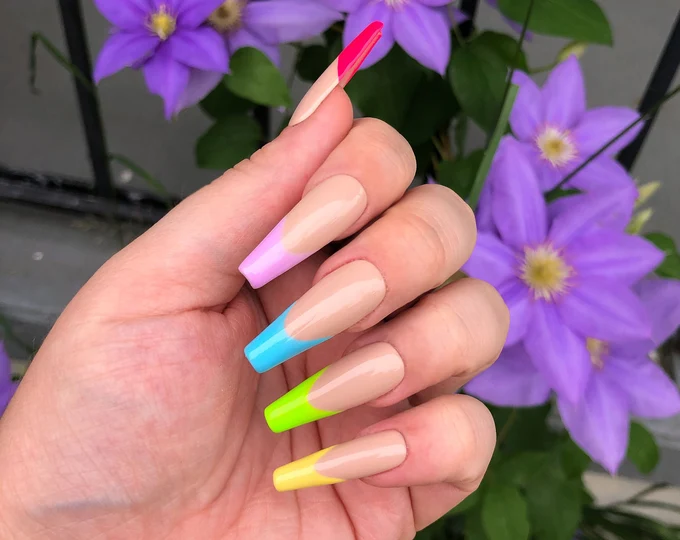 I love love love rainbow tips. It's the perfect amount of color. You can wear them to nearly any event with a multitude of clothing styles. These knockout tips amp things up with a peachy beige base in a v-pattern. Buy these nails at Etsy.
6. Solid Rainbow Ombre Nails
I love this bright ode to a rainbow. The ombre effect on these press-ons is slight, softening each color at the base of the nail. I also like that it includes bold and pastel shades for a mix of colors. Buy these nails at Etsy.
7. Tie-Dye Rainbow Nails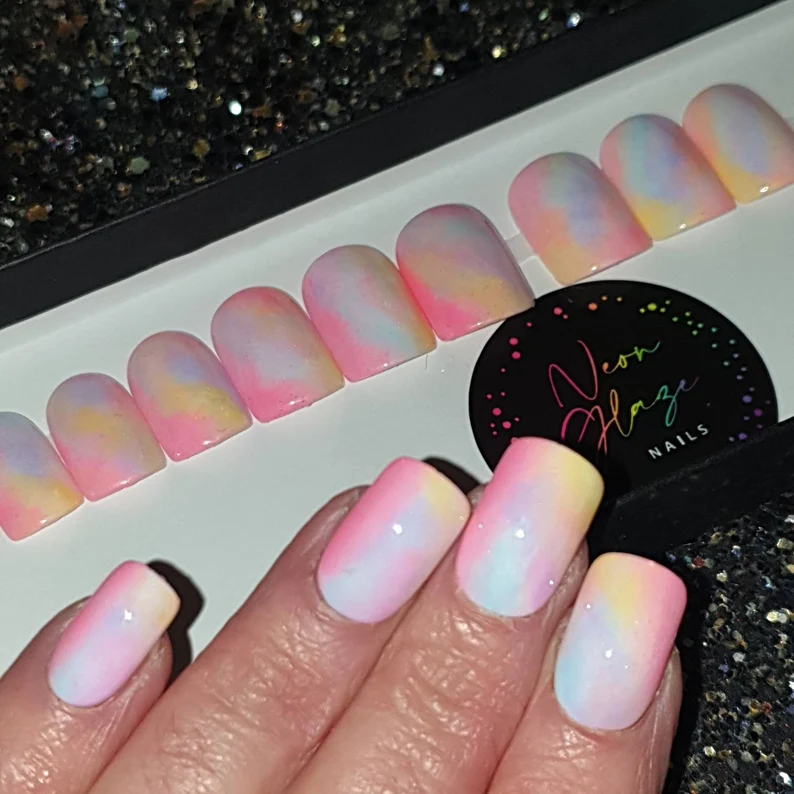 Tie-dye made a big comeback this year with the 90s revival, and I'm loving it. These pastel tie-dye nails almost look iridescent in their color selection. If you want a glittery look without the glitter, these press-ons have you covered. Buy these nails at Etsy.
SEE ALSO: 30 Trendy Rainbow Glitter Nail Design Ideas to Jazz Things Up
8. Rainbow Jelly Nails
I can't even with these nails. Jelly shoes are such fun (and slightly uncomfortable) wear. This colorful ode to jellies makes me want to swap my gel polish for a set of press-ons now. Buy these nails at Etsy.
9. Rainbow Edged Stick-On Nails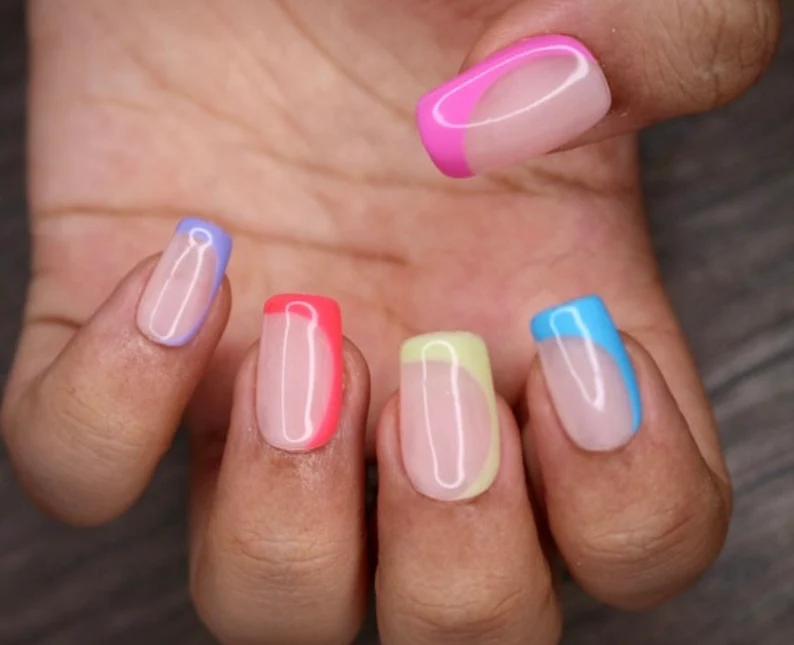 This is a fun play on the rainbow french tip nails that are so popular right now. These stick-ons have a pop of color at the tip and cascade down one side. It's great for just a little bit of rainbow on the go. Buy these nails at Etsy.
10. Coffin-Shaped Pastel Rainbows
Who says rainbows and coffins don't go together? These coffin-shaped pastel nails are subtle but edgy. Some designers shy away from multiple shades of the same color. This set plays it up in a way I really like. Buy these nails at Etsy.
11. Pride Decal Rainbow Nail Designs
Rainbows are big for pride events, and these decals let you express your support. I'm terrible at free-hand nail art, so these decals are a blessing. They're small yet defined and can be placed on any undercoat color. Buy these nails at Etsy.
12. Rainbow Sparkle Nail Wraps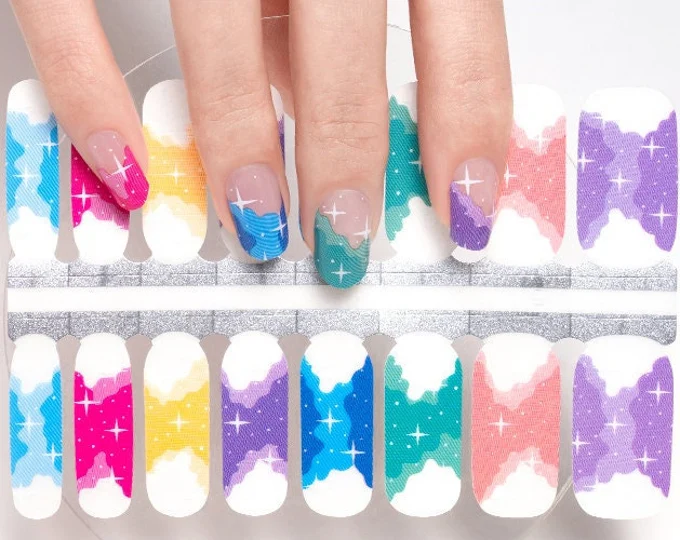 Nail wraps are an easy alternative to polish or press-ons. This set of rainbow sparkle wraps has a french-tip vibe with artistic energy. I love that if you look closely, it kind of looks like wet paint. Buy these nails at Etsy.
13. Oval-Shaped Rainbow Stripe Tips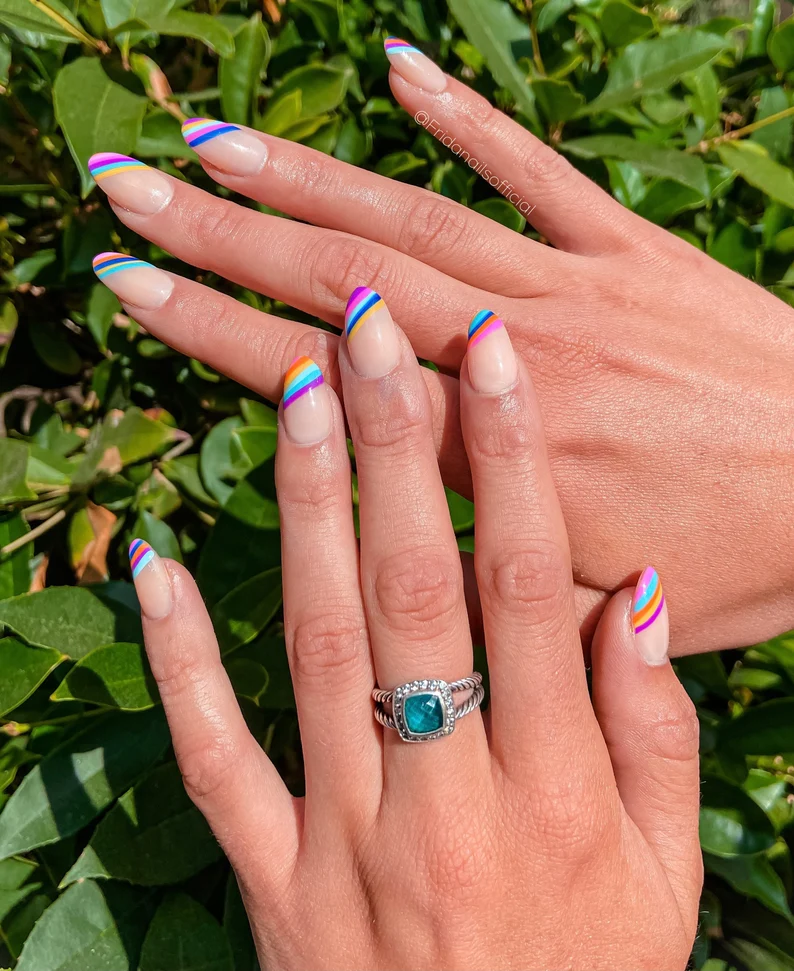 Oval is a great nail shape for work or play. This set of rainbow press-ons gives an abstract french tip look to the nails. I love the stripes in contrast with the natural nail underneath. Buy these nails at Etsy.
14. Coffin Rainbows with Stiletto Illusion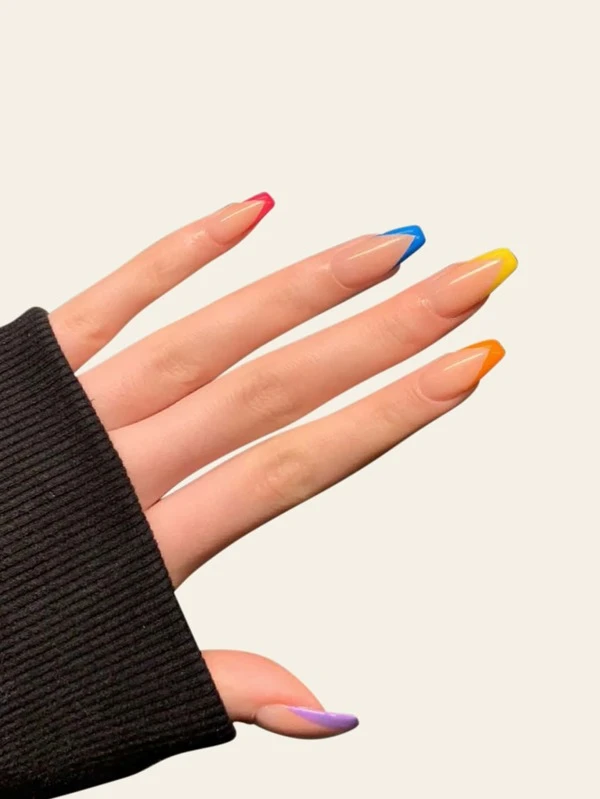 I'm adoring this rainbow nail optical illusion. The press-ons are coffin-shaped, but the french tips are painted in a "v." The natural portion of the nail looks like a stiletto shape nail. It's the best of both worlds. Buy these nails at SHEIN.
SEE ALSO: 37 Pastel Rainbow Nail Designs
15. A Touch of Gold on Coffin Nails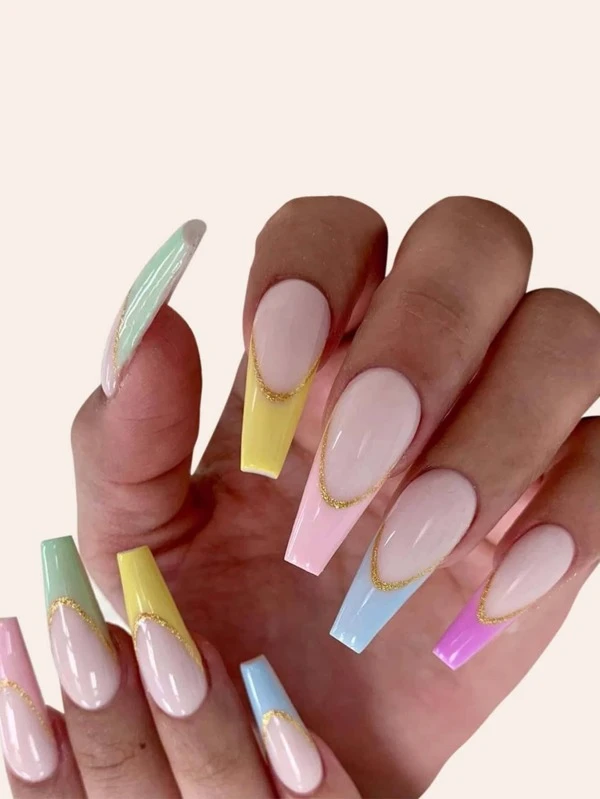 These babies offer a bougie edge to the rainbow nail trend. Pastel rainbow tips on coffin-shaped nails are edged with gold where color meets natural nail. I'm a fan of anything that makes my nails look more expensive. Bring on the gold. Buy these nails at SHEIN. 
16. Rainbow Tips and Clouds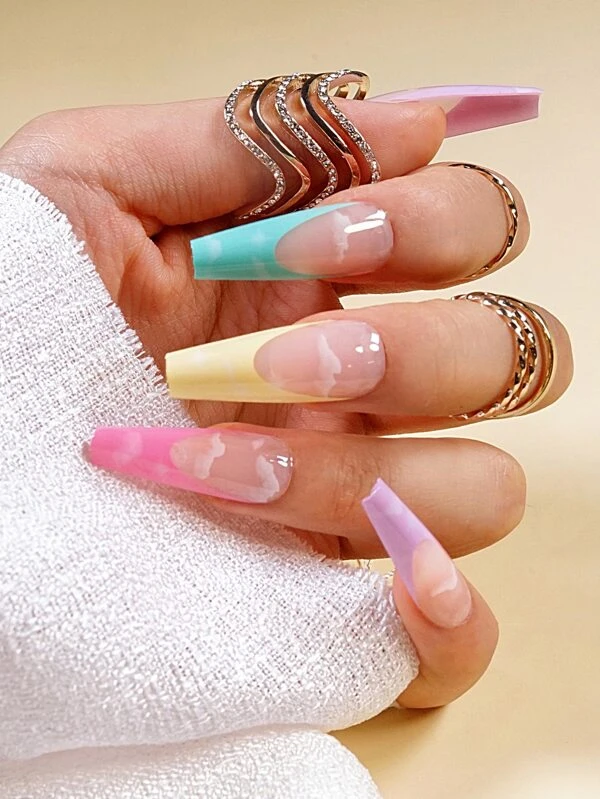 Clouds must be a popular nail design right now, and these ones are perfect. The nearly translucent cloud print covers the entire nail, while the rainbow is just at the tip. I'm digging the illusion the tip adds by turning the coffin shape into an almond. Buy these nails at SHEIN.
17. Short Square Rainbow French Tips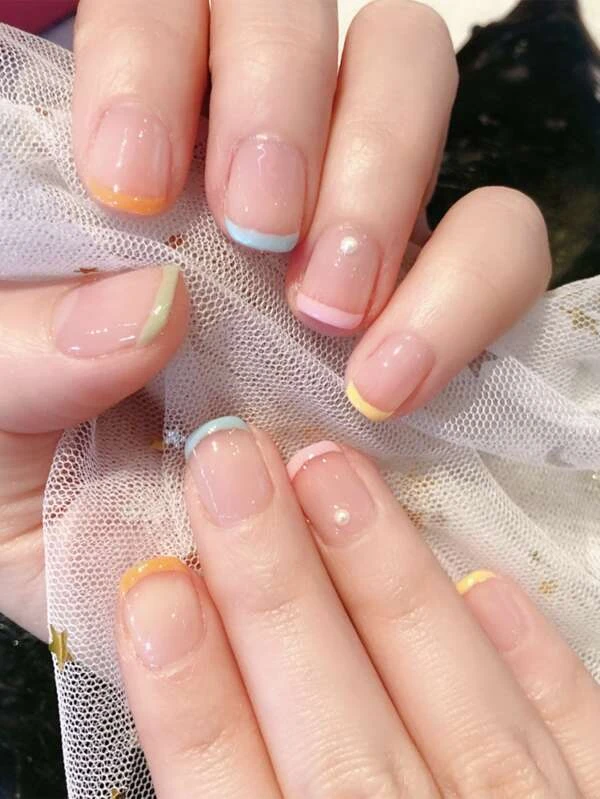 I don't care what anyone says. I love short nails. This short square style with rainbow french tips is adorable. The pastels are perfect for this shorter style because they don't overwhelm the nails. Buy these nails at SHEIN.
18. Psychedelic Rainbow Swirl Nails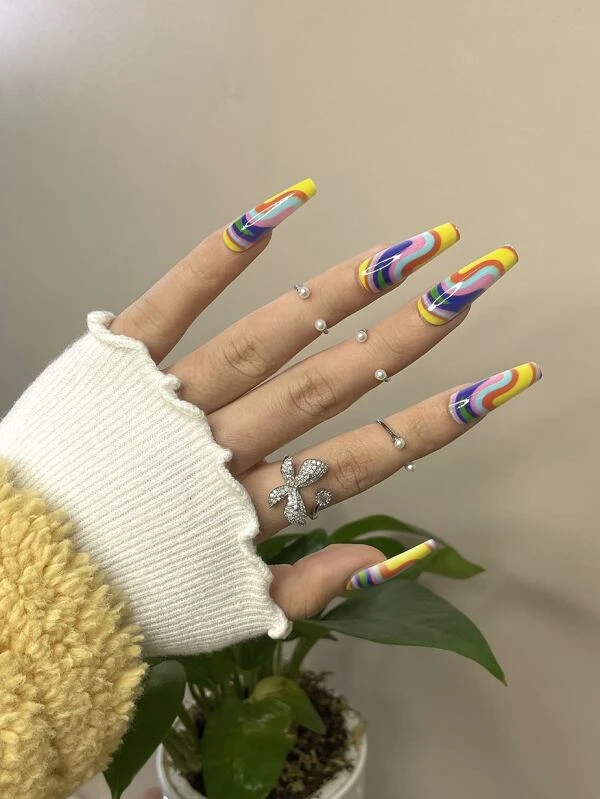 Go big or go home! These psychedelic rainbow nails are straight out of the 60s. I'm a fan of making a statement, and these do nothing but. The coffin nail is a great shape for this style. It's edgy and bold. Buy these nails at SHEIN.
19. Almond-Shaped Pastel Rainbow Tips
It's rare to see white in a rainbow. Maybe that's what sets these press-ons apart from other rainbow nails. The pastels with the white are so feminine, and the almond shape amplifies the understated look. Buy these nails at SHEIN.
20. Ombre Jelly Rainbow Nails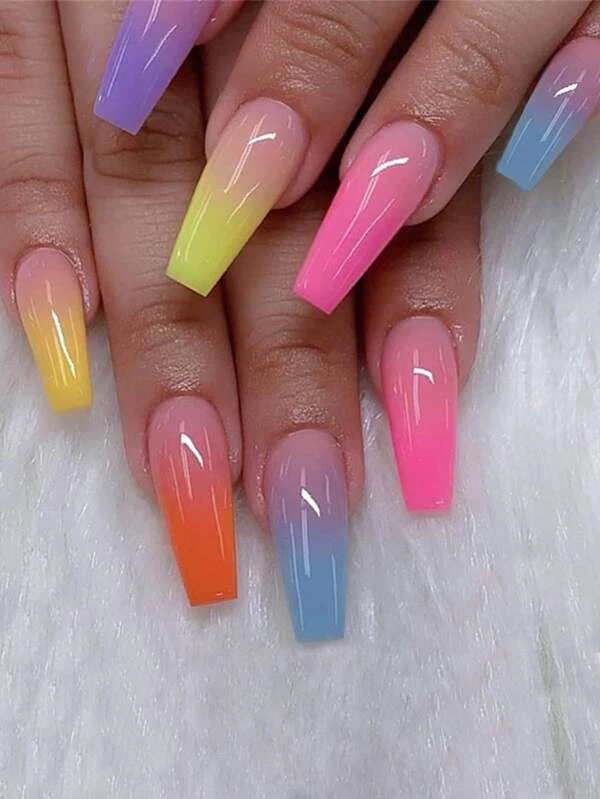 I swear coffin nails are the most popular this year, and this ombre jelly look is killing it. Rainbow hues, softening into an almost transparent finish, reflect the nostalgic jelly shoes we hate to love. A great summer look. Buy these nails at SHEIN.
21. Cotton Candy Rainbow Nails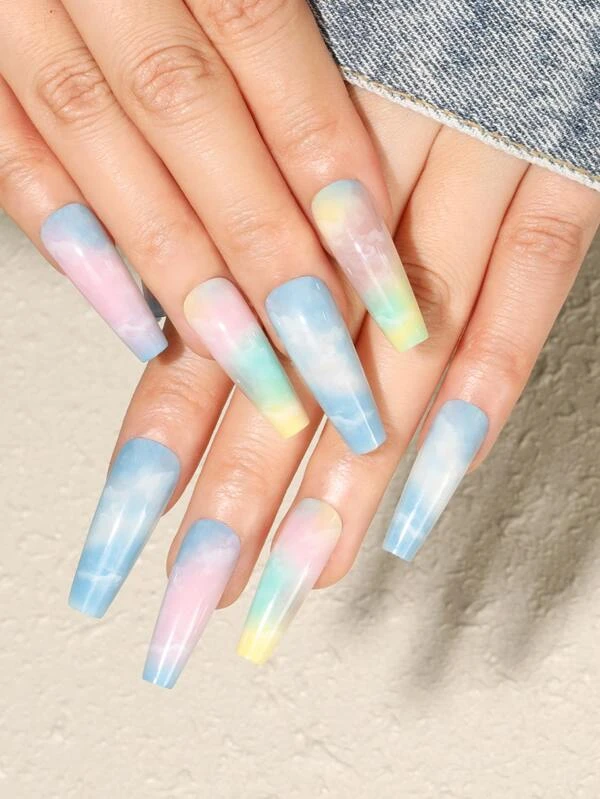 This dreamy rainbow nail design reminds me of cotton candy. The soft pastel colors are blended into a cloudy appearance. It's a flirty way to wear rainbows and pairs really well with the mermaid hair trend. Buy these nails at SHEIN.
22. Rainbow Gradient on a Black Base
This is rock and roll as nail art. I can't get over the perfectly blended gradient of vivid glitter polish. Against a black base coat, it's eye-catching and bold in the best way. 
23. Rainbow French Tips Amplified
Okay, I love a rainbow french tip, but this is so much better. The solid pastel base coat with the bolder matching tip is everything. It's funky and young and a great choice for back to school. 
24. Ombre Rainbows and 3D Nail Art
I don't even know what to say about these other than wow! The colors are giving me "Saved by the Bell" energy, but the 3D pattern makes me think of mermaids. If Lisa Frank did nail art, this would be it. 
25. Rainbow Vs and 3D Bubble Art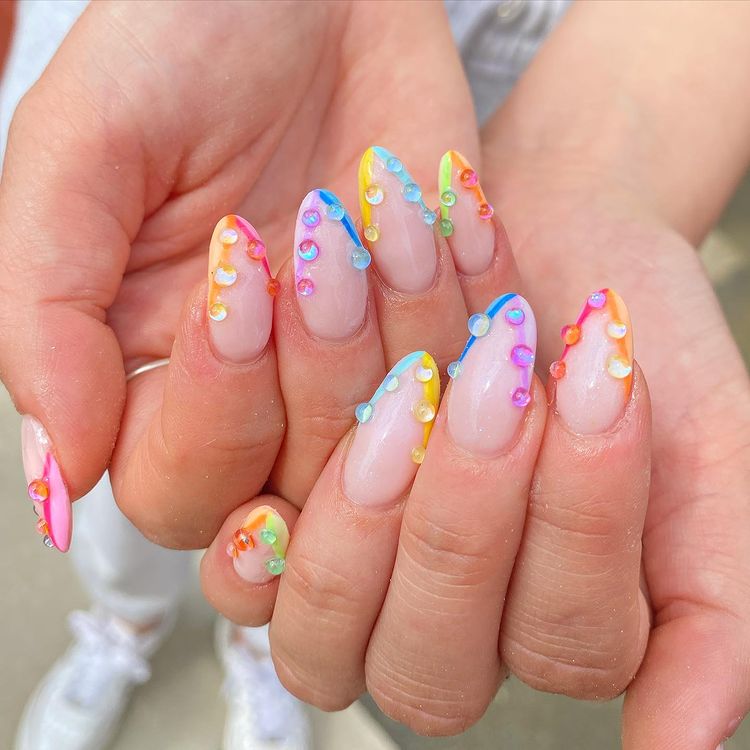 I'm not always a fan of raised nail art, but these bubbles are adorable. The rainbow polish is subtle in v-shape lines leading to the tip of each nail. The clear bubbles capture each color and amplify it. Very smart.
SEE ALSO: 40 Trendy Summer Butterfly Nail Design Ideas
26. Square Tip Rainbow Corner Edges
There are so many rainbow tip designs to choose from. These square-shaped nails make an amazing canvas for corner edge rainbows. It adds just a little touch of color with rainbow stripes. Perfect.
27. Long Glitter Frosted Rainbow Ovals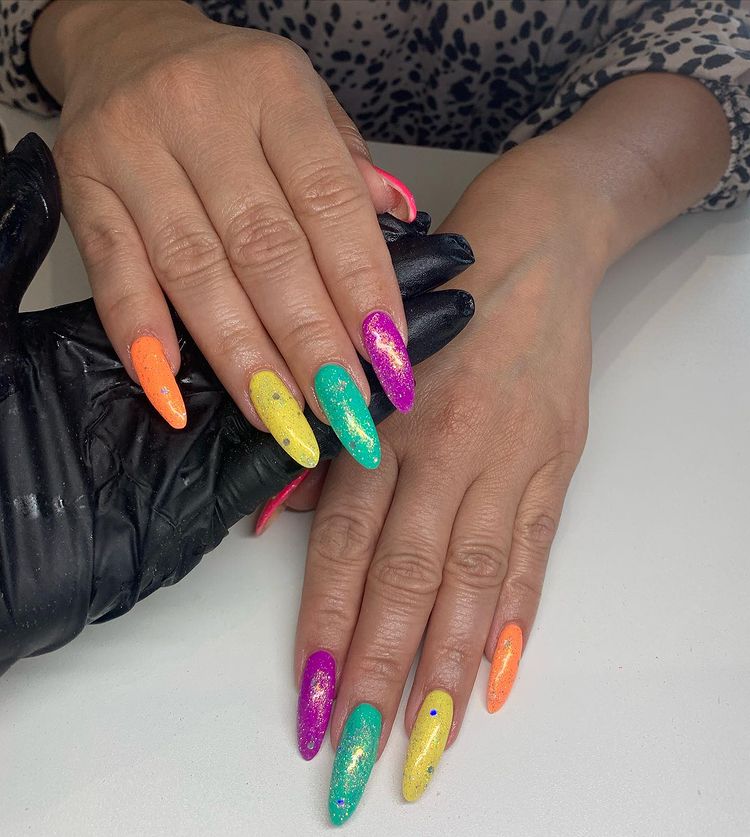 Just a little frosting on the cake. Glitter rainbow nails are a great pick-me-up when you need a boost. I love how fun they make me feel, and this set has jeweled embellishments for even more bling. 
28. Alternating Rainbow Solids and French Tips
Most rainbow nails already alternate in color. This design takes it up a notch with interspersed solids and rainbow french tips. It keeps things interesting, and I love the choice of bold colors on almond-shaped nails. 
29. Ombre Rainbow Tie Dye Starburst Nails
Rainbow tie dye nails are a fun way to embrace the 90s trend. I like this take on a classic with pastel ombre colors and bold starbursts on the sides.
30. Flower Child Rainbow Smileys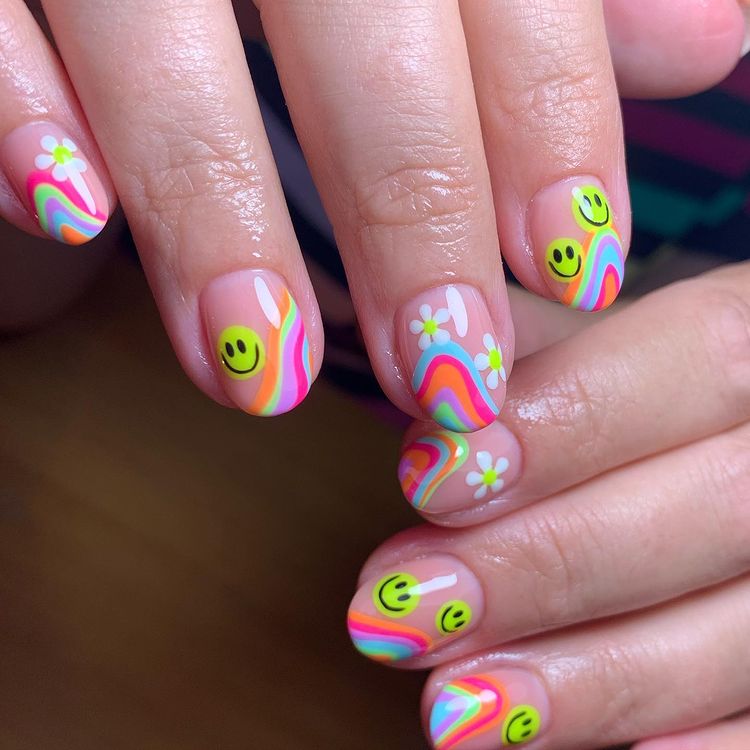 Flowers, smiley faces, and rainbow swirls aren't just for hippies. These feel-good nails are super sweet. I'm a big fan of the nostalgic 70s vibes these nails inspire.
31. Rainbow Color Block Pinwheel Nails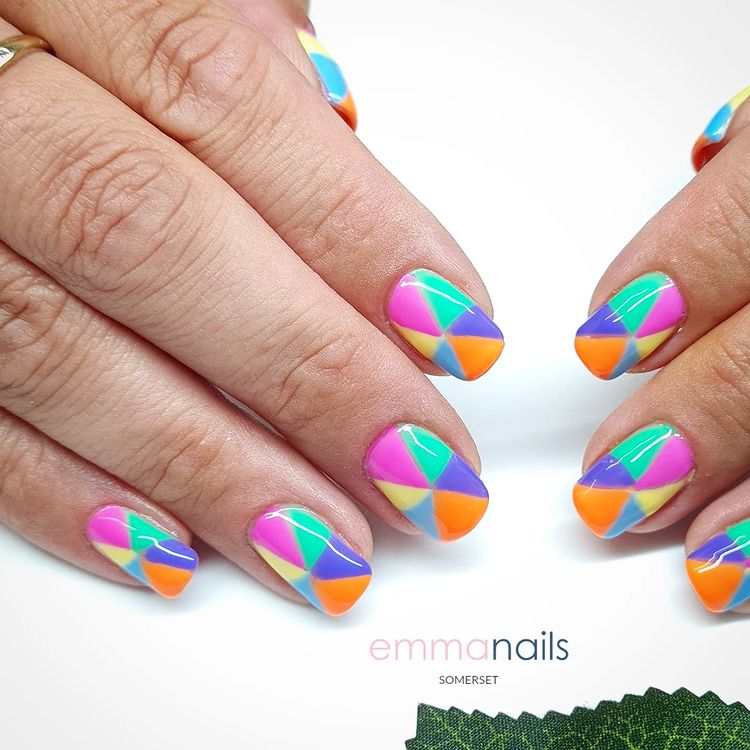 I can't get over how cute these color block pinwheel-esque nails look. They're artistic without having too much going on. The shorter nail wears the stained-glass design well. 
32. Rainbow Splatter Paint and Gold Flecks
Long Square nails make this splatter paint effect shine. At first glance, it looks like some kind of glitter polish, but the different colors are so well-defined. The gold flecks add a little something something. 
33. Rainbow Dots Down the Middle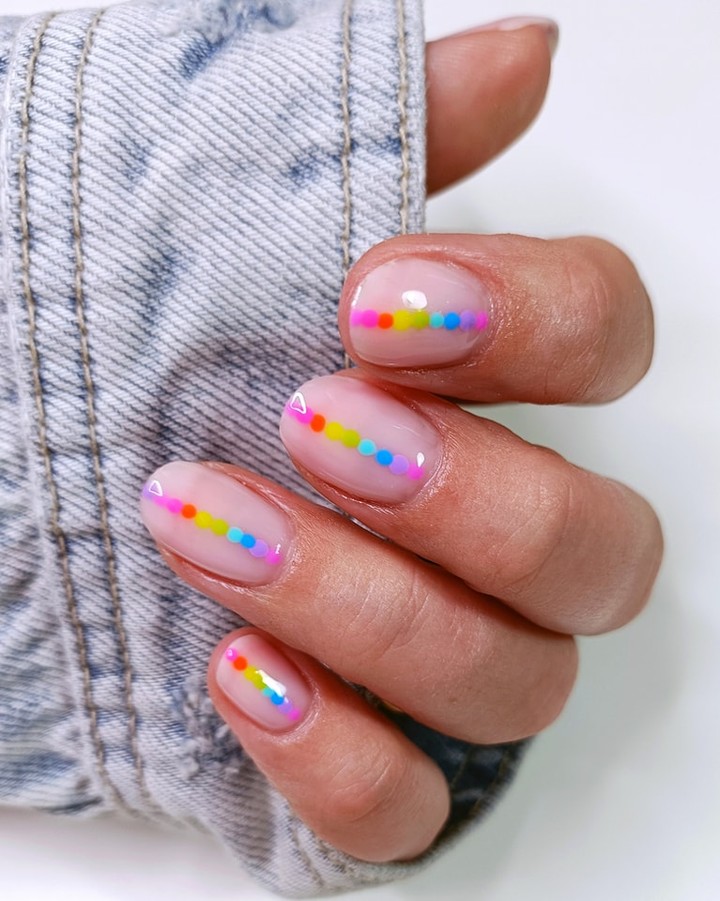 A centered line of rainbow dots is a playful way to use color without going nuts. I'm in love with the simplicity and aesthetics of it. It's an especially good choice for natural nail enthusiasts because it doesn't cover a lot of the nail. 
34. Half and Half Glitter Rainbow Nails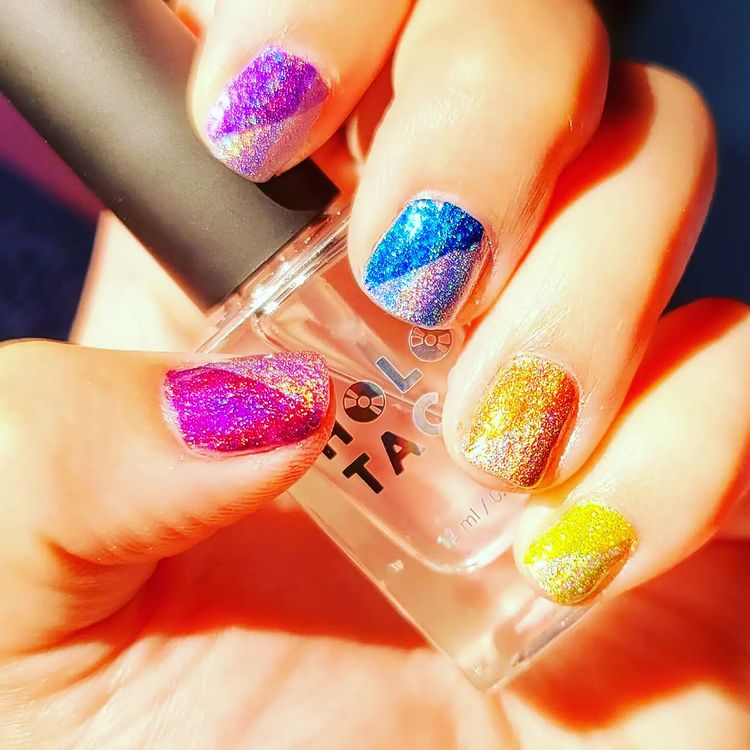 A diagonal split with one-half color and one-half silver makes these nails pop. I really like the glitter effect on a short nail. It's one way to spice up your natural nails without adding tips or press-ons. 
35. Unicorn Rainbow Glitter Nails
Rainbow stripes, glitter, and a unicorn are a great combination. These nails are playful and on trend. A great look for parties, club nights, or just because.
Summary and Top Picks
This article has looked at some of my favorite rainbow nail designs. I often have trouble balancing rainbows because I never know how much color is too much color. In the end, I really think it depends on the day and outfit. Hopefully, this selection has inspired you to get colorful!
I love all of these nail trends, but my top three are definitely the following:
#1 Easter Rainbow Pastel Solid Colorful Press-On Nails: I'm a big fan of pastels and solid rainbow nails. This hits the jackpot. On an almond-shaped nail, it looks so feminine. 
#15 A Touch of Gold on Coffin Nails: Long coffin nails already look elegant. Adding a touch of gold to these rainbow tips transforms the look.
#31 Rainbow Colorblock Pinwheel Nails: Whether they remind you of pinwheels or stained glass, this color block look is legit. I love the bold geometric pattern on a short nail. 
Are you a solid, ombre, or stripe kind of gal? Let me know which rainbow nail vibe you're feeling most in the comments!