Everybody loves a rainbow. They're cheerful, bright, and a whole lot of fun. I used to worry that a complete set of rainbow nails was too over the top for casual wear. Now I say throw a little glitter on them and let those nails shine.
Unicorns and mermaids are trending in hair color and clothing designs. It's not surprising that rainbow glitter nails are also making waves. The world has been through a lot, and this year needs a little pop of color. Let's give it to them!
If you're feeling a little sparkle in your step and want to find a new way to wear rainbows, this post is for you. Here are some of my favorite rainbow glitter nail art for this year. 
1. Ombre Chrome Glitter on Stiletto Nails
This bold stiletto nail is the perfect way to wear rainbow glitter. The sparkle on this set is extra-fine. It's got a chrome powder-dipped look that changes colors as the light hits it. Very modern. Buy these nails at Etsy.
2. Bright Multi-Color Glitter Coffin Nails
These stunning coffin-shaped nails are extra long and extra shiny. I adore the bold jewel tone colors chosen for this set. They go from dark to bright depending on the light, making them perfect for night or day wear. Buy these nails at Etsy.
3. Short Square-Shaped Rainbow Confetti Glitter Nails
Is it just me, or do these nails scream nougat candy bar? I love the large confetti sprinkles against the white base. It's such a fun way to wear rainbow glitter. The short square-shaped nail is understated and sweet.  Buy these nails at Etsy.
4. Sparkly Rainbow Jelly Nails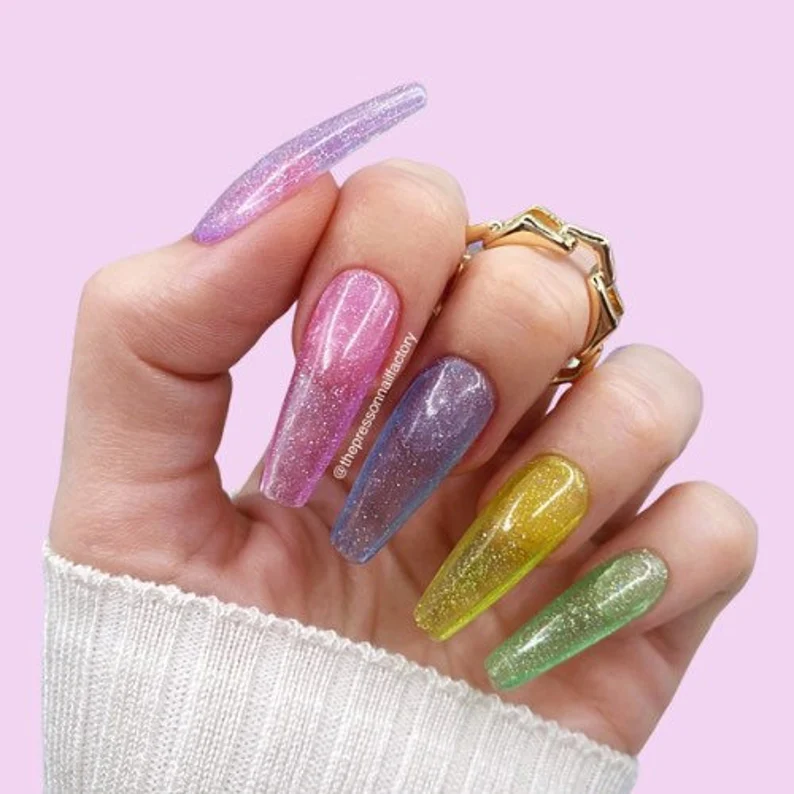 Jelly nails! I love the jelly shoe trend, and jelly nails only increase my adoration. This sparkly rainbow jelly-inspired design looks so fabulous on extra-long coffin-shaped nails. It's so flirty! Buy these nails at Etsy.
5. Pastel Sugared Rainbow Nails
Sour gummy worms anyone? Why do rainbow glitter nails remind me of candy?! These beautiful coffin-shaped pastel press-on nails make a real statement. I adore the fine layer of sugar-like glitter. #arealsweettreat Buy these nails at Etsy.
6. Crackle Texture Rainbow Sparkle Nails
Crackle polish is a textured effect that slays with rainbow sparkles. Each nail seems to shimmer and glow in the light. This is such an ethereal and mystical look. I love it. Buy these nails at Etsy.
7. Ultra Refined Nude Nails With Rainbow Glitter French Tips
These long coffin-shaped nails are so elegant. The nude color and subtly frosted rainbow tips add a punch of color while maintaining decorum. I love the gold stripe embellishment. Very refined. Buy these nails at Etsy.
SEE ALSO: 37 Pastel Rainbow Nail Designs
8. Sugared Neon Rainbow Gradient Nails
Rainbows look better when bright. These sparkly neon coffin-shaped nails are an ode to sunshine and summer vibes. I love the vibrant candy colors in a gradient across the nails. A perfect blend of hues. Buy these nails at Etsy.
9. Glitter-Dipped Rainbow Stilettos
The way glitter was applied to these stunning stiletto nails is genius. It looks like they were dipped, but the glitter rains down in a slightly ombre effect toward the nail bed. #glitterbomb. Buy these nails at Etsy.
10. Rainbow Crystal Nails
This isn't your grandma's glitter. These ornate nails are handcrafted with rainbow-enhanced crystal embellishments. The effect is complete opulence. I adore the way the colors dance in the light. Buy these nails at Etsy.
11. Rainbow Fire Glitter Nails
Ow! Careful with these fiery press-ons. Rainbow glitter twinkles at the tips of long white stiletto nails for a bold look sure to turn heads. I like the bright colors against the pale base coat. #sparkswillfly Buy these nails at Etsy.
12. Ombre Rainbow Glitter With Black Stripes
Square-shaped nails are the perfect canvas for this diagonal black stripe effect. A glittering rainbow base fans out in ombre hues across each extra-long nail. This is great for ladies who love their black fashion staples but want a pop of color. Buy these nails at Etsy.
13. Rainbow Splatter Effect on Rose Gold Glitter Nails
My artistic side loves the splatter paint effect on these rose gold nails. The subdued jewel tone colors create a soft rainbow effect without overpowering the base coat. It looks delicate and feminine on the medium square tip nail shape. Buy these nails at Etsy.
14. Long Bold Rainbow Glitter Press-On Nails
Bring out your wild side with these bright bold rainbow glitter nails. Perfect for a night out. This look is sure to get you noticed. I really like the large glitter style for these bright shades. Buy these nails at Etsy.
15. Subtle Rainbow Glitter French Tips
Rounded square tips with a soft frosting of glitter look subtle and delicate with thin rainbow tips. The french tips extend down one side of each nail, creating a rainbow cascade. I like that I could wear this with almost any outfit. Buy these nails at Etsy.
16. Psychedelic Rainbow Swirls With Glitter
This bright neon swirl nail art looks trippy amongst a sea of sparkles. I love fun nails like these for theme parties, girl's nights, or beach days! Such a funky way to wear an almond-shaped nail. Buy these nails at Etsy.
17. Unicorns, Rainbows, and Glitter, Oh My!
These playful stiletto nails are so me. I adore the little white decals against the natural base. Translucent rainbow tips with silver glitter add a little magic to the look. Buy these nails at Etsy.
18. Stained Glass Rainbow Glitter Coffin Nails
The black outline on these glittery rainbow nails creates a stunning stained glass look. This set of nails is a jaw-dropping look for a night on the town. Pop the champagne, but be careful not to break a nail! Buy these nails at Etsy.
19. Sparkly Marble Rainbow Press-On Nails
Almond nails are such a feminine shape, and I love the marble rainbow look on this set. The colors swirl together in a solid and translucent mix for a natural marbled look. #slayallday Buy these nails at Etsy.
20. Super-Long French Tips in Rainbow Glitter
These nails sparkle and shine with rainbow glitter french tips over a nude base. The tip design gives the nails an almond look before extending into a coffin shape. I love the different sizes of glitter in the rainbow portion of the nail. Buy these nails at Etsy.
21. Large Confetti Glitter Rainbow Nail Set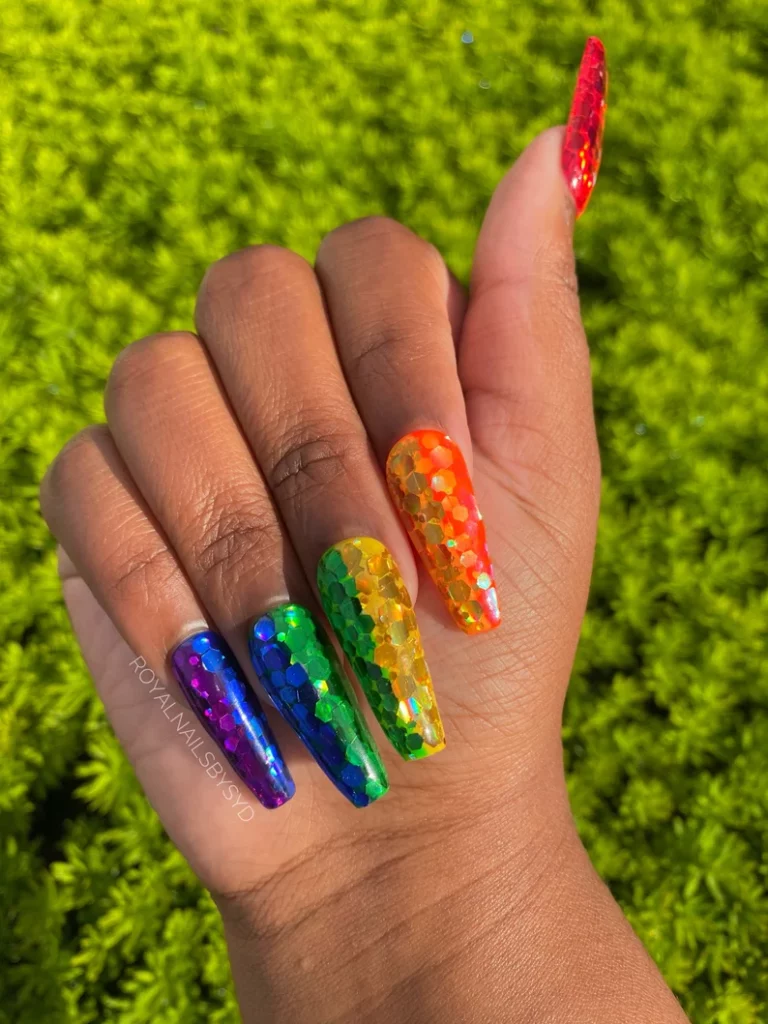 Get it, girl! These rainbow glitter nails are perfect for a pride event or an average Monday on the town. I love the large confetti glitter used in these coffin-shaped nails. The glitter reminds me of bubbles. Buy these nails at Etsy.
22. "Love is Love" Short Oval Rainbow Glitter Nails
Hearts and, "Love is love" stickers decorate this glittery nail party. I love the rainbow sparkle polish used under the decals. If you're celebrating love, this is the perfect way to make a statement. Buy these nails at Etsy.
23. Clear Tip Stiletto Rainbow Nails With Glitter and Butterflies
I love clear tips on stiletto nails. This set comes with a colorful glitter outline that leaves the perfect window for butterfly accents. These nails are so sweet and girly. A perfect way to brighten any day. Buy these nails at Etsy.
24. Over the Rainbow Twinkle Nails
These almond nails have a gold glitter base with multi-colored rainbow embellishments. The sparkle is real with this press-on set. I enjoy the added twinkle decals for a little pinch of magic. Buy these nails at Etsy.
25. Dark Base with Rainbow Glitter
Flakes of rainbow glitter make these dark nails stand out. I'm feeling the wide coffin shape. Perfect for dull days when a disco vibe is needed to liven things up. Buy these nails at Etsy.
26. Neon Rainbow Tie Dye With a Hint of Sparkle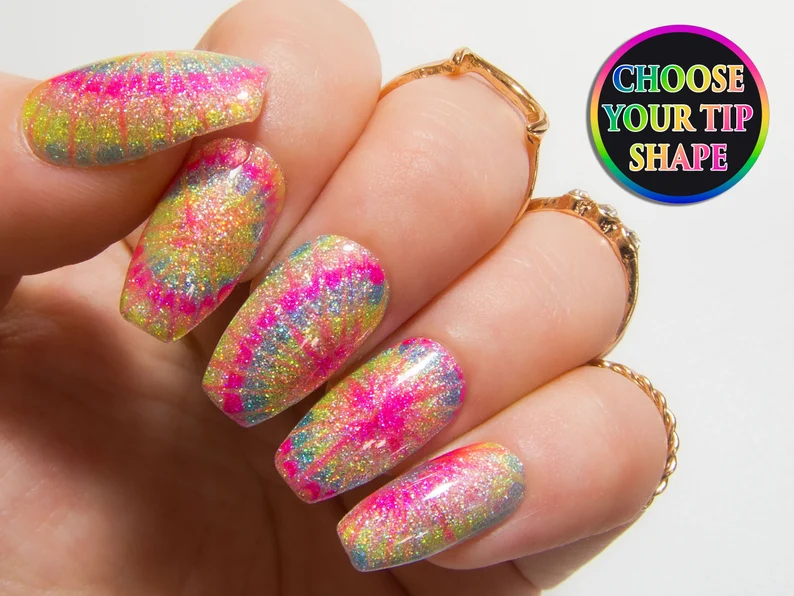 Get your 90s revival tie dye look on with this set of press-ons. Rainbows fan out in a classic spiral of color with an overlay of glitter. The choice of neon colors and gold give me Cali girl vibes. Buy these nails at Etsy.
27. A Little Bit Extra With Rainbow Butterfly Glitter Nails
These intense coffin-shaped talons are to die for. I know they're a little much, but sometimes we all need to be just a little bit extra. Long clear nails with a rainbow butterfly glitter suspension. All that's missing are platform heels with goldfish.
28. Glitter Dipped Almond Nails in Rainbow Hues
This is such a cute set of almond-shaped nails. They're dipped in different colors, so together, they form a rainbow. The dip doesn't extend to the entire nail, creating a sparkle ombre effect.
29. Pale Kaleidoscopic Glitter Nails
A slow shift from pastel orange to purple makes the glittery rainbow nails a kaleidoscope of color. This dipped sparkle look is so hot right now, especially on coffin-shaped nails. 
30. Rainbow Candy Colored Nails With Glitter
These adorable short square-shaped nails look like they've been dipped in crushed candy. Each nail is a different color, and they look good enough to eat. #yum
Summary and Top Picks
This article is all about rainbow glitter nail designs. From sparkly ombre talons to modest stardust pastels, I love this trend. Some people think multicolored nail art is hard to dress for, but I say it goes with everything! #longlivetherainbows
Every design I chose is a winner, but my three favorite looks are:
#5 Pastel Sugared Rainbow Nails: So many glitter rainbow nails remind me of candy. This set of colorful sugared coffin-shaped nails has me by the sweet tooth.
#18 Stained Glass Rainbow Glitter Coffin Nails: Black and rainbow glitter come together on these coffin-shaped beauties for a stained glass effect I love.
#26 Neon Rainbow Tie Dye With a Hint of Sparkle: Tie dye is hip right now and these rainbow glitter nails are "nailing" it. 
I showed you a ton of blinged-out rainbow nails today. When you rock this style, do you like a little glitter or a lotta glitter? How much glitter is too much? Comment below and let me know your thoughts.