It's a shade we often use as a base coat for our nails but there's so much more that nude can offer us. A neutral hue, nude is simple, classy, and versatile, blending seamlessly with any color palette and providing a foundation for some amazing designs.
You can enjoy a nude mani any time of the year, for any occasion, and still be trendy. Whether you have your nails done yourself or by a professional, following a nude theme will make the process seem effortless.

That's why I'll be highlighting nude nails in all shapes and lengths, from the simplest to the most abstract designs you can think of. Figuring out your next style has just gotten way easier! So, let's begin! Here are nude nail designs that will win you over instantly.

1. Nude Peach Almond Nails
A nude peach nail look is easy to achieve with a beauty that's long-lasting. Applied over almond extensions, you'll receive a modest design that will complement anything you wear. You can get these nails at Etsy.
2. Nude and Brown Polka Dot French Coffin Nails
Starting with a nude base, design every other nail with a sequence of brown dots that overlay a white french tip. Maintain this subtle yet creative vibe with your ring finger coated in a solid nude shade and your index finger sporting a deep brown. You can get these nails at Etsy.
SEE ALSO: 23 Brown Nail Designs to Try for Fall
3. Nude Glitter-Encrusted Coffin Nails with Rhinestones
Nude has a calming undertone but paired with the right accents, you can transform this shade into one of luxury. 
Flaunt your nude nails with a glitter-encrusted design and rhinestones along the cuticles of select nails to manifest an effortlessly posh look. You can get these nails at Etsy.
SEE ALSO: 30 Trendy Rainbow Glitter Nail Design Ideas to Jazz Things Up
4. Nude Coffin Nails with Neutral Abstract Swirls
Venture out into more creative styles with abstract swirls over a nude base. I love how these swirls also have a neutral tone with different shades of nude along with white as the pigments of choice. 
They supplement the soft aura of these nails while introducing some fun artistic elements. You can get these nails at Etsy.
5. Glossy Dark Nude Almond Nails
Brighter colors bring a cheerful vibe while darker shades are more soothing and romantic, so for an alluring finish, opt for dark nude nails with a glossy top coat for an ultra-feminine touch. You can get these nails at Etsy.
6. Nude Square Nails with Thin Brown Swirls
Thin swirl details offer your nails a sophisticated style in the blink of an eye. Try this nail art in complementary tones of brown to suit your nude look. You can get these nails at Etsy.
7. Nude Pink Cloud Coffin Nails
Nails with cloud art look as dreamy as they sound. Achieving this design involves the application of subtle shades of nude pink acrylics, providing the scenery for small white clouds and sparkling star accents. You can get these nails at Etsy.
8. Matte Light Nude Coffin Nails
There's no design easier done than solid-colored nails, and they're still so gorgeous to look at. With your nails varnished in a light nude shade, opt for a matte finish for a bold and clean-cut effect. You can get these nails at Etsy.
9. Matte Nude Gradient Coffin Nails
It's true, the difference lies in the simple things and this neutral-toned gradient design is proof, shifting from a deep mauve shade to white with a series of nude tints in between. A matte finish makes this chic look even more flawless. You can get these nails at Etsy.
10. Nude and White Snowflake Coffin Nails with Glitter
Although we'll be bundled up all Winter, we can go through the season in style with a stunning nail design. 
To match the chill vibe of the season an au naturel look is perfect; go for a nude base coat to make it happen, with overlays of white glitter and a fitting snowflake design. You can get these nails at Etsy.
11. Nude and White Angled French Coffin Nails
For a unique alternative to classic french nails, I recommend angled french tips. This look is so chic and simple but requires precision to ensure your slanted design has a sharp finish. Complete the look with a glossy top coat. You can get these nails at Etsy.
12. Caramel Nude and White Marble Coffin Nails
Among the classiest designs, marble nails have become a prime choice, and what better way to complement them than with a nude color scheme. 
Make this look one to remember and dedicate your ring and middle fingers to the marble effect, first coating them in white. This allows the design to pop against a high contrast background. You can get these nails at Etsy.
13. Nude and Black French Stiletto Nails with Swirls and Silver Glitter
Swirls aren't just fun, they can be sophisticated too. These black swirls were styled with silver glitter over a nude base and the combination is one of simple luxury. 
Plus, black and silver are compatible shades so they look amazing in any style. You can get these nails at Etsy.
14. Short Light Nude Nails
For the most natural effect, nude polish applied over short nail extensions is the way to go. It's the shade that's closest to our original nail color. Nonetheless, a nude mani will improve your overall look, offering simplicity with a chic nuance. You can get these nails at Etsy.
15. Nude Pink and White Snowflake Nails with Line Art and Glitter
Charm your way through Winter in a nude pink nail design, embellished with cute line art and glitter, along with creative snowflake designs. It's a refreshing look with a hint of color to lift the atmosphere around you. You can get these nails at Etsy.
SEE ALSO: 40 Pink and White Nail Design Ideas That Are Trendy AF
16. Nude and Brown Abstract Swirl Round Nails
Complement your nude nails with a highly pigmented brown color, interchanging between a matte and glossy finish. For a creative flair, add decorative swirls to match the warm and neutral aesthetic. You can get these nails at Etsy.
17. Nude and Green Cherub French Almond Nails
I don't think we highlight vintage-styled nails enough so if that's the look you're going for, this idea is perfect for you. Starting with a nude base, opt for pale green french tips, enhanced by a bronze glitter smile line.
To accentuate this classy style, the ring finger is boasting a unique cherub design with a cloud art backdrop. You can get these nails at Etsy.
18. Short Milky Nude Glitter Round Nails
I love a simple nail look with glitter accents. It's effortlessly elegant and can be dressed up or down. Make this look yours by coating your nails in a milky nude shade with gold glitter raining down from the base of each. You can get these nails at Etsy.
19. Nude French Coffin Nails with Colorful Swirls
A french tip design allows you to be as creative as you want with your nude nails. Any color you choose will be compatible so play around with as many bright hues as possible like purple, green, yellow, and orange in cool swirl patterns. You can get these nails at Etsy.
20. Translucent Nude Glitter Square Nails with Snowflakes
Translucent nude nail polish can help you to achieve a cool-toned aesthetic that will act as an ideal foundation for iridescent accents such as glitter. 
These nude nails also make beautiful backgrounds for snowflake Winter designs, which come in handy when it's that time of the year. You can get these nails at Etsy.
21. Multi-Shade Nude Almond Nails with Leaf Art
Coating your nails in both light and dark shades of nude is a great way to bring diversity without straying from the color theme. 
You can also achieve a more flattering look with the inclusion of detailed leaf art. This design fits perfectly with the natural vibe while contributing to a classy finish. You can get these nails at Etsy.
22. Nude Butterfly Almond Nails
Make your nails extra special with butterfly art, each painted in a different shade to add a unique touch and lighthearted feel. This look is especially ideal for Spring or Summer. You can get these nails at Etsy.
23. Nude, Neon Yellow, and Black Geometric Almond Nails
These nails are as abstract as it gets with cool geometric designs in black and neon yellow. 
This look also features a neon yellow french tip on the index finger with an angled tip design on the middle finger, bridging the gap between simplicity and trendiness. You can get these nails at Etsy.
24. Nude Plaid Almond Nails
A plaid pattern is always a sophisticated addition to your nails. With stripes colored in red, black, and white, use this design as the standout feature to amp up a classic nude look. You can get these nails at Etsy.
25. Long Nude Rhinestone Coffin Nails
A little bedazzle never hurt anyone. Keep the glam to a minimum with medium-sized rhinestone accents detailing the uppermost part of your nails. 
Flaunt this design with some of your simpler pieces to elevate your look or with more stylish outfits to match the vibe of your nails. You can get these nails at Etsy.
26. Nude and Black French Tips with Line Art
Besides the fact that both shades make a harmonious combination, black also brings a bold and edgy touch to solid nude nails.
Moreover, you don't even have to do the most to achieve such a style either. A chic black french tip design and line art are more than sufficient. You can get these nails at Etsy.
SEE ALSO: 50 Black French Tip Nail Design Ideas That are Trending Now
27. Nude Nails with White Grid Lines and Green Leaf Art
This subtle nude nail look incorporates deep green leaf art and a white grid pattern for a tropical-inspired combination that's sophisticated too. It's the perfect blend of a mature and youthful design. That's right! You can have it both ways. You can get these nails at Etsy.
28. Nude and White Sweater Coffin Nails with Glitter
It doesn't get posher than a knitted sweater nail design. This look is a result of your imagination truly coming alive on your nails. 
A nude color theme anchors this exclusive design, underscored by a full coat of white glitter on the ring finger. It's the middle finger that dons the design that elevates the whole look; a white sweater pattern, so intricately designed. You can get these nails at Etsy.
29. Nude and Brown Ombre Square Nails
The ombre trend is one that will never die out. Enjoy the effect of this flawless design with a seamless transition from nude to brown, completing this awe-inspiring look with a glossy finish. You can get these nails at Etsy.
30. Nude Leopard Print French Coffin Nails
If you're the kind of girl who loves a simple day-to-day look with hints of sophistication, nude nails with a stylish print will suit you well! Incorporate a leopard print french tip design for an ultra-chic flair. You can get these nails at Etsy.
31. Nude and Gold Glitter Ombre Almond Nails
One of the simplest and most effective ways to jazz up your nude nails is with sparkling accents. So, for a complementary finish, sprinkle gold glitter along the tips of your nails and pull off a faux ombre effect. You can get these nails at Etsy.
32. Nude and Brown Waves Coffin Nails
For this design, brown nail polish was used to create a wavy effect across the tips of nude nails. It's a creative and subtle way to upgrade a classic neutral look. Bring this design to completion with a crisp matte finish. You can get these nails at Etsy.
33. Nude and White French V-Tips
The natural elegance of these french tips is what makes them so special, as a nude base is enhanced by white strokes along the edges that meet right in the middle. A glossy top coat is just right to highlight this feminine style. You can get these nails at Etsy.
34. Nude Leopard Print Coffin Nails
Still hung up on the impact of leopard print nails? Appease your taste and have this chic design applied at the crown and tips of your nails, easily enhancing a light nude base. You can get these nails at Etsy.
35. Nude, Brown, and White Swirls Almond Nails
What better way to execute a sweet nail look than with a chocolate swirl-inspired design? 
Beginning with a soft nude base, thick caramel and deep brown swirls work their way across almond tips. We can't ignore those smaller white swirl lines that bring an elegant contrast. You can get these nails at Etsy.
36. Short Light Nude and White Marble Nails
Capitalize on the ease and classy flair of nude nails and treat yourself to the ever-trendy marble design. Apply the style where it can be clearly seen and admired, on your ring and middle fingers. You can get these nails at Etsy.
37. Nude Stiletto Nails with White and Yellow Swirls
I love how these yellow and white swirls really come alive against a soft nude base. It's a style that's super easy to achieve and the finished look is gorgeous with lots of versatility too. 
Rock these nails with an all-black ensemble, denim, or a cozy and casual Summer outfit. You can get these nails at Etsy.
38. Nude Translucent Almond Nails with Gold Glitter and Bow Accent
'Tis the season for fashionable nails! You'll make quite the statement for the holidays with this shimmering nude translucent design. Plus, I'm so in love with the gold bow accent on the thumb. It's the standout feature of the entire look. You can get these nails at Etsy.
39. Nude Almond Nails with White Hearts
It's an uncommon design combination but that's what makes it so great; white hearts with blue leaf art painted over nude nails. 
A slightly intricate design with a graceful finish, the muted tone of these nails will work especially well with other neutrals from your style arsenal. You can get these nails at Etsy.
40. Nude Gradient Stiletto Nails
Opt for a bolder look with a nude color progression on stiletto nails. As the hues lighten from a deep brown shade, a gradient effect begins, featuring contrasting tones of nude, all the way to white on the pinky finger. You can get these nails at Etsy.
41. Nude and Silver Glitter-Encrusted Almond Nails
It's a mix of business with pleasure as simple nude nails are amped up on all sides by overlays of silver glitter. Be sure to enjoy the versatility of this design while you turn heads wherever you go. You can get these nails at Etsy.
42. Pastel Nude Holographic Almond Nails
Give yourself a glimmer of hope with pastel nude holographic nails. These nails are simply breathtaking and have a smooth finish, reflecting light for a mesmerizing glow. You can get these nails at Etsy.
43. Nude Square Nails with Silver Sequins
Play up modest nude nails with the application of silver sequins at selected areas on each nail. Sequins contribute a high-end appearance to your nails. Your look will go from casual to classy in an instant. You can get these nails at Etsy.
44. Nude and Sky Blue French Coffin Nails with Gold Glitter
These nude nails were enhanced by a pretty sky blue shade, primarily at the tips, and accented by gold glitter lines. The complexity of the look gradually increases with each shade and design complementing the other. You can get these nails at Etsy.
45. Nude and White Leopard Print Split-Design Coffin Nails
Leopard print designs amaze me every time, and I'm also a lover of french tips, so, I'm always excited to see both combined. 
It's a creative and stylish merger of two of the trendiest designs, and it's pretty simple; just dedicate one-half of your nail to each. Plus, with nude as the leading shade, all others will blend in seamlessly. You can get these nails at Etsy.
46. Nude, Pink, and Orange Watercolor Coffin Nails
Play around with naturally feminine colors that give your nails a radiant finish like pink and orange. 
For this look, they were applied using the aquarelle or watercolor technique to achieve that light swirl pattern and faint blend from one hue to the other. You can get these nails at Etsy.
47. Nude and Black Ombre Coffin Nails with White Stars
Some nail designs add to your mystique, just like this nighttime-inspired look, as a nude base transitions to black, resulting in a beautiful ombre design. 
Adding to the charming aura of these nails are small dots and white stars for a galactic effect. You can get these nails at Etsy.
48. Nude and Gold Glitter Ombre Stiletto Nails
I think it's safe to say that nude and gold are synonymous with elegance. The tips of these soft and graceful nude nails are lightly veneered by sprinkles of gold glitter and the finished look is too classy to ignore. You can get these nails at Etsy.
49. Creamy Nude and Red French Coffin Nails
It's the creamy texture of these nails that piqued my interest the most. It's a french mani with a nude base and red at the tips. 
What's most interesting about this design is the muted tone that red is displayed in, as the color is generally applied in its boldest and most dominant pigments.
However, this look allows us to appreciate a softer tone of a color we love so much, resulting in a more natural blend with the nude shade. You can get these nails at Etsy.
SEE ALSO: 100 Red Nail Design Ideas That Are Trendy AF
50. Nude and Pink Floral French Almond Nails
A nude base also provides the perfect foundation for a girly nail look. Make it happen with a french tip design in multiple shades of pink, assigning your ring finger cute floral nail decals to underscore that girly appeal. You can get these nails at Etsy.
51. Nude Multi-Colored French Square Nails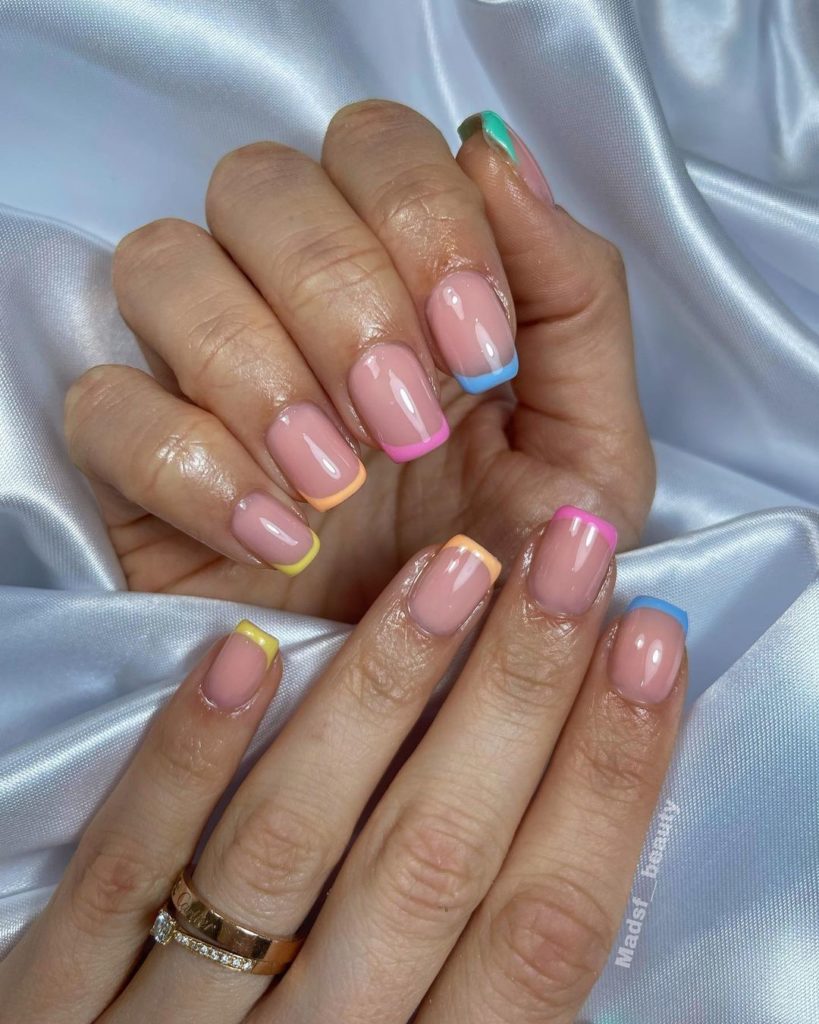 Brighten up your nude nails with a mismatched french tip design. Polishing each tip in a different color will help you achieve a diverse and trendy look suited for any season.
52. Glossy Nude Coffin Nails with Red Flowers
This red floral design looks so pretty against a nude backdrop. I also love how the edges of these flowers fade out for a softer look. The glossy overlay tops this design off impeccably, bringing a velvety finish.
53. Long Nude Pastel Ombre Nails with White Swirls
Take your nail game up a notch with long extensions coated in a fall-worthy pastel mani, as nude fades to brown, yellow, and orange in a mismatched gradient design. Complete this cute look with white swirls for a trendy flair.
54. Short Nude Marble Round Nails
A marble effect is among my favorite nail designs, and here, it's taking these nude nails to a whole new level. I love the short round shape of these nails as well as it adds to the simple, cute, and classy vibe of this nude marble mani.
55. Glossy Nude and Rose Gold Glitter Almond Nails
A sparkling nail design is always welcome here! Add some shimmer by devoting your ring finger to a full coat of rose gold glitter. 
It'll be more than enough to highlight your new look, so feel free to polish your remaining nails in a solid nude shade.
56. Nude Almond Nails with Silver Glitter and White Flower Decals
A glittering design still on your heart and mind? Trade rose gold for silver, this time around, worn on your index finger. Make your nails even more flattering with white flower decals on your ring finger for a stunning and elegant finish.
57. Nude Coffin Nails with Silver Sparkles
For this design, nude nails are overlaid with silver sparkles for an effortlessly elegant and captivating look that will beautify anything you style them with. It's a glitter takeover and I'm not mad at it.
58. Nude Square Nails with Small Black Dots and Hearts
It's all in the details. Apply small black dots along the inner corner of your nude nails for a simple yet stylish design that you can rock anywhere and with any outfit. For an even cuter touch, include small black hearts.
59. Nude Taupe Coffin Nails
Sophistication doesn't have to feel complicated. Sometimes it's the unembellished designs that have the most impact. 
Take these nude taupe nails for example; they're chic and bold nonetheless, having no other shade to compete with and matching your fave wardrobe pieces with ease.
60. Nude and Pastel Yellow Almond Nails
Thanks to the neutral undertone of these nude nails, they pair well with pastel yellow. 
A more subdued shade of the brightest color on the spectrum, pastel yellow won't take away from or overshadow your nude base. You can also include adhesive accents in a similar shade for a more stylish finish.
61. Nude and White French Square Nails with Gold Glitter
Simply put, the classiest trio you'll find is nude, white, and gold. Incorporate a french tip design to make this look even more classic, using gold glitter to accentuate your smile line.
62. Nude and White Double French Tips
Traditional french tips received an upgrade when the double tip design was introduced. Try this versatile look in a classic white shade that you can easily accessorize with your most beloved jewelry.
63. Nude and Multi-Colored Pastel Ombre Almond Nails
A tie-dye design can offer you the creativity you need to amp up your nude nails. Let your imagination come to life and play around with multi-colored pastel hues on the tips, fading them out in the middle for an ombre effect.
64. Short Nude Daisy Nails
Embrace your softer side with a feminine floral design and a glossy top coat over subtle nude nails. The combination of daisies with green leaves brings a fresh, naturistic aura, compatible with the aesthetic of the warmer seasons.
65. Nude, Sky Blue, and White Freestyle Square Nails
These nude nails were truly the start of something special. With the addition of sky blue and white, this glam look features an ombre effect, glitter, a french tip design, and swirls. For the finishing touch? The cutest white flower decals.
SEE ALSO: 100 Cute Nail Design Ideas That Are Trending Now
66. Shimmering Nude and Brown Square Nails with Abstract Line Art
For a design that's rich with an out-of-this-world sheen, opt for a dark nude shade paired with brown as a complementary tone. Add abstract line art and glitter to enhance the overall look.
67. Nude Square Nails with Colorful Stripes
Use colorful stripes to play up a neutral nude look from as far up on your nails as you'd like, down to the tips. This fun and easy-to-wear design is one that will catch on quickly in Summer.
68. Glossy Nude Gold-Rimmed Coffin Nails
Beautifully highlight your nails by adorning the rim of each with gold glitter. As if recreating a luxurious mirror, bring this look to completion with a glossy glaze.
69. Nude and Black Double French Almond Nails
Give your nails an edgy twist with a double french tip design in black. While both shades are contrasting they are classified as neutral tones, making them a perfect duo for a chic nail design.
70. Matte Nude Square Nails with Emerald Green Rhinestones
When you accessorize your nails with green accents, elegance is a given, particularly emerald green; there's just something so timeless about this shade. So, make it a grand design with emerald rhinestones over matte nude nails.
71. Nude Coffin Nails with Cherries
For a trendy design, you can't go wrong with cherry nail art. Apply cherries in the form of decals on every other nail to achieve this look. It's so easy to pull off and gives your nails an ultra-cute touch.
72. Glossy Nude and Black Swirls Coffin Nails
Black makes everything look so much edgier, and with an abstract swirl pattern, you'll receive a fun and modern nail design with tons of versatility.
73. Nude Almond Nails with Gold Bee Accents
The first thing that generally comes to mind when we see bees is honey, and for honey, we think of something super sweet. That's the vibe these nude nails are giving as they feature bright gold bee accents.
It's such a pretty design that will elevate your daily casual fits and surely stir up some admiration.
74. Nude Sunflower Round Nails
I see sunflowers and that means we've got a Summer-worthy design on our hands. Sunflowers tend to bloom as early as July so these nude floral nails would definitely suit the season.
75. Nude Coffin Nails with Black and Gold Abstract Lines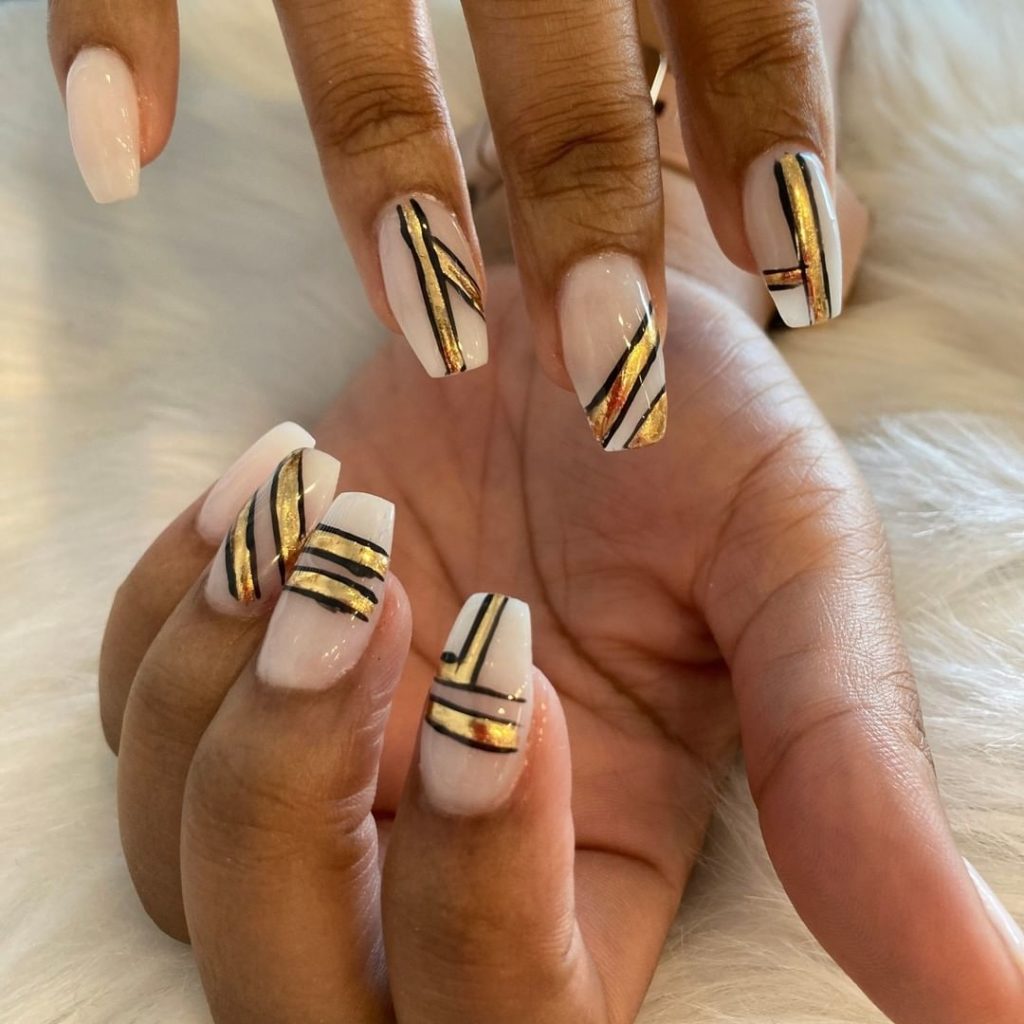 Can't decide on a design to enhance your nude nails? Abstract line art won't disappoint. Choose the right colors to bring your nails to the forefront as well; black and gold are experts at standing out.
76. Short Nude and Silver Glitter French Nails
There's always that event that's coming up that we want to pull out all the stops for, and still make it look like we didn't break a sweat, of course. For that, pair your nude nails with silver glitter in a gorgeous and classy french tip design.
77. Glossy Nude Square Nails with Gold Glitter Flakes
For a subtler option to sparkling glitter, glitter flakes will do a great job at bringing some pizzaz to your finished look. For a girly flair, opt for flakes in a gold shade, sparsely sprinkled over your nude nails.
78. Nude and Seaweed Green Daisy Almond Nails
Complement the mellow tinge of your nude nails with a warm-toned neutral shade like seaweed green. Accentuate this earthy look with beautiful white daisies.
79. Nude and White Heart French Square Nails
If you want a little bit more than just a french tip design, throw some cute white hearts in the mix. It's a cute way to upgrade a classic look and is a design you can achieve on your own as well.
80. Nude Rose Quartz Coffin Nails
Rose quartz is a gemstone that denotes unconditional love, so there's a lot of meaning behind getting this design besides the fact that it's absolutely beautiful. 
It's also a soft glam look that you can wear with anything your heart desires, and although it's on the simpler side, you'll never get tired of it.
81. Short Nude Nails with White Roses
There's so much a rose design can do for your nails. It's an eye-catching detail that adds a feminine touch and can act as inspiration for your daily outfits. To match a nude nail look, go for a white rose design and revel in the combination.
82. Nude and White Ombre Coffin Nails with Line Art
Get creative with white nail polish, using it to form stylish line art over a nude base along with a faint ombre effect. You can also lend your pinky fingers to a solid white coat to enhance this chic design.
SEE ALSO: 100 White Nail Design Ideas That Are Trendy AF
83. Short Nude and Pink Nails with Rose Gold Glitter
Alternate between nude and pink for an ultra-feminine nail look that you'll want to show off every chance you get. Amp up this design with glitter accent nails in rose gold for an even more rewarding finish.
84. Nude Cloud Art Square Nails
If you're in the mood for cloud art, nude nails provide the perfect ethereal backdrop to make that design come alive. 
Achieve this look with white stars and clouds painted over your lucky ring finger and your remaining nails sporting a translucent nude base.
85. Nude and Chrome Red French Coffin Nails
Invite a scintillating glow to your nude nails with chrome red french tips. Rock this look at your next Christmas party or with your favorite nighttime dress, for a dinner date.
86. Short Nude Round Nails with White and Pink Polka Dots
Go for a look that's simple and cute with tiny white polka dots. Add some diversity with a mismatched design, painting dots on one hand in white and pink for the other.
87. Nude Almond Nails with White Roses and Silver Glitter
Achieve a soft, elegant design by accenting your nails with white roses and sprinkles of silver glitter. It's a rule I live by for my nails; if you're stuck in between the two, choose both.
88. Short Nude, Blue and White Angled French Tips
Go the trendy route with a blue and white angled french tip design. You'll be floored by how easily this look can be accomplished. All it takes is the careful diagonal stroke of a nail art brush from the rim of your nails to the center.
89. Nude and Pink French Almond Nails with Black and White Accents
Nude nails with pink tips make a super cute combo that evokes femininity for the girly girl in you. Enhance this look with black and white stars and dots for a high contrast mix.
90. Nude and Silver Rim Stiletto Nails
Decorate the rim of your nails with silver glitter for a guaranteed classy appearance and for the most eye-catching finish, opt for stiletto-shaped extensions.
91. Nude, Black and Gold Glitter Angled French Almond Nails
Nude, black, and gold are back and they're sassier than ever in a fancy angled french tip design. The gold and black strokes make these neutral nails distinct with a glossy finish for that final glow.
92. Nude, White, and Gold French Square Nails
Get all dolled up with nude and white french tips featuring a glamorous gold glitter smile line. It's a classy, no-hassle design that you can pull off in any setting.
93. Short Nude and Blue French Round Nails with Daisies
Summer is the perfect time to pair blue with nude nails. After all, that's when the beach becomes our favorite place to be, and it's when the sun reveals the fullness of its grandeur. 
So, for a warm, sunny vibe, brighten up short nude nails with blue french tips and daisies. I promise you'll love the end result.
94. Nude Square Nails with Multi-Colored Glitter Flakes
Bring a different vibe to simple nude nails with dabs of glitter flakes across the tips. For an edgy effect, choose darker colors such as black with pops of brighter shades in the mix.
SEE ALSO: 100 Black Nail Design Ideas That Are Trendy AF
95. Nude and Pink Almond Nails with Hearts and Swirls
It's one of the cutest displays of nail art I've ever seen. This look features both nude and pink nails, interchanging between both shades for a creatively designed heart swirl combo. It's girly, unique, and so romantic.
96. Short Nude Lilac Nails with Gold Accent
Simplicity won with this design as short nails are coated in a dainty nude lilac shade with a gold accent applied at the crown of each. 
This is the ultimate look for classy everyday nails. They would also be suited for an elegant pastel-themed wedding.
97. Nude Coffin Nails with Blue, Red, and Black Abstract Swirls
For a vivid style that's easily remembered, indigo blue, and crimson red make the perfect pairing. Apply both colors in a stylish abstract design with swirls of black over your nude nails.
98. Nude and White French Stiletto Nails with Abstract Swirls
Bring your personal style to classic nude and white french tips by painting at least one of your nails in an eye-catching design. If you'd prefer the design not to be the center of attention but still have an impact, have it applied over your pinky finger.
99. Nude Kitten-Inspired Almond Nails
Show some love to your feline friends with a kitten-inspired nail design that's adorable beyond description. 
Small white dots and stars were also added around each graphic for a sparkling effect. This design is a definite trendsetter that will keep you smiling from ear to ear.
100. Nude Multi-Colored Floral Round Nails
A nude shade gives floral designs the foundation, they need to be appreciated as the details and colors seem to come alive as they emerge from an achromatic backdrop. 
This design is amazing for nature lovers and also for enhancing single or neutral-hued outfits, for example an all-black or all-white ensemble.
Summary and Top Picks
If your goal is a versatile nail look with a hint of color, nude nails have proven to be a worthy selection. Plus, they act as an ideal base coat for color pairing and intricate designs, so you'll be well pleased with the available options.
As a matter of fact, I became most fond of designs 9, 28, and 99. Their sophistication and overall sleek finish really left their mark and those kitten-inspired nails were simply too cute to not make the cut.
Now, I'd love to know what you think. Which of these nude nail designs made an impression on you? What outfit combos do you think would look best with your fave designs? Share your thoughts and any questions you have down below.