Have you ever stared at your nails and wished they could look as amazing as some of the designs you see daily on social media? It's so easy to get hung up on these gorgeous looks that we forget that our natural nails can look just as stunning.
That's what this article is all about. As women everywhere are beginning to embrace their natural nails and play around with fun and stylish designs, it's only fitting that I share some of the gorgeous ones that have been trending this year.
You're about to see natural nails that are chic, colorful, simple, neutral, bold, and edgy. I'm talking about designs with spunky patterns, splatter art, animal print, and color pairing that will make people look at you in awe.
When you've reached the end of this list, you'll be ready to hit your nail tech up to rock your favorite designs or maybe DIY a few at home. Without further ado, here are some gorgeous natural nail designs that you need to try right now.
1. Light Pink and White Swirl Nails
A little pink to brighten up your week is a great way to start things off. I love how seamlessly it's brought into the mix, paired with white in stylish swirls for a cute and playful look.
2. Bright Yellow Almond Nails With Black Splatter Art
Here's the stunning splatter art design I mentioned earlier. Dabbing black nail polish over a yellow base makes for a creative and dynamic look that will definitely turn a few heads.
3. Colorful Cow Print French Nails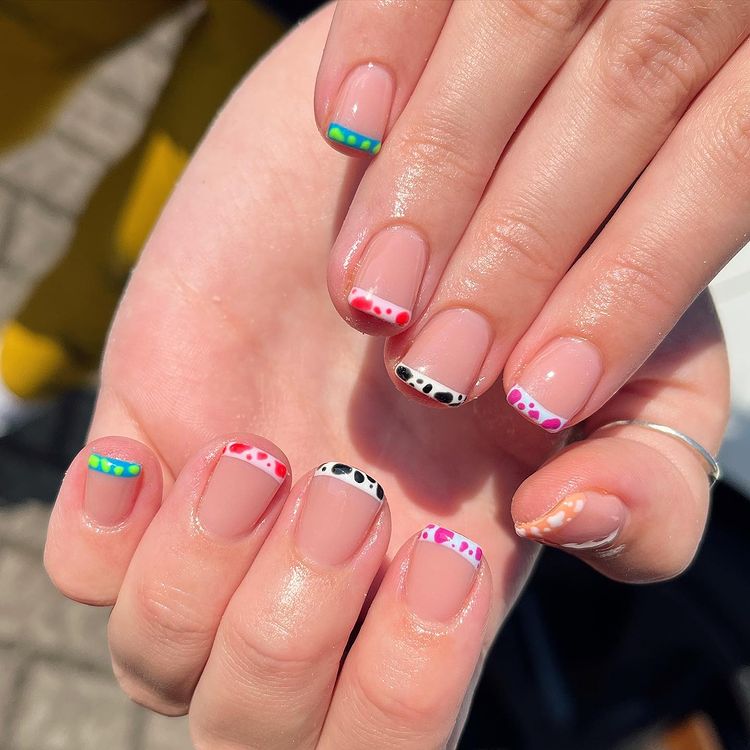 These cow print french tips each come in different colors, and I'm a huge fan. It's colorful but not overbearing, classy, but fun too.
4. Yellow and Blue Freestyle Nails
Speaking of fun, aren't these nails the lively set? You'll never get bored with this look, and I love the combination of yellow and blue to maintain a cute and youthful theme, brought to life by lemons, smiley faces, zig-zag lines, and dots.
5. Orange, Yellow, and White Swirl French Nails With Glitter
Give your natural nails a fashionable and modern appeal by painting select nails with orange, yellow, and white swirls to complement classy french tips in orange and gold glitter lacquer.
6. Green French Round Nails With Swirls
This nail design is making me love green even more. It's such a beautiful blend of jade and lime green with hints of blue and yellow to add to the natural vibe.
7. Light Green Nails
If you're a lover of natural outdoorsy nail designs, you don't have to go for the obvious neutral tone. Instead, coat all your nails in light green for a look that's more vibrant.
8. Orange Ombre Coffin Nails With Swirls
When it comes to bringing vibrancy and making a statement, no color does it better than orange, but your nails don't have to be polished in the hue entirely.
An ombre design with stylish swirls is enough to give your nails the presence they need.
9. Baby Blue and Pink Swirl Nails
Oh, how I love baby blue and pink nails. Brought together in this natural nail design, the combination is super adorable. I don't think I'd be able to stop showing them off.
10. Pink and White Floral French Nails With Silver Foil
I have one word to describe these nails. You guessed it, 'gorgeous!' The daisy decals really caught my eye. So too, the glitter-encrusted ring fingers and the gleaming silver foil.
11. Blue Almond Nails With Leaf Art
Blue is becoming a classic color for elegant designs. Coupled with leaf art over nude nails, this look is refreshing, modest, and classy.
12. White French Nails
For the ultimate classy look, white french tips accomplish that with ease. Simply line the tips with a thin stroke and watch how everything you wear transforms into a chic look.
13. Yellow French Almond Nails With Daisies
These yellow nails are soft and girly. Embellished with daisies, it's just the feminine and lighthearted look you need for spring.
14. Pink and Blue Splatter Art Nails
How cute are these nails? I love the specks of pink and blue that overlay each like confetti. Altogether, it's a subtle but very posh design.
15. Glossy Sheer Almond Nails
These nails are as natural as it gets. Their sheer hue is enhanced by a glossy finish, and the complete look is so elegant.
16. Nude Pink and Gold Foil Nails
Accentuate your natural nails with gold foil decorating a nude pink base. The chrome finish of the foil gives this look a beautiful glow. Apply them toward the tip for a stylish ombre effect.
17. Blue Swirl Nails
Try shades of blue over a nude base for a simple and cute summer design. Blue swirls always remind me of days at the beach and relaxing times on vacation.
18. Short French Nails
French nails are perfect if you just want a hassle-free mani that's guaranteed to look super cute. What I love most about french tips is their versatility—you can rock this mani with absolutely anything.
19. Creamy White Nails
Your natural nails can look ultra-chic too. To achieve that look, coat them all in white. No embellishments, no additional hue. Allow the posh nature of white to shine through.
20. Sheer Nude Almond Nails With White Hearts
If you're looking for a way to dress up sheer nude nails, a set of white hearts will not disappoint. Heart designs add a cute flair and a romantic touch, too, if that's the vibe you're going for.
SEE ALSO: 21 Mind-Blowing Long Natural Nail Design Ideas
21. Colorful Polka Dot French Almond Nails
Everything about this look is so cute. From the colorful polka dot french tip design to the glossy finish that gives that nude base a gorgeous dewy appearance. 
22. Pink French Almond Nails With Flowers and Swirls
This one is for girls who really love pink! Even though pink is the main theme, each nail is flaunting a different design—flowers, french tips, swirls—and I appreciate the diversity. 
23. Glossy Red French Coffin Nails
Give your natural nails a bold design with french tips polished in a vivid shade of red. This look is chic, clean-cut, and very fashionable. Rock these nails whether you're dressing up or down.
24. Nude Almond Nails With Gold Glitter
Nude is back, and it teamed up with gold glitter for a natural and classy combination. This look will work wonders for an evening out to dinner or even when you're dolled up at the office.
25. White Almond Nails With Gold Glitter
These white nails, accentuated by gold glitter, are to die for. The way they sparkle is so mesmerizing, turning a simple and chic design into one that's so classy.
26. Coral Pink French Nails
Pink french tips may not be as classic as nude and white, but it's the perfect color to guarantee a girly design. The shades of pink you choose don't have to be too bright either. A nude pink for the base and coral pink for the tips are all you need.
27. Soft Pink Almond Nails
Your natural nails will also look amazingly polished in a soft pink shade. This look is an all-rounder—you can wear any outfit with these cute nails and feel on top of the world.  
28. White Nails With Gold Streaks
With white nail polish, you never have to do too much to dress them up. Adding streaks of gold can make a major difference, bringing an eye-catching flair to an already sophisticated look. 
29. Red and Baby Blue Reverse French Almond Nails
I love that this look is vibrant and low-key at the same time—thanks to the combination of red and blue with most nails polished in a sheer nude shade. 
I also love the reverse french tip design applied to the nude base. It adds a touch of creativity to this set.
30. Multi-Colored Almond Nails With Silver Sequins
You're sure to stand out with these multi-colored nails, and what's most flattering about this design is the progression of hues and how they all come together despite being contrasting colors. 
Silver sequins applied on each also make this design more interesting, adding to the playful theme.
31. Orange Square Nails
Nowadays, I find myself more open to solid-toned nail designs such as this orange-polished set. For a lot of women as well, bold colors are now their go-to, and this vibrant orange square nail design is suitable for any season.
32. Chrome Pearly White Nails
Pearly white nails with a chrome finish make for a surreal design. Just look how they glisten effortlessly. Who knew white nails could be so impactful? 
33. White French Round Nails With Stars and Dots
Amp up your white french tips with designs of stars and small dots to fill those empty spaces on a nude base. The glossy finish also adds a youthful feel that makes this look even more adorable.
34. Black French Almond Nails With Black Daisies
Black lacquer polish automatically gives your nails an edgy look, but when accentuated by daisies, you can't help but feel girly in the end.
35. White French Nails With Cherries
Set your white french tips apart with cherries on top. Applied to the ring finger, these small cherries are like the finishing touch to an ultra-chic design.
36. Chrome Pink and Green French Nails
I can never get tired of chrome nails. The immaculate glow they give is second to none. Rock the look in a french tip design with contrasting colors; pink on one hand and green on the other.
37. Chrome Silver Ombre Almond Nails
When I saw this design, it was a no-brainer that it needed to be added to the list. It's such a simple look, but one you'll never forget with chrome silver polish applied to the tips of each nail in a marvelous ombre design.
38. Blue French Almond Nails With Butterflies
Want to know how to make baby blue nails even cuter? Dark blue butterflies painted on the tips are enough to add some pizzazz.
39. Nude Metallic Abstract Almond Nails
Your nail polish doesn't have to be chrome for you to enjoy a metallic design. You can opt to add metallic embellishments in cute and abstract designs to play up your natural nail look.
Summary and Top Picks
I already feel so inspired to start rocking my natural nails more often. I hope you're motivated to try new designs with your nails too. The options are endless, and with these amazing trends paired with your own creativity, you'll love the results.
My top picks from this compilation that I can't wait to try are:
#19 Creamy White Nails: Whenever I want to look effortlessly chic, nothing beats all-white nails.
#26 Coral Pink French Nails: Fun fact! Coral pink is one of my favorite shades. It's not too bright nor too dull. It's just right.
#34 Black French Almond Nails With Black Daisies: I love an edgy look with a cutesy appeal!
What about you? Which of these natural nail designs are the most gorgeous to you? Let me know what you think in the comments!