Tattoos carry many meanings. They can be sentimental, empowering, or even in memory of someone we love. This year thigh tattoos are huge, and many women are using this popular canvas to display ink with a deeper meaning. 
Deciding on a meaningful tattoo is difficult. Moreso when we put it somewhere obvious, like the thigh. We consider things like:
Would color or black and white do it more justice? 
How big should it be?
Is it better to use a simple design or a detailed one?
Tattoos are such personal creations. In the end, I think the most important thing is that you love it. When I choose a new tattoo, I like to look at other people's designs for inspiration. Here are some of my favorite meaningful thigh tattoo designs.
1. Flowers Hold Meaning Thigh Tattoo
Every flower has a special meaning. Sometimes we choose flower tattoos because they remind us of the people who love them. This gorgeous floral ink in black and gray holds a collection of meaningful blooms. I love the shading.
2. Phoenix Thigh Tattoo for Rebirth
The phoenix is a mythical creature reborn in the fires of its ashes. These meaningful tattoos represent rebirth and strength. I love the color of this design. The fiery red and orange are powerful and stand out on her thigh.
3. Hidden Name Tattoos
Tattooing a name on your body is a big deal. For best friends, a hidden name amidst a shared tattoo is even more meaningful. I'm loving this adorable homage to "Alice in Wonderland." Hiding her BFF's name in the playing cards is genius.
4. Goddess Athena in Black and Gray
Athena is the Greek goddess of wisdom and war. This stunning rendering of the goddess includes so much detail and depth. I'm blown away by the shading in her hair and headpiece. 
5. A Pinky Swear Among Besties
There's no greater bond than a pinky-swear among besties, except maybe a shared tattoo. This heartfelt tattoo feels so genuine and full of love. I love the dainty line work in these meaningful tattoos shared among friends.
6. A Beloved Pet Inked for All Time
 I can't get over how unique this cat thigh tattoo is. Inking a beloved pet on your body is a meaningful experience. It's one way to keep that pet with you forever. This Japanese-style tattoo is exceptionally rendered. I love the hidden tiger.
7. Koi Fish for Perseverance
Everyone has struggles in life. Women are strong; we persevere! Koi fish tattoos represent perseverance and the ability to overcome hardship. I love how delicate this small tattoo looks on her thigh. The colors and movement in the artwork are divine.
8. Medusa and Crown Thigh Tattoo
Medusa is a huge tattoo trend right now, but she's also a reminder of our power as women. Medusa was cursed by the goddess Athena after Poseiden seduced her. She's become a symbol of survival for women around the world.
9. Spiritual Thigh Tattoo
Inking a verse or reference from a book of faith is a personal experience. This detailed black and white pocket watch and bible verse is a spiritual design and serves as a reminder of greater power. 
SEE ALSO: 113 Trending Back Tattoos for Women
10. Childhood Nostalgia Tattoo for Thigh
Meaningful memories are so personal. A nostalgic tattoo from a favorite childhood video game is a classic thigh tattoo concept. I love the choice of Yoshi from Mario Kart! 
11. Mandalas and the Search for Completeness
Mandalas are beautiful geometric Buddhist or Hindu images. They are usually symmetrical and represent us in a dream searching for clarity and completeness. This gorgeous blue, black, and gray piece is stunning. 
12. Freedom Is a Butterfly Thigh Tat
For women starting a new chapter in life, a butterfly holds great significance. This symbol of rebirth makes a wonderful thigh tattoo. I'm loving this traditional tattoo-style take on a butterfly. The black and white make it pop. 
13. Lavender and Self-Worth As a Tattoo
Lavender represents calm and purity. This abstract thigh tattoo shows lavender as the head of a woman. Below it are the words, "I am imperfect and still worthy." This is such a meaningful message. We are all worthy. Such a unique thigh tat! 
14. A Lion Tattoo for Courage
Facing our fears takes a lot of guts. This lion tattoo is a beautiful representation of courage. I love the addition of the flowers. It softens the masculine design into something delicate and feminine. 
15. A Balance of Feminine and Masculine Energy
The moon and sun give feminine and masculine energy to a tattoo. Peonies represent honor and love. Loving and honoring all the parts of ourselves is so important as women. This is such a meaningful and powerful piece of thigh art.
16. Siren Thigh Tattoo
Mermaids are a symbol of femininity and sexuality. This might explain why mermaid thigh tats are so popular among women. I love this rendering of a siren. Sirens have a darker meaning than the average mermaid, but don't we all?
SEE ALSO: 21 Feminine Classy Thigh Tattoos That Are Trending
17. Changing Skins Or a Symbol of Fertility
Snake tattoos might appear ominous at first glance, but these reptiles have a deeper meaning. Snake tattoos often symbolize rebirth, fertility, or a life change. I love the simplicity of this snake design. It's meaningful AND badass!
18. A Lucky Horseshoe
Horseshoes bring good luck, and this traditional style tattoo inks that luck in style. Even if you're not superstitious, a "lucky" tattoo creates good vibes. I like the minimal choice of colors and bold shading.
19. Cover-Ups Have Many Meanings
There are many reasons to cover a tattoo, including changes in job, partner, or lifestyle. This beautiful cover-up thigh piece is rich in color and detail. Chrysanthemums stand for friendship and happiness⁠—a wonderful evolution.
20. The People of Your Puzzle
Adding your loved ones' names to a puzzle tattoo shows how much they mean to you. The pieces of the puzzle make up the most meaningful pieces of your life. Whether friends or relatives, this is a lovely homage.
21. Shattering Japanese Fox Mask
In Japanese culture, foxes or Kitsune, are viewed as powerful shape-shifting beings. Fox masks are worn to some of the Shinto festivals to celebrate this. Womanhood is all about shifting shape and evolving. 
22. Tattoos of Children
Motherhood is an extraordinary thing. This mother asked her artist to tattoo her children as a cat and dog. I love the creativity here. She knows who they are, but to the world, they're two cuddly pets. Private yet meaningful. 
SEE ALSO: 80 Gorgeous Spine Tattoos for Women
23. The Star Tarot Card As a Thigh Tattoo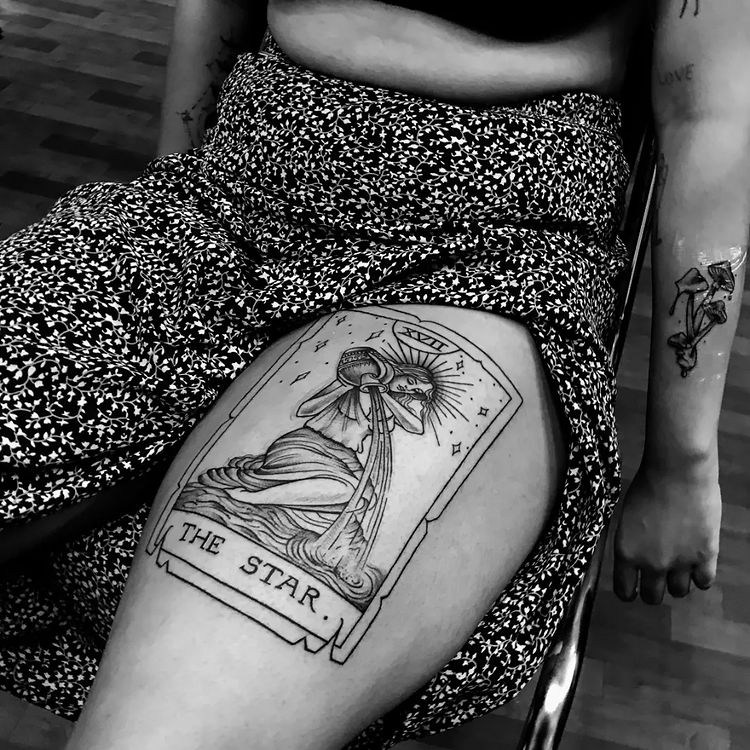 Tarot card thigh tats carry many meanings. The star tarot usually means something inspirational is about to happen, or your faith will be renewed in something or someone. 
24. Our Little Place in the Galaxy
I love out-of-the-ordinary thigh tattoos, including the solar system. This galaxy-inspired piece reminds us how small we are in the grand scheme of things. I love the added geometric frame and tree of life. 
25. Childhood Memories Inked on Her Thigh
Inking a childhood memory like this "Winnie the Pooh" tattoo is super meaningful. These little characters made such an impact on us as children. Seeing their sweet little faces again can only bring joy. 
26. Determined Little Hummingbird Tattoo
A hummingbird tattoo is meaningful because it symbolizes determination and hope. Not to mention, these tiny birds are so darn cute. I love the choice of blue and purple in this one. The little feathers almost look like mermaid scales making this one of the best feminine thigh tattoos.
27. Lemon Slice and Everything Nice Tattoo
Lemons are bright and zingy. It's no surprise they represent positivity in tattoo form. Lemons are meaningful as thigh tattoos because they remind us to stay positive and look on the bright side!
28. A Reminder to Live in the Moment
Time isn't promised. This "laugh now, cry later" tattoo reminds us to live in the moment. It's also meaningful because it incorporates the Thalia and Melpomene masks. Life is full of happiness and sadness, we need both to really live.
29. An Ode to Parents in Bird Form
Paying tribute to our parents is a meaningful and relevant tattoo choice. It doesn't have to be birds, although this gorgeous cardinal tattoo is beautiful. I love that the artist used two colors to represent Mom and Dad.
30. Owl Tattoo for Wisdom
Owls are mysterious creatures. The meaning behind them is mystical. In some Native American cultures, including Ojibwa and Cherokee, owls represent a connection to the afterlife. 
31. Butterfly Mandala Combination Tattoo
This butterfly has a unique mandala quality to it. The decorative details are delicate but bold. Butterflies are meaningful during big life changes. They help us recognize our perseverance as women to begin again. 
32. Nighttime Lantern Thigh Tattoo
Lanterns are there to help us find our way in the dark. A lantern tattoo symbolizes finding the right paths in life. I love the beautiful night scene in this thigh tattoo. It's calming somehow. 
33. Thigh Scar Cover-Up
As women, we carry many scars, some physical, others emotional. Having the ability to choose which scars we keep and which we cover is a powerful thing. This gorgeous floral scar cover-up reminds us of that power.
34. Tree of Life Thigh Tattoo
The tree of life takes many forms, but they all represent inner strength and personal growth. This gorgeous thigh tattoo has so much fine linework and intricate detail. It's obvious the artist took their time. I love it. 
35. A Meaningful Message in Hand Poke Ink
"All we have is now" is a powerful message. I love that she's inked it on her thigh as a constant reminder. Our time on this planet is brief but meaningful. The fact that she used the traditional hand poke method makes it even more special. 
Summary and Top Picks
This article shows off my favorite meaningful thigh tattoos. These designs were all chosen because they were close to someone's heart. No matter what style or color we select for a tattoo, I truly believe the most important thing is that it brings you joy. 
Many of these tattoo designs give me the feels, but my top three are:
#6 A Beloved Pet Inked for All Time: Pet tattoos are a popular and meaningful art form. I love this Japanese-style rendering of a cat. 
#16 Siren Thigh Tattoo: Mermaids are a representation of our sexuality and femininity. Women are powerful and just a little magical. This is the perfect thigh tat to represent this. 
#34 Tree of Life Thigh Tattoo: The tree of life shows the world our inner growth. I love the fine detail in this thigh tattoo version. 
Do you have a meaningful thigh tattoo? What was the inspiration behind yours? I'd love to hear your tattoo stories. Comment below!