Wearing natural nails is becoming more popular by the day, and I've been on a mission lately to showcase how amazing they are and the various ways we can doll them up, just as we would when we get nail extensions. 
The natural nail trend has become a sign of confidence and simplicity for many of us as we realize we can achieve stunning looks even when visiting the nail salon isn't an option.
That said, rocking your natural nails encourages some cute DIY ideas. There's no better feeling than being able to achieve the designs you've longed for in the comfort of your home.
In the round-up below, you're about to see a mind-blowing list of healthy long natural nail designs to inspire you on your very own journey, from solid tones to spunky animal print. Let's get right into it!
1. Long Natural Baby Blue Nails
Baby blue is a great place to start with your natural nails. The shade is super cute and a go-to for summertime, but you can rock this soft hue all year round. Go for a glossy finish to highlight the beauty of the shade.
2. Long Natural Green and Nude Gradient Nails
This gradient look is giving me natural fall vibes as it transitions from shades of green to nude. It's a combination of warm and subtle undertones, but they all contribute to that earthy vibe.
3. Long Sparkling Pink Natural Nails
These sparkling pink nails are so dreamy, with a rich texture that keeps you fixated on every aspect of this design.
4. Long White Natural Nails With Black Flames and Stars
Halloween is around the corner, and these nails would be perfect for a themed party or to wear for a few weeks in October. 
They're white with black flames, designed over a tapered shape, but a girly touch is added, thanks to those twinkling stars.
5. Long Sparkling Blue French Natural Nails
French tips on natural nails are such a rewarding feeling because the design is one of the most classic and sought-after. Achieving them in such a beautiful way with sparkling blue tips will definitely put a smile on your face.
6. Long Hot Pink Natural Nails
These hot pink nails are phenomenal. Pink isn't a color that generally pops out at you, but the rich pigment this shade has stands out so well.
7. Long Sparkling Purple Ombre Natural Nails
We've seen sparkling pink, but how about purple nail polish with a glitter overlay? This beautiful design also features an ombre blend. It's an ultra-cute look that you'll never get tired of.
8. Long Green Ombre Natural Nails
You can also flaunt the ombre effect in shades of green. This look is both vibrant and mysterious, edgy and girly, owing to the fade from dark to light green and the shiny finish.
9. Long Metallic Silver Natural Nails
If you really want a design that's effortlessly radiant, these luminous silver nails are just what you're looking for. Their metallic finish makes them enchanting with a classy aura as well.
10. Long Blue Croc Print French Natural Nails
Go beyond solid-toned nails and rock some trendy animal print in a french design. Croc print nails have been taking over, so this look is a great place to start. For a girly look, coat your tips in shades of blue.
11. Long Red Natural Nails
For a bold design that's elegant, too, coat your nails in red lacquer. It's a timeless look that displays confidence and keeps all eyes on you.
12. Long Chrome Silver French Natural Nails
We've seen chrome silver nails, but are you ready for the french tips rendition? It's a much simpler take on the fashionable look, but it's chic nonetheless and will add a posh touch to anything you wear.
13. Long Sparkling Gold Natural Nails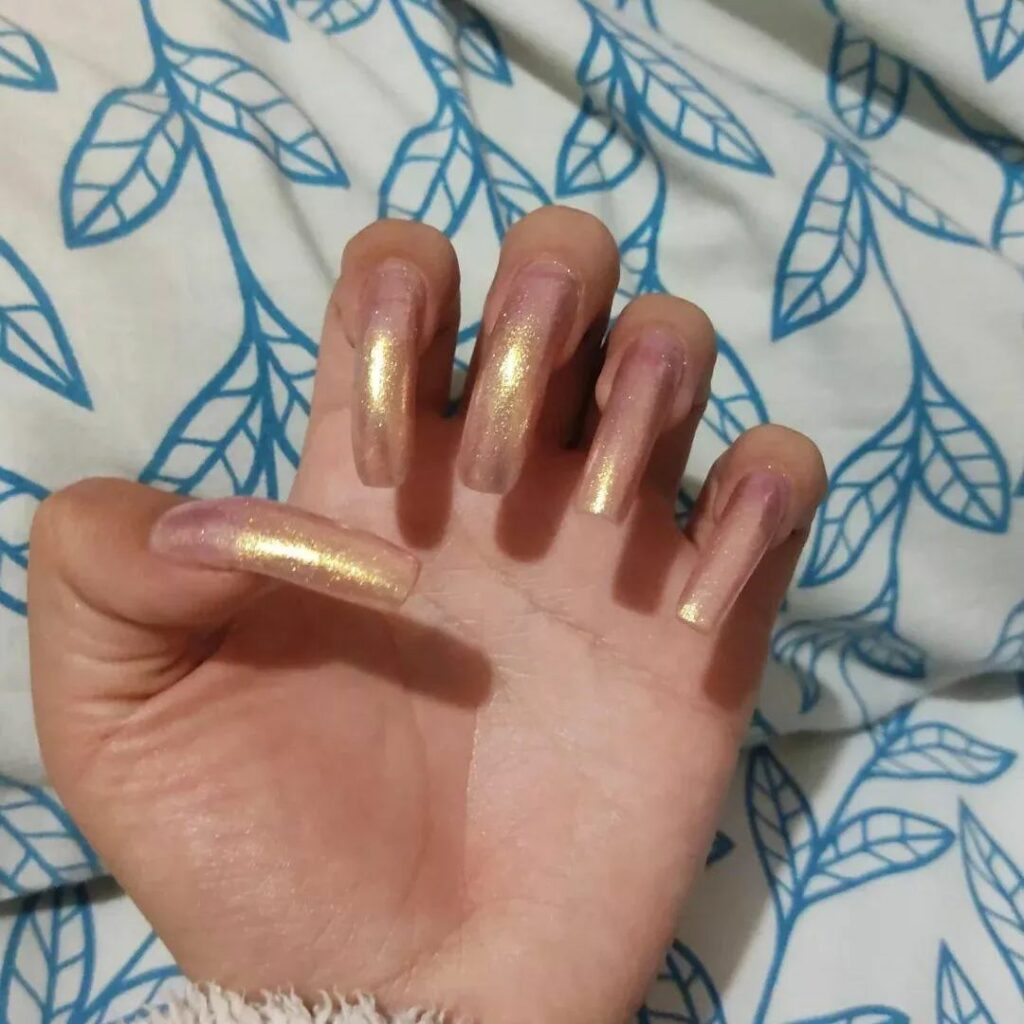 Sometimes I'm not in the mood for pigmented nail polish or loud colors. In those moments, shimmering gold nail lacquer always saves the day.
14. Long Nude Pink Natural Nails With Blue Butterflies
Butterfly nail art adds a cute touch to any look, especially when your nails are polished in a soft hue like this subtle nude pink shade.
15. Long Green, Purple, and Yellow Gradient Natural Nails
Green, purple and yellow come together to create this mind-blowing natural nail design. The glitter finish makes these nails all the more surreal. It's a look I'd definitely rock for summer.
16. Long Brown French Natural Nails
Let's not forget how sophisticated brown nails can be, especially worn with a trendy french tip. These nails may be all about one color, but they sure are stylish and fit for any setting, professional or casual.
17. Long Glossy and Matte Red Natural Nails With Glitter
Here's what I love about these nails; not only are they bold, but they feature various finishes, glossy and matte, with a glitter overlay on the ring finger, making this design very versatile. It's feminine, mature, and edgy all in one.
18. Long Lilac French Natural Nails With Glitter
Coated in one of the prettiest shades of purple, these lilac nails are a girly girl's dream—featuring a cute french tip design and accentuated by loose glitter.
19. Long Red Natural Nails With Gold Glitter
If you want to amp up your red nail design, one of the best ways to do so is with gold glitter foil. Also known as flakes, this nail accessory enhances an already bold look into one that's alluring and elegant beyond description.
20. Long Blush Pink Croc Print French Natural Nails
I just can't get enough of delicate tones. The subtlety of these blush pink nails is such a vibe and those croc print french tips are utter perfection.
21. Long Holographic Nude Natural Nails With Glitter
These nails deserve to be worn to every fashionable function you can think of. Besides how beautifully they sparkle, the main hue—that holographic nude—is everything.
Summary and Top Picks
I really enjoyed sharing this compilation with you all. Sure, I love showing off my natural nails and want to encourage you to do the same, but besides that, I have to admit, the designs really are exceptional. 
They're so amazing that I want to choose them all as my top picks, but still, I'm proud to say that my faves are: 
#3 Long Sparkling Pink Natural Nails: I really couldn't resist. These pink nails are brought to life by that glitter overlay, and I'm loving the look.
#20 Long Blush Pink Croc Print French Natural Nails: I adore subtle colors, and blush pink is one of my favorite shades, so this one was a no-brainer.
#21 Long Holographic Nude Natural Nails With Glitter: The iridescent finish on these nude nails is so captivating. It makes me want to try this look right now.
I'd love to know what you think. Which of these long natural nail designs blew your mind? Let me know in the comments below!