If there's one thing that's true about neutral shades, it's that they're extremely chic, and brown is no exception. In this article, however, I'll be highlighting light brown nails in particular, from shades of pastel brown to tan, caramel, and so much more. 
Just as it is with interior design, brown is one of the most versatile colors, evoking moods of professionalism, sophistication, and elegance. Light brown nails, especially, portray an earthy quality with an au naturel tone that makes the color easy to pull off.
We're about to explore all that and more in the compilation below. Get ready for the most inspiring set of light brown nail designs you've ever seen, all of which are trending right now! Let's jump right in.
1. Light Brown Nude Coffin Nails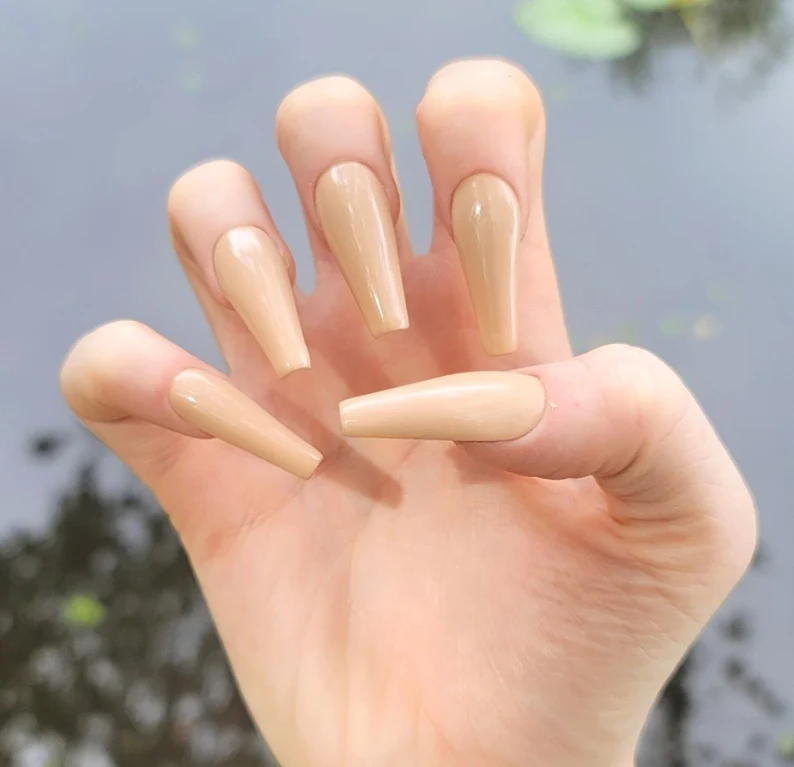 These light brown coffin nails have a nude undertone which means they'll look amazing with hues such as white, light pink, peach and other subtle shades. 
This is an ideal nail color for the relaxing spring season or if you just want an easy-going mani. Buy these nails at Etsy.
2. Pecan Brown French Almond Nails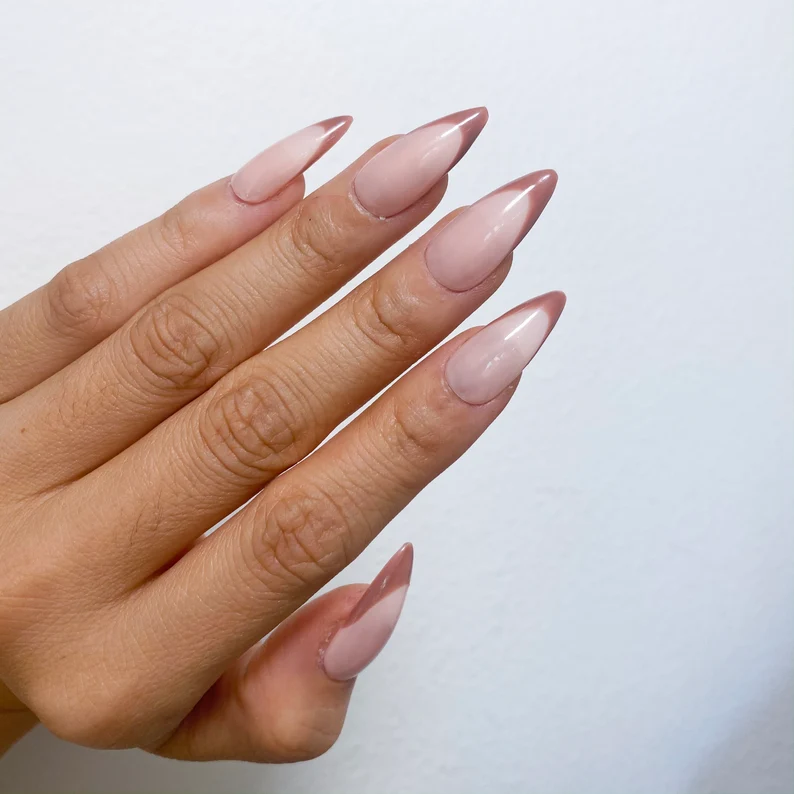 If you don't want all your nails to be polished in light brown, a french tip nail design will come in handy as you transition from a natural-looking base to pecan brown at the tips. Buy these nails at Etsy.
3. Light Brown Deep French Coffin Nails
For a look that's ultra-chic, a deep french design in light brown is most fitting. The higher the curve is placed, the bolder the look gets, which adds to its modern appeal. Buy these nails at Etsy.
4. Glossy Mocha Brown Almond Nails
You already know how much I love almond nail designs—soft textures are among my favorites. Pair that with a mocha brown hue, and you've won me over! Buy these nails at Etsy.
5. Glossy Tortilla Brown Coffin Nails
Tortilla brown is a beautiful blend of dark nude with light brown and I'm a fan! Completed with a glossy top coat, it's a chic look for everyday wear. Buy these nails at Etsy.
6. Light Brown Gradient Coffin Nails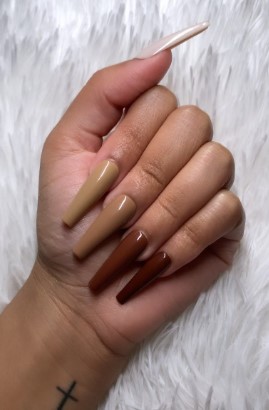 Your light brown nails don't have to stand alone. Rock them with darker shades of brown to create a fashionable gradient theme. Buy these nails at Etsy.
7. Mocha Brown Deep French Coffin Nails With Swirls
You know this round-up wouldn't be complete without swirls, and not just any swirls but abstract light brown mocha swirls, paired with deep french nails. Buy these nails at Etsy.
SEE ALSO: 21 Ultra-Chic Brown and White Nail Designs You'll Love
8. Light Brown Monochrome Almond Nails With Swirls
Take on the swirl trend in a much simpler way with thin white swirls overlaying light brown monochrome nails. I love nail designs that incorporate popular trends but still have a simple and cute look. Buy these nails at Etsy.
SEE ALSO: 21 Amazing Brown Almond Nail Designs You Need to See
9. Light Brown Coffin Nails With Swirls and Gold Glitter
We're continuing with the ever-trendy swirls in this light brown look but this time, with streaks of gold glitter for a touch of glam. Buy these nails at Etsy.
10. Light Brown Gradient Stiletto Nails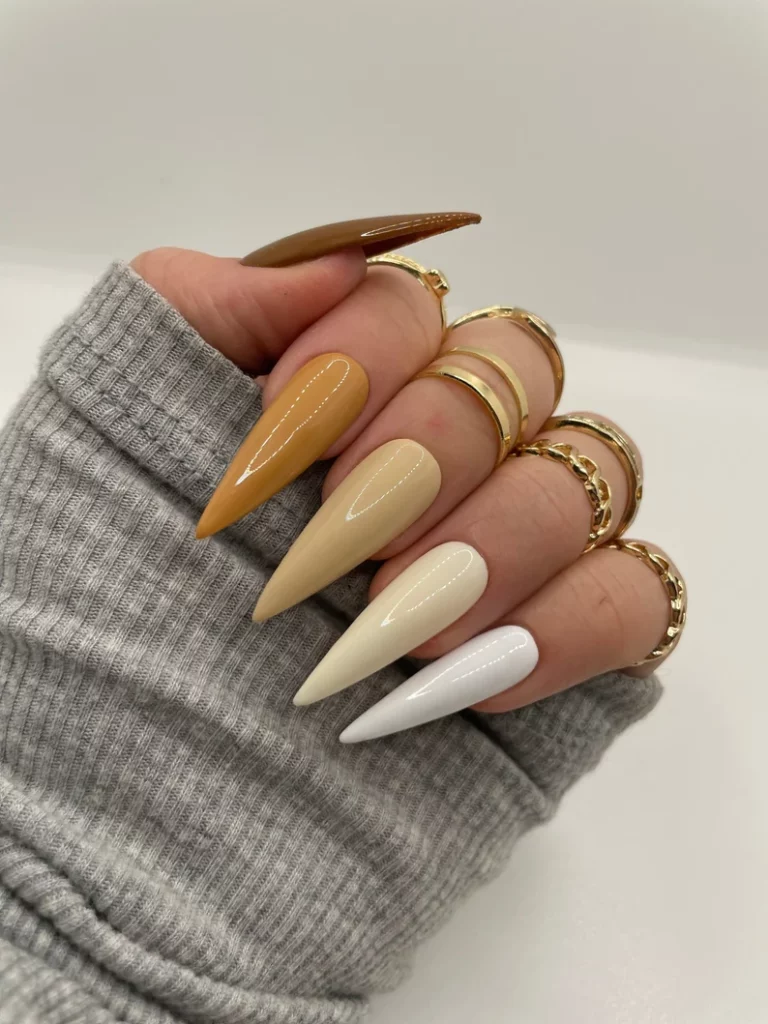 To achieve a posh look, stiletto nails polished in a brown gradient design is the way to go. The light brown shades take the lead, complemented by dark brown on the thumb and white on the pinky. Buy these nails at Etsy.
11. Light Brown Cow Spot Coffin Nails
Animal print nail designs are on the rise for fall, so why not rock the trend with one of the go-to colors of the season? Light brown with white as the complementary shade. Buy these nails at Etsy.
12. Light Brown, Pink and White Swirl Coffin Nails
If you're feeling the light brown swirl designs I mentioned earlier but you want an even cuter look, add a few light pink and white swirls into the mix. You're bound to achieve an ultra-girly vibe. Buy these nails at Etsy.
13. Caramel Brown Coffin Nails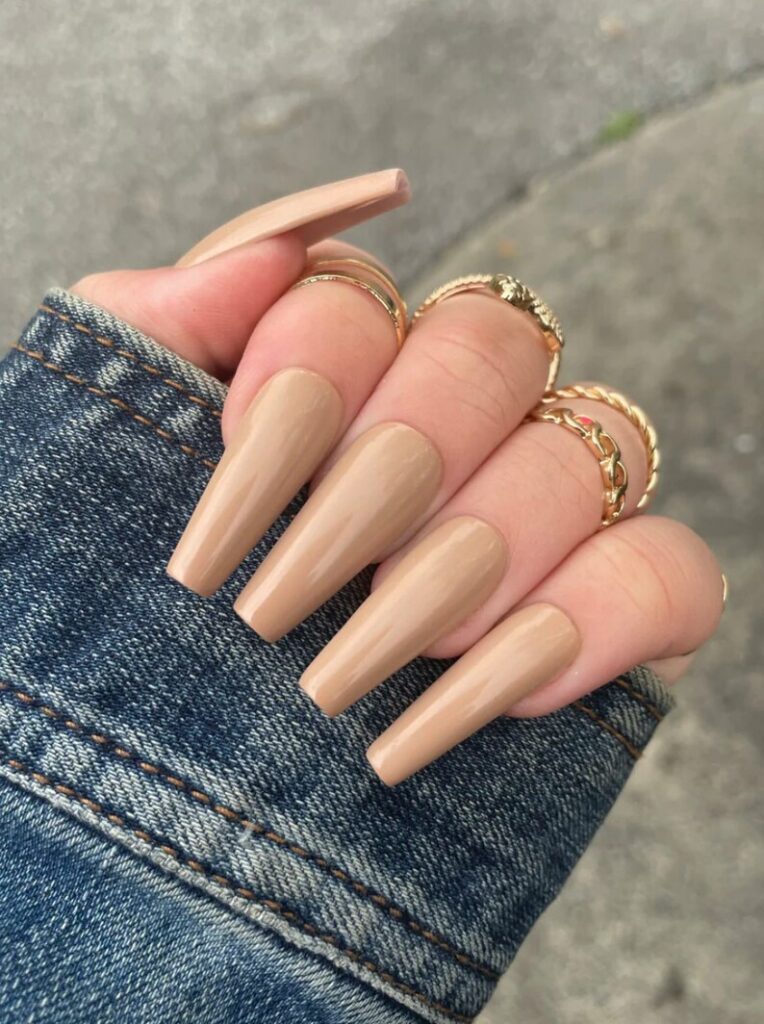 Caramel brown is a personal favorite. Maybe it has something to do with its connection with chocolate. Either way, it's a gorgeous shade to coat your nails in to jazz up those casual day-to-day looks. Buy these nails at Etsy.
14. Matte Light Brown Gradient Coffin Nails
What sets this look apart from the other gradient designs is the matte finish. That smooth and even look adds so much sophistication and really allows the shades to stand out. Buy these nails at Etsy.
15. Light Brown Square Nails With Swirls and Hearts
Who said neutrals can't be romantic? This look begs to differ as light brown swirls dance over a milky white base with sets of hearts to seal the deal.
16. Translucent Light Brown Marble Nails With Sequins and Butterfly
These light brown nails are translucent, and I love it! Because of the delicate look they have, enhanced by the classy marble design, butterfly decal, and silver sequins.
17. Short Light Brown French Nails With Polka Dots
Polka dots are always in. So is black and so are french tips. So, bring them all together in one snazzy nail design with the ever-chic light brown as the color of choice.
18. Light Brown Sweater French Coffin Nails
You can always count on french nail designs to look classy. The same truth goes for light brown. With such a high level of elegance in one sweater nail design, you'll definitely be the classiest girl in the office.
19. Light Brown and White Coffin Nails With Stripes and Polka Dots
I saw these coffin nails and shouted, "Christmas!" in my mind because although brown is the color scheme, this design still evokes my holiday spirit with light brown and white stripes, embellished with glitter and polka dots that resemble snowflakes.
20. Short Light Brown Fall Nails With Glitter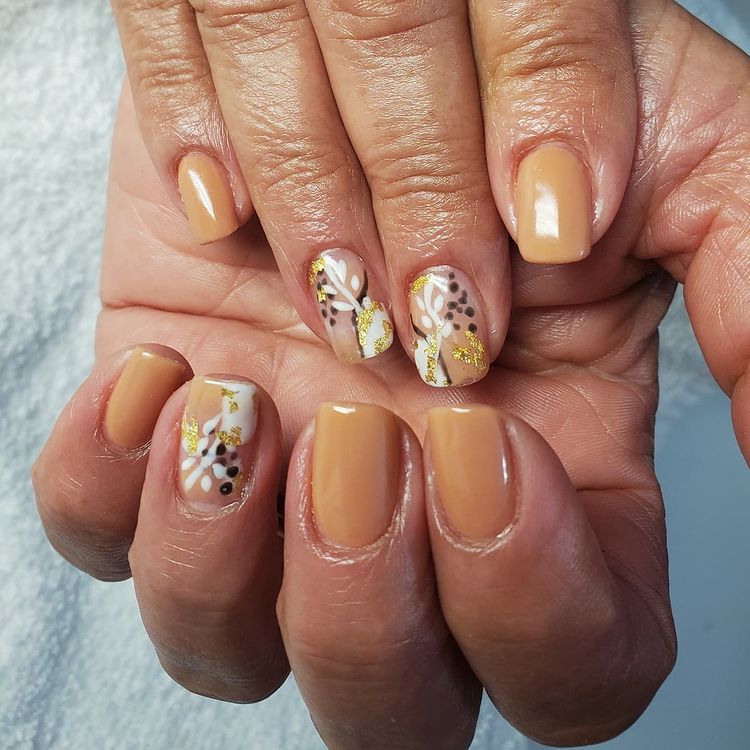 Dark brown nail designs are generally the look for fall, but this light brown design is definitely carving its own path. It features plant art painted in white with dashes of black and gold to bring an authentic autumn look.
21. Light Brown French Coffin Nails With White Heart
To prove just how much you love your light brown french tips, add a cute white heart on each index finger. I also love how the white polish pops against that nude nail design. A little color contrast is always good.
Summary and Top Picks
There you have it! Some of the most gorgeous light brown nails making waves right now, causing nail enthusiasts like you and me to fall in love with the color again. It's everything you'd want in a hue—it's feminine, sophisticated, and fit for any setting.
Because I love a versatile nail design, I definitely have a few favorites from this list that I want to highlight:
#3 Light Brown Deep French Coffin Nails: I love deep french designs. When I want to look super fashionable, that's the look I go for.
#4 Glossy Mocha Brown Almond Nails: That glow on these mocha brown nails makes them irresistible. 
#13 Caramel Brown Coffin Nails: Because the pastel tone of caramel nails makes them so chic, and I can imagine rocking them with my finest looks right now.
Now, it's your turn to tell me what you think. Which of these light brown nail designs are you feeling the most? Let me know in the comments below!