Full-back tattoos are growing in popularity. For a long time, it was mostly men getting these large tattoos. Now, more and more women are committing to the ink, and I love it!
Back tattoos are beautiful, but they're also large and lasting. This leaves me wondering how to pick a design I won't regret. The answer? Choose ink that inspires and has meaning. Not all tattoos need a back story, but in this case, it helps. 

Are you thinking of getting a large back piece done? Here are some of the trendiest full-back tattoos for women I've seen this year to inspire you.
1. Stunning Abstract Faces and Nature-Inspired Designs
I'm head over heels for this abstract nature-inspired back tattoo. It includes two female faces, mushrooms, a moon, a snake, and plenty of foliage hidden throughout. I really like the minimalism in this design.
2. Bruce Lee and Dragon Back Tattoo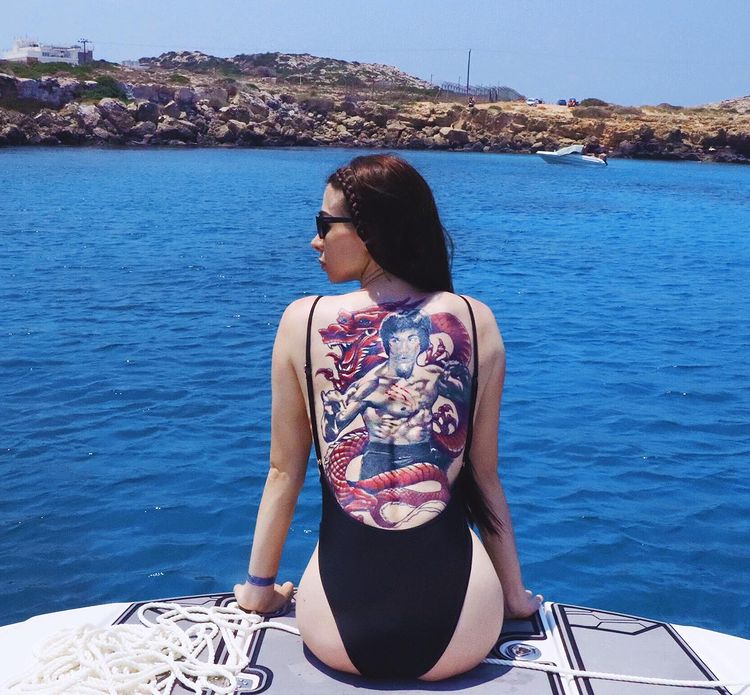 What's bolder than inking a martial arts master on your back? This homage to Bruce Lee is pretty epic. The red dragon really pops behind the black and white.
3. Full Color Kitty Cat Saloon Girl
Meow! This flower-covered kitten will definitely turn heads. I adore a full-color back tattoo, especially with a traditional tattoo vibe. And the saloon theme is super unique.
4. Black and White Magnolia Sunrise
Mandala artwork is trending, and this gorgeous symmetrical design gives real mandala vibes. The way the magnolias bloom against the circle gives a sunrise effect. Black and white is the perfect palette for this piece.
5. Dragon and Tiger Back Piece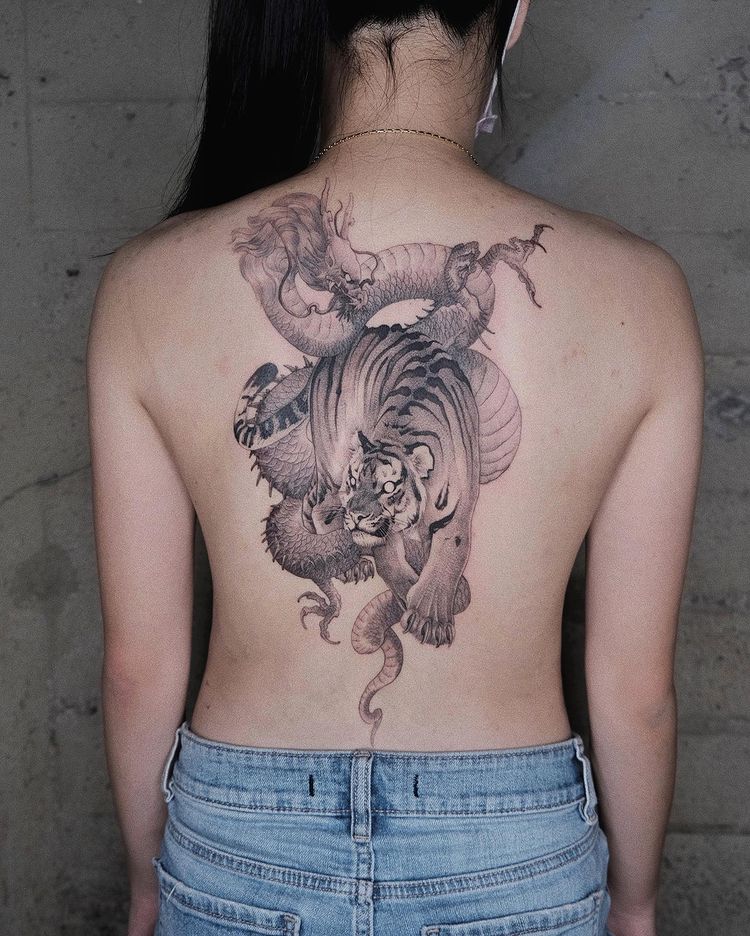 Dragons and tigers are often pictured together in tattoos. They represent two extremes, with the patient, enduring dragon and the impulsively, driven tiger. This tattoo says to me, "Go get 'em, girl!"
6. King Arthur-Inspired Full Back Tattoo
This black and white back tattoo is an ode to Gustave Doré's Idylls of the King. It represents the rise and fall of King Arthur and his knights. I'm a big fan of outside-the-box tattoos, and this one is extremely unique.
7. Bold Black and Red Japanese Tattoo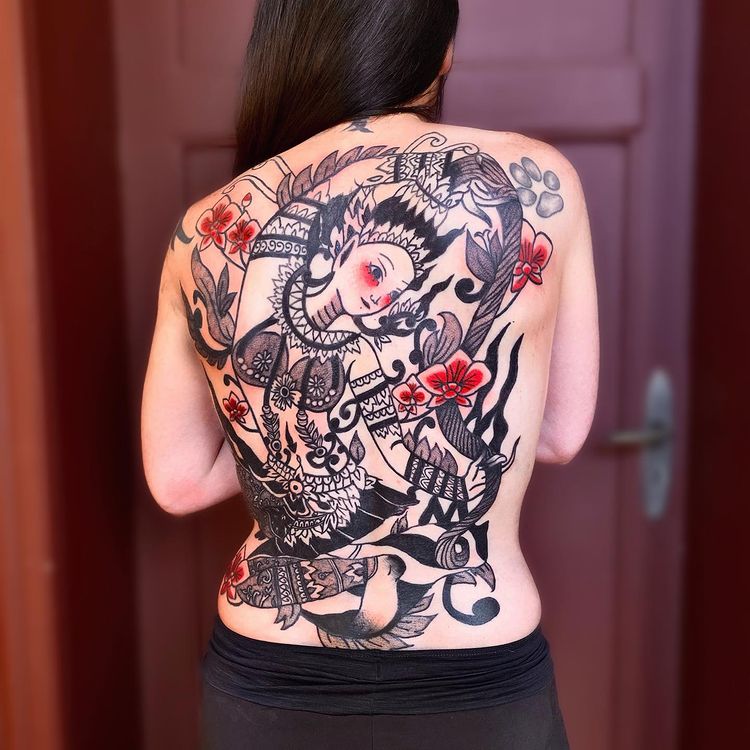 This bold back piece is done in a mix of traditional and Japanese style tattooing. The red and black ink make the tiniest details pop. There's something a little Rapunzel-esque about this tattoo I enjoy.
8. Bright Romantic Back Piece With Intricate Details
I can't get over the color and fine detail in this back tattoo. The way femininity and masculinity are represented in color and texture. The small details really make this piece. The butterfly, flowers, honeycomb, and feathers give it life.
9. Ornamental Full Back Tattoo With Egyptian Hieroglyphics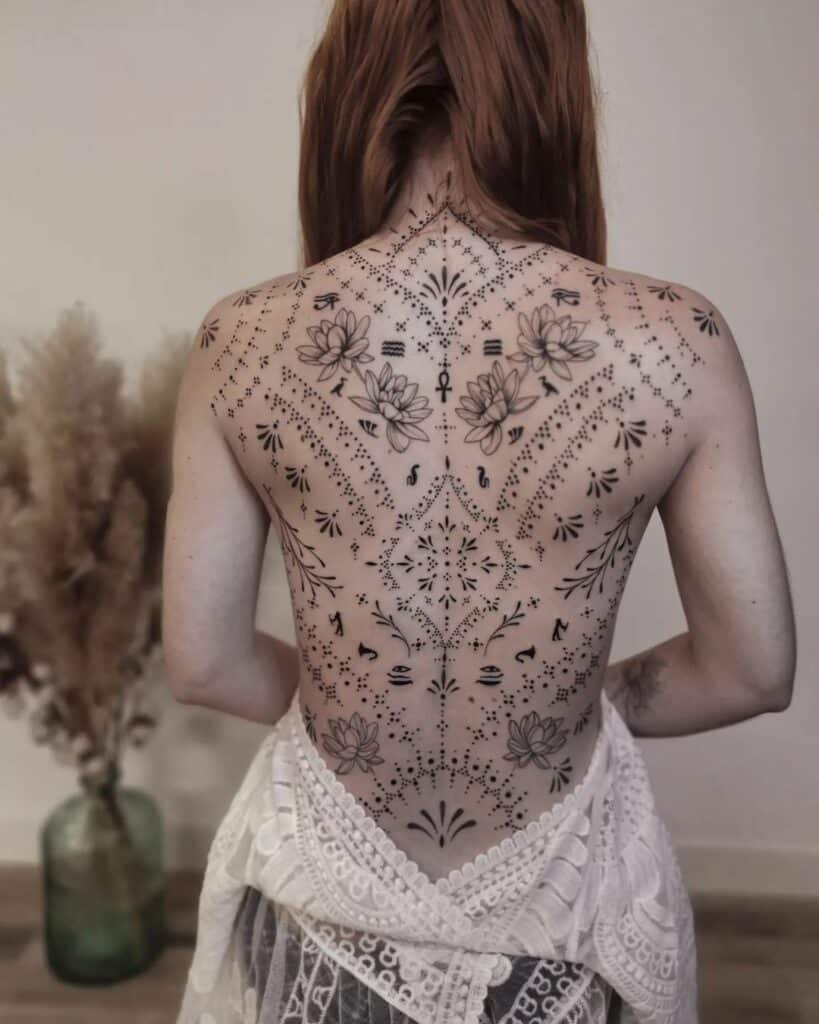 Ornamental tattoos are popular this year, and this back piece takes it to the next level. Pointillism and symmetrical design come together with Egyptian hieroglyphics to create something new. #pictureperfect
10. Artemis and Deer Tattoo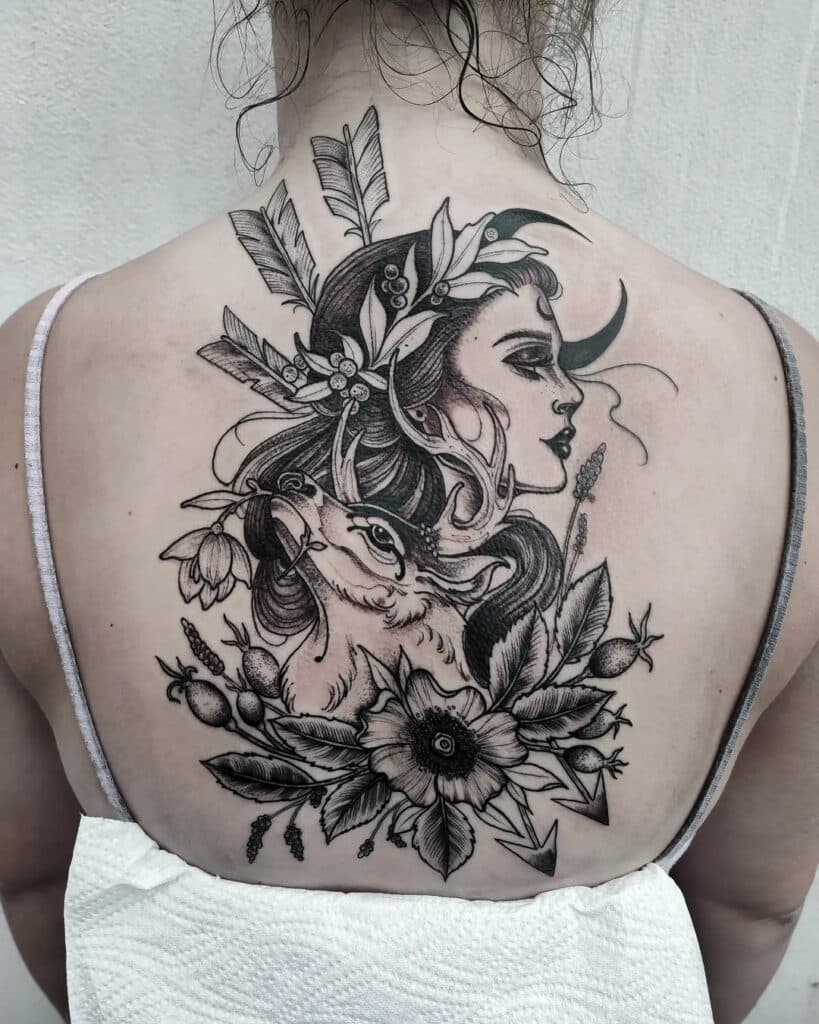 Artemis is the Greek goddess of the hunt. Her power also extended to childbirth, chastity, and animals. This wild and whimsical tattoo captures the power of womanhood. It would look amazing with Viking braids.
11. Mystical Nine-Tailed Fox Tattoo
In Japanese lore, foxes are thought to be shapeshifters. Their level of power and intellect is reflected in how many tails they have. This nine-tailed fox and lotus tattoo reflects the growing power of womanhood. The black ink is impactful.
12. Huge Detailed Mandala Back Ink
I'm not sure I've ever seen a mandala so big. They represent the evolution of the universe. This one appears to have many evolutions within itself. It's a wonderful representation of womanhood. #boldbabes
13. Foo Dog with Peony Tattoo
A foo dog is actually a guardian lion. If you've ever been to Chinatown, you've probably seen these statues guarding the entrance. They symbolize prosperity. I love how the red peonies soften the look of this bold tattoo.
14. Traditional Lotus and Tigers
I love the symmetry in these dueling tigers with a long lotus blooming between them. This tattoo seems to capture both the soft and hard sides of womanhood.
15. Lotus Fox Mandala Back Tattoo
This powerful fox and lotus tattoo takes the form of a mandala. The arrows create a menacing effect. Even the flower petals have a hard edge to them. This tattoo means business.
SEE ALSO: 80 Gorgeous Spine Tattoos for Women
16. Abstract Wing Design Tattoo
It's only a matter of time before you come across wings in a back tattoo collection. These abstract wings are so well done. They leave a lot to the imagination and achieve their look through minimalism.
17. Symmetrical Floral Tattoos With Diamond Center
Speaking of wing tattoos, these floral patterns remind me a lot of wings. I love the bold jewel tone colors in this design. The center diamond breaks up the repeated pattern and adds something special to the look.
18. Ornamental Fan Tattoo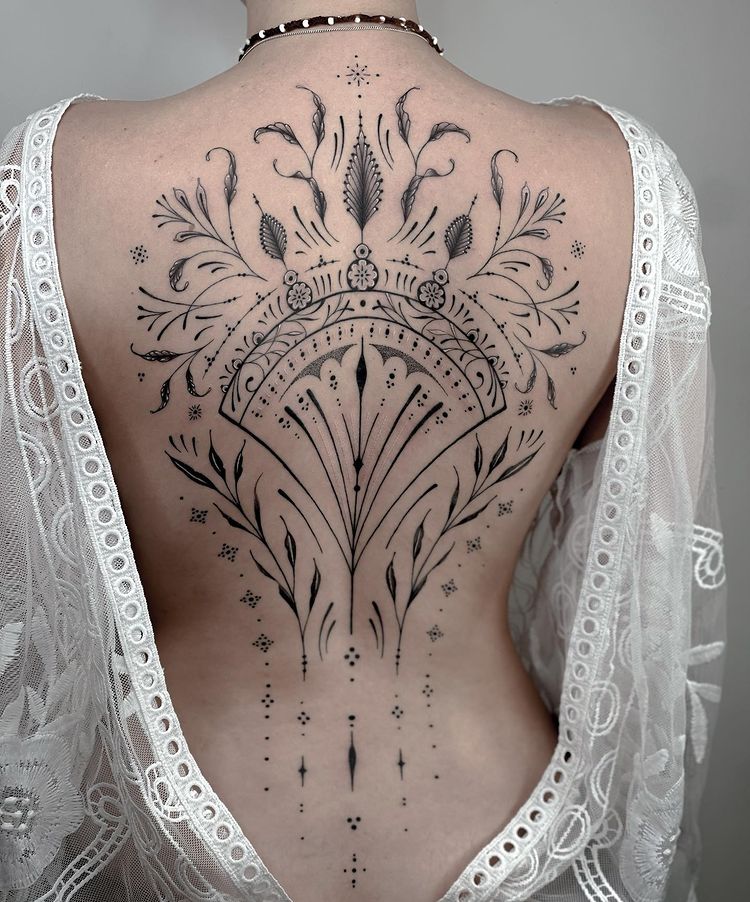 This ornamental tattoo creates a beautiful fan design. I adore the exquisite fine details in the botanical elements. Pointillism and fine line work bring this design full circle.
19. Snake and Flowers Back Tat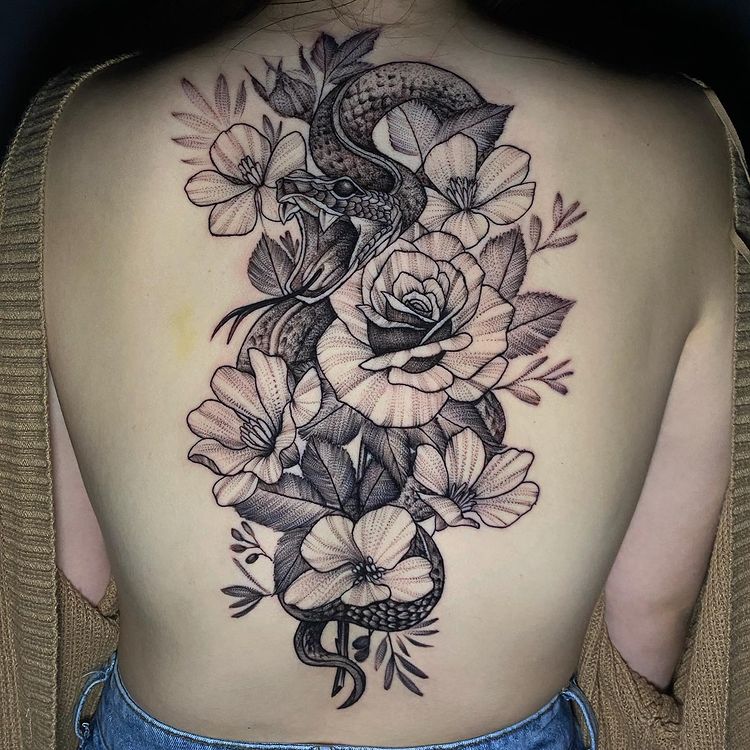 Snakes often represent transformation. There are so many transformations throughout womanhood. Weaving this snake through a bouquet of blossoms only enhances the feminine energy it offers.
20. Simple Botanical Spine Tattoo
I love the botanical tattoo trend. This simple but beautiful fern tattoo spans from the nape to the lower back. I like that the artist has it growing down instead of up.
21. Black and White Blossoms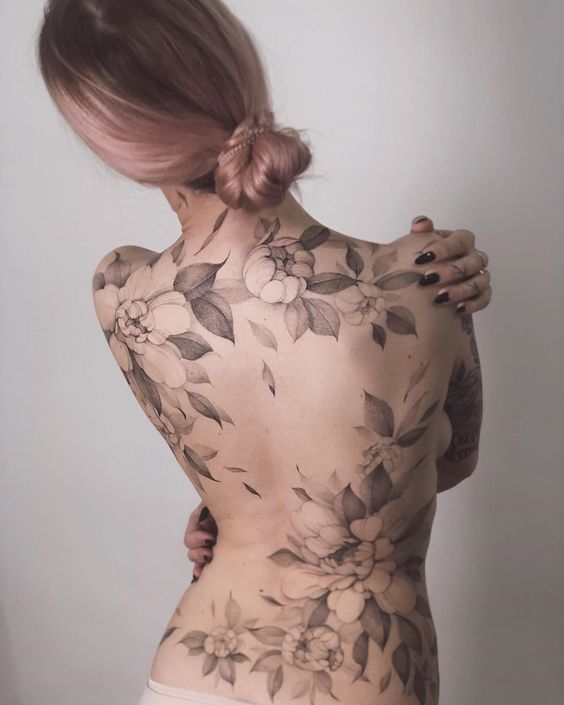 This back piece is simply lovely. The full-back of blossoms is artful and feminine. I love the subtle details and shading on the leaves. #boldandbeautiful
Summary and Top Picks
Full-back tattoos are bold, powerful, and meaningful. It takes bravery and commitment to cover such a large portion of skin with ink. I think the secret to a solid backpiece is choosing something with deep-rooted meaning.
All of these detailed pieces are amazing, but my favorites are:
#1 Stunning Abstract Faces and Nature-Inspired Designs: Abstract and minimalist. This tattoo says so much with so little. A wonderful representation of femininity and our role in the universe. 
#13 Foo Dog With Peony Tattoo: A foo dog, also known as the Chinese lion guardian, represents prosperity. I love the red peonies in this artful design. 
#20 Simple Botanical Spine Tattoo: I love nature-inspired tats. This fern back tattoo is botanical and beautiful. I like that the artist kept it black and white. 
Full-back tattoos are a big undertaking. Many designs take multiple sessions to complete. I love the bold designs trending this year. Are you brave enough to take on a full backpiece? If so, what design would you choose? Comment below!