A white skirt is a closet staple that will add a chic and sophisticated look to your outfit of the day. Whether you decide to rock a white mini skirt or one with a high-low midi hemline, you're guaranteed to look flawless.
White skirts can be worn with pretty much any fashion piece, from your favorite white sneakers with a blush pink crop top to an oversized black sweatshirt and black lace-up boots.
If you prioritize comfort and a classy appearance then a white skirt is a must-have for you, and I've got all the inspiration you need down below. I've compiled the go-to list for cute outfits with white skirts. Let's jump right in.
SEE ALSO: 21 Cute Outfits with a Camo Skirt
1. Cute Pink Ribbed, Long-Sleeved Blouse and Stylish White Sneakers with a Flirty White Pleated Mini Skirt
Steal The Look

An easy way to show off your girly, outgoing side is to style a white mini skirt with a cozy, pink ribbed, long-sleeved top and stylish white sneakers.
This white skirt has a flirty pleated design and ends mid-thigh, perfect for springtime. Buy this skirt at Pink Lily.
2. Lilac Ribbed Tank Top and Classy White Heels with a Beautiful White Floral Print Maxi Skirt
Steal The Look

This white pleated maxi skirt is so beautiful. Its pink and green floral print sets the mood for an intimate setting. This lovely piece was complemented by a ribbed tank top in a sweet lilac shade.
Classy white heels were worn to elevate the outfit and place the skirt's sweeping hemline on greater display. Buy this skirt at Lulus.
3. White Crop Tank, White Sneakers and Ruched Crisscross Self-Tie Mini Skirt
Steal The Look

It was love at first when I saw this white skirt. You could wear this skirt to a party with a pair of white sneakers. Buy this skirt at SHEIN.
4. Cute White Ruffled-Strap Crop Top and Nude Heels with a Girly White Ruffled-Wrap Skirt
Steal The Look

A white skirt has the ability to enhance your entire outfit while helping you to look natural at the same time.
This white ruffled-wrap mini skirt was simply styled with a matching white ruffled-strap crop top and cute nude heels, accessorized by a nude purse and layered necklace.
With cute pieces like these, getting dolled up will be a walk in the park. Buy this skirt at Pink Lily.
5. Fringe Hem Tweed Skirt, Gray Blouse and White Braided Double Strap Heels
Steal The Look

Mix and match a gray blouse and cute A-line ivory tweed mini skirt for a flirty OOTD that has a hint of edge.
Don't hold back; take this already fabulous look up a notch with white braided double strap heels and bold jewelry. Buy this skirt at Pink Lily.
6. Alluring White, Sheer-Sleeved Crop Top with a White Frilled-Hemline Skirt
Steal The Look

Getting ready for a night to remember? One of the most flattering ways to style a white mini skirt is with an alluring crop top that boasts a plunging neckline.
Both pieces together make for an irresistible combo. The skirt's frilled hemline is classy, creating a nice balance with the flirty vibe of this sheer-sleeved top.
A pair of cute pink or baby blue heels would definitely accentuate this look. Buy this skirt at ASOS.
7. Stylish White, Puff Sleeve Crop Top and Classy White Heels with an Elegant White Crochet, Lace Ruffle Skirt
Steal The Look

This look truly captures the feminine aura that a white skirt carries. Styled with a matching puff sleeve crop top, a crochet lace design is the primary detail that holds your attention.
This elegant piece also features a flared ruffle hemline. Timeless white heels uphold this outfit's refined and angelic appearance. Buy this skirt at Lulus.
8. Feminine, Swan White, Tie Front Blouse and Dainty Brown Heels with a Breezy, Swan White, High-Waisted Midi Skirt
Steal The Look

A breezy white skirt that's comfortable and classy is one of those closet treasures that you just never let go of.
With a swan white tie front blouse and dainty brown heels this fab feminine look can be worn out to dinner, to a resort or even an esteemed function. Buy this skirt at Express.
9. Girly Pink, Puff-Sleeved Blouse and Stylish Nude Platform Sandals with a Modest, White Button-Down Midi Skirt
Steal The Look

This outfit has such a carefree vibe and reminds me of brunch on a relaxing Sunday, all thanks to the feminine and modest elements that are on display.
A puff-sleeved crop top that's flaunting a sweetheart neckline, decorated with cute, white daisy details, along with a flowy, white button-down midi skirt and nude platform sandals.
I'd definitely include a nude straw handbag to fit this look. Buy this skirt at ASOS.
10. Cute, Fuzzy Fur, Swan White Sweater Crop Top and Stylish Knee-High Black Boots with a Chic Fuzzy Fur Swan White Sweater Skirt
Steal The Look

This look is ultra-chic yet still simple. A fuzzy fur, swan white sweater pencil skirt is styled with a matching cute crop top and knee-high black boots.
A slight center slit adds a flirty appeal. I'd complete this look with a black or tan trench coat to make it extra cozy and transform into a stylish outfit option for the office. Buy this skirt at Express.
11. Cute White Top and Nude Heels with an Elegant, White Embroidery Ruffle Hem Skirt
Steal The Look

Make an elegant entrance in a stunning white boho-chic midi skirt with an embroidery ruffle hemline. Style this beautiful piece with a cute white top and nude heels for a sweet daytime look. Buy this skirt at SHEIN.
12. Comfy White Sweater Blouse and Classy White Heels with a Professional, White High-Waisted Sweater Pencil Skirt
Steal The Look

This all-white style combo is sophisticated and easy to style with a comfy, long-sleeved blouse, high-waisted pencil skirt, and classy heels that are fit for the office, an important function, or dinner date.
You can have fun with this look by including a nude coat or a red one for a pop of color. Buy this skirt at Express.
13. Cow Print Top, and White Boots with a Cute Hem Zip Fly Skirt
Steal The Look

Create a modern and classy white-skirt look by including a simple cropped cow print tank top with white boots to finish the job. Buy this skirt at SHEIN.
14. Simple Black Tank Top and Stylish Strappy, Black Platform Shoes with a White Wrap Midi Skirt
Steal The Look

For a stylish, laid-back feel, pair a casual white wrap midi skirt with a simple black tank top and strappy, black platform heels. It's the perfect look to allow your accessories to stand out. Buy this skirt at ASOS.
15. Cute, Gold Satin Tie Front Blouse and Strappy White Heels with a Flirty White Mini Skirt
Steal The Look

This cute gold, tie front blouse, and white mini skirt styled with strappy white heels make for a classy, party outfit.
A white bralette is worn underneath this stylish satin top as the skirt features a sparkling chain detail and tie closure at the waist. Buy this skirt at ASOS.
16. White Twist Front Top and Elegant White Heels with a High-Waisted White Frilled Layered Hem Skirt
Steal The Look

Looking for fashion inspiration for the upcoming summer season? A high-waisted, white frilled layered hem skirt will look amazing with a dressy blue top tucked inside.
Style this look with white high heels to add to the elegant aura. Buy this skirt at SHEIN.
17. Chic White Crop Tee and White Sneakers with a White Mesh Skirt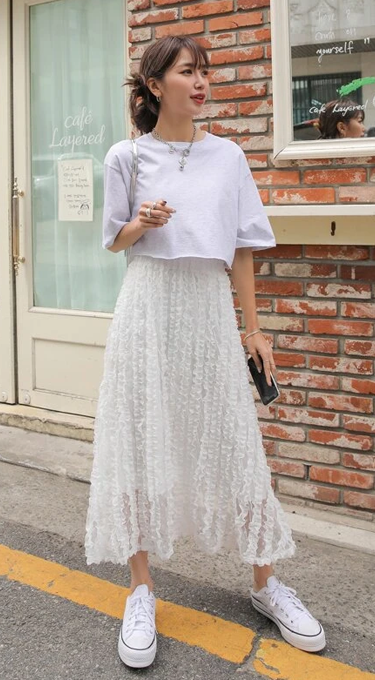 Steal The Look

Channel your inner supermodel with a runway-worthy OOTD. A white mesh skirt, matched with a chic white crop tee, serving a pristine aesthetic.
Finish this look with white sneakers. Buy this skirt at SHEIN.
18. Snug Green Sweater Blouse and Casual White Sneakers with a Cute White Denim Mini Skirt
Steal The Look

When you just want to kick back and relax, slip on a snug sweater blouse with a white denim mini skirt and white sneakers. This cute green top adds a warm hue to the outfit, so even though it's casual, it's still stylish. Buy this skirt at ASOS.
19. Elegant Tan Bell-Sleeved Blouse and Cream, Open-Back Heels with a Breezy White Pleated, Knee-Length Skirt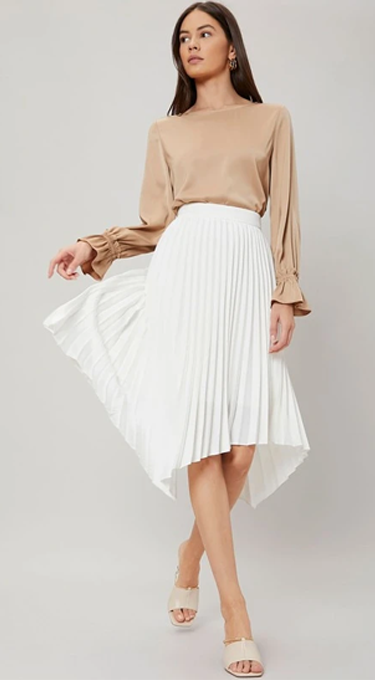 Steal The Look

The elegance of this tan bell sleeve blouse is my favorite thing about this look. It reminds me so much of the poised nature of early Hollywood actresses.
With a fully covered square neckline that exudes modesty, it's tucked into a breezy, white pleated skirt with cream open-back heels. Buy this skirt at SHEIN.
20. Adorable Peach, Puff Sleeve Crop Top and Stylish Nude Wedges with a White Broderie Mini Skirt
Steal The Look

Look the part for a fun outing with your closest friends in a playful white high-waisted broderie mini skirt and an adorable peach puff sleeve crop top with a lapel and butterfly hem design.
Style with nude wedges for a youthful and stylish finish. Buy this skirt at ASOS.
21. Black Top and Cute Clear Heels with a White Pleated Skirt
Steal The Look

Illuminate the room when you walk in, in a black top paired with a flowy white pleated skirt and fabulous clear heels. You'll look simply stunning. Buy this skirt at SHEIN.
22. Cozy White Cardigan, Cute White Cropped Tank Top, and Strappy White Sandals with a Girly White Floral Ruffle Mini Skirt
Steal The Look

A white cropped tank top paired with a high-waisted white floral ruffle mini skirt with strappy white sandals is an easy to style outfit that will have you looking super cute in a few minutes.
Wear with or without a cozy cardigan for variation. Buy this skirt at ASOS.
23. Cute White Tie Front Top and Classy Gold Heels with Girly White, Puff Ball Polka Dot Skirt
Steal The Look

Here's another Spring/Summer ready look to feast your eyes upon. Tie front tops are in style because they are easily among the cutest and most versatile fashion pieces ever.
Style one in white with a puff ball white skirt with gold polka dots. Opt for gold heels for added femininity. Buy this skirt at ASOS.
Summary and Top Picks
Now you see just how valuable a white skirt truly is. I mean, the versatility is top-notch and the styles, as we've seen throughout this list, are beautiful.
I've had my eyes set on outfits 1, 12, and 19 most of all because of the feminine, sophisticated designs and adorable details. White really does look great with everything.
I'd love to know what you think. Did this compilation open your eyes to the possibilities that exist when styling a white skirt? Which outfits stood out the most? Share your thoughts and any question you'd like to ask down below.