Have you been feeling brown nails lately? I sure have! Brown is such a sophisticated, versatile color, and I've been amazed at how well it works with literally any other hue. 
As we head into fall, brown nails have been popping up everywhere. The warm, earthy tone it has can't be duplicated by any other color, making brown the king when it comes to autumn fashion.
So, as you get your wardrobe ready for the season, you'll definitely be needing some stylish nails to go with your daily outfits. In this round-up, I'll be highlighting the best brown nail designs for fall! 
Get ready to be blown away by combinations of monochrome, ombre, marble, french tips, abstract swirls, and so much more. Let's begin!
1. Glossy Dark Brown Coffin Nails
These brown nails are so rich in pigment that they pop right out at you. I'm living for the glossy finish as well. It makes this look oh so classy! Buy these nails at Etsy.
2. Brown and White Swirl Almond Nails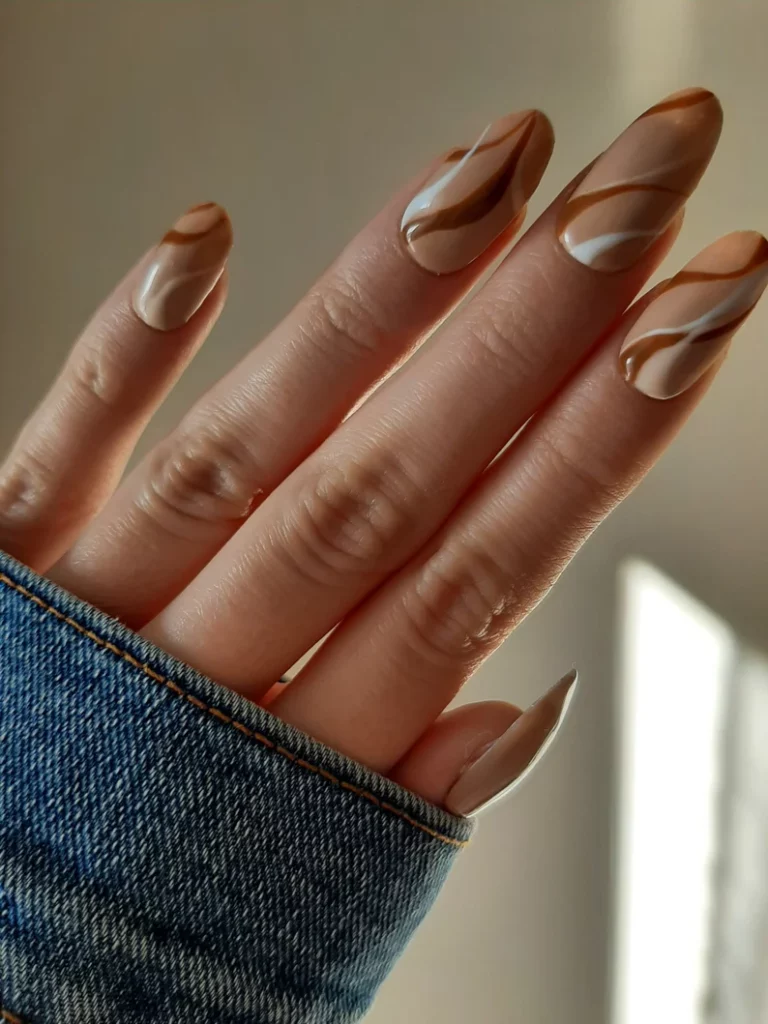 I love the combination of brown and white swirls to give these nails a flattering contrast. Designed over a nude base, the overall look is simply stylish. Buy these nails at Etsy.
3. Glossy Deep Brown Coffin Nails
The deeper the brown, the more mature the look will be. Dark brown nails make you feel in control and add to your professional flair. Buy these nails at Etsy.
4. Dark Brown and Nude Coffin Nails With Swirls
Thick brown swirls over a nude base are the recipe for a trendy design. I love simple nails that double as stylish. Sometimes you don't want to do too much but still want to look fab. Buy these nails at Etsy.
5. Glossy Cocoa Brown Coffin Nails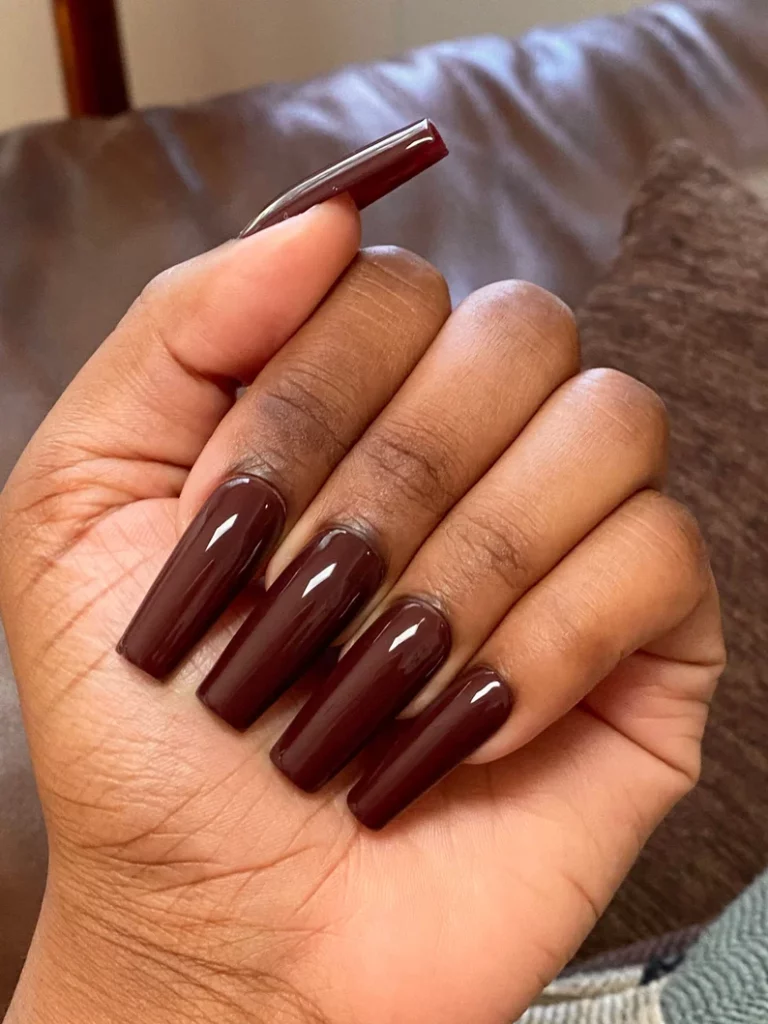 It's the cocoa brown shade for me! It's one thing to have dark brown nails, but when the pigment is so vibrant, matched with a glossy finish, the look gets full marks! Buy these nails at Etsy.
6. Brown and Gold Negative Space Gradient Almond Nails
Brown nails with a negative space design have always been a favorite but I love this look even more because it's a gradient theme and the metallic gold outline makes it even more gorgeous. Buy these nails at Etsy.
SEE ALSO: 21 Classy Brown and Gold Nail Design Ideas
7. Glossy Brown Gradient Coffin Nails
Here's another gorgeous gradient design for you to feast your eyes upon. The color scheme transitions from nude to deep brown, and the level of sophistication is everything! Buy these nails at Etsy.
8. Brown Zebra Print French Almond Nails
Combining trendy designs is getting more popular as the days go by. For this look, french nails are paired with a zebra stripe print, and the mood is chic with a girly touch. Buy these nails at Etsy.
SEE ALSO: 21 Amazing Brown Almond Nail Designs You Need to See
9. Chocolate Brown French Almond Nails
If a full-on classic vibe is what you desire, rock all your nails in a french tip design, coated in brown for a naturally poised look. Buy these nails at Etsy. 
10. Brown and White Marble Stiletto Nails With Gold Glitter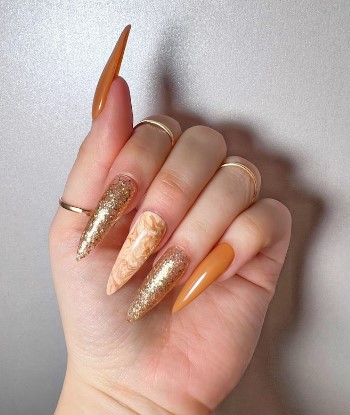 The marble effect looks amazing with any color—brown is no exception. Paint over a white base, so the brown lacquer will pop. Add gold glitter to amp things up. Buy these nails at Etsy.
11. Brown Looping Heart French Coffin Nails
Brown nails can be romantic too. With a few looping heart designs painted in shades of brown, you'll have yourself a chic and flirty set of nails for fall. Buy these nails at Etsy.
12. Brown Abstract Swirl French Coffin Nails
Who said you can't get creative with brown nail polish? That couldn't be farther from the truth. These abstract swirls, painted over long nude coffin nails, say otherwise. Buy these nails at Etsy.
13. Short Brown Marble Swirl Nails
This is such a pretty design. Brown lacquer styled into marble swirls is a showstopping look! Painted over short nude nails? Everything is perfect. Buy these nails at Etsy.
14. Multi-Shade Brown Line Art Nails
How about some cute line art? You can make your nails really stylish by pairing different shades of brown together to create a diverse manicure. Buy these nails at Etsy.
15. Brown Marble Coffin Nails With Gold Flakes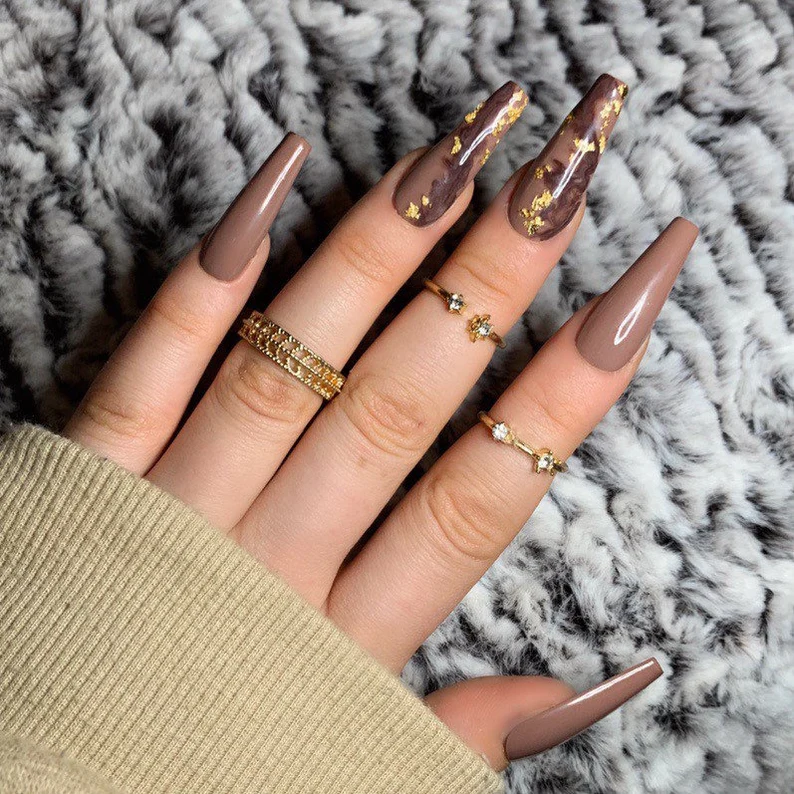 Now, this is a super pretty shade of brown with a texture so smooth you won't be able to take your eyes off your nails. To dress them up, a deeper shade of brown was used to create a marble effect with gold flakes to make them glisten. Buy these nails at Etsy.
16. Matte and Glossy Monochrome Brown French Almond Nails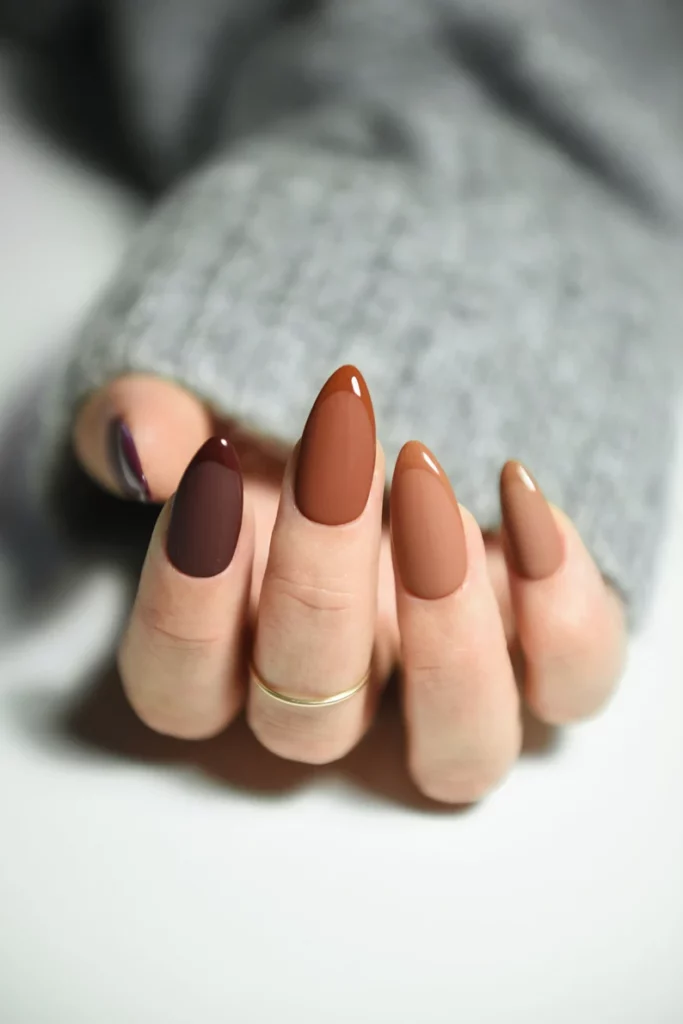 I'll forever be a fan of monochrome brown nails, even more so in a chic french nail design like this one. I also love the transition from a matte to a glossy finish. These nails are the definition of style and class. Buy these nails at Etsy.
17. Light Brown Almond Nails With White Swirls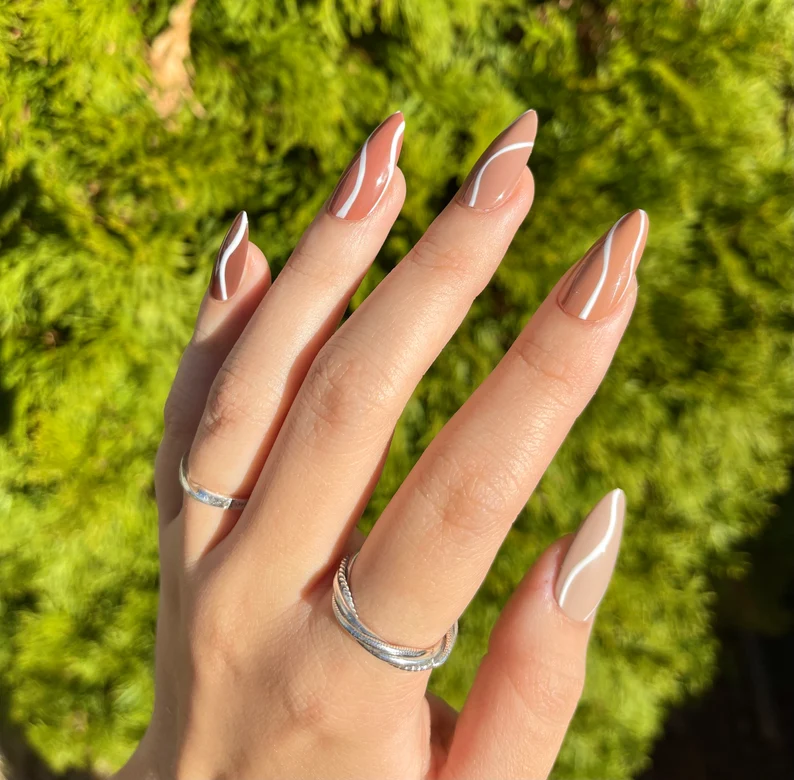 White swirls over brown nails are heavenly. Opt for a light shade of brown, too, to make the combination perfect for springtime, just as it is for fall. Buy these nails at Etsy.
18. Light Brown French Coffin Nails
When a simple and chic look is your goal, light brown french nails are sure to be a hit! The shade of these nails makes them suitable for any season but will definitely give a lighter touch to your fall outfits. Buy these nails at Etsy.
19. Brown Gradient French Round Nails
Feeling the vibes for french tips? Rock each tip in a different shade of brown, from dark to caramel and light brown, completing the look with white on the pinky finger. Buy these nails at Etsy.
20. Brown Leopard Print French Square Nails
This has got to be the chicest set of brown leopard print nails ever. I love the clean-cut french tip design, and the square nail shape really accentuates the sophisticated flair. Buy these nails at Etsy.
21. Light Brown Leopard Print Round Nails
For a leopard print design that's more cutesy and low-key, I'm definitely feeling this one. The spots are painted in light shades of brown over a nude base with a matte finish that brings it all together. Buy these nails at Etsy.
22. Dark Brown French Almond Nails With Line Art
When we talk about cute abstract line art, this is what we mean. It's amazing how the placement and curves of these brown lines amp up these nails so well, creating a modern and chic design. Buy these nails at Etsy.
23. Cinnamon Brown Almond Nails
These cinnamon brown nails look as sweet as they sound. If you're looking for an all-brown nail design that's simple yet cute, this is it! Buy these nails at Etsy.
24. Dark Brown Negative Space Square Nails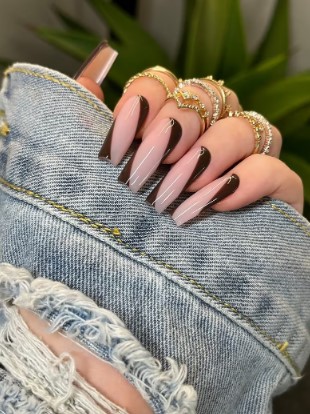 Incorporating negative space into your nail design is a cool way to set your look apart. Paint thick strokes of brown at the top and tip of each nail for a bold finish. Buy these nails at Etsy.
25. Brown and Black Leopard Print French Coffin Nails
Amp up your leopard print nails by opting for french tips painted in black. The striking contrast gives this look an edgy vibe. Buy these nails at Shein.
26. Brown Gradient Croc Print Deep French Coffin Nails
Leopard print will always be in style but gaining in popularity are croc print nails. Rocking a deep french tip design, coat your nail in shades of brown, completing the gradient look with white. Buy these nails at Etsy.
27. Brown, Black, and White Swirl Coffin Nails
If you want to spruce up your white nails but not with a color that's too loud, shades of brown will definitely add the flair you're going for. Coupled with black, brown swirls are painted over select nails, and it's enough to give this look the chic touch it needs. Buy these nails at Etsy.
28. Sparkling Brown Almond Nails With Leaf Art
Autumn is all about warm, deep tones, but that doesn't mean you can't brighten things up by pairing a leaf design with your brown nails. Add some sparkle to the finished look with glitter nail polish. Buy these nails at Etsy.
29. Brown and White Cow Print Coffin Nails
We've seen leopard and croc print, but this round-up wouldn't be complete without cow print nails. Paint some nails in brown and the rest in cow spots for a trendy and diverse look. Buy these nails at Etsy.
30. Brown Almond Nails With Silver Lines
Give your brown nails an electrifying look with silver abstract line art. Each line has a metallic finish that makes this look glow. It's creative with a youthful touch. Buy these nails at Shein.
31. Brown and White Reverse French Coffin Nails With Criss-Cross Lines and Checkered Print
This look combines several designs to create a trendy set—criss-cross line art and checkered print painted in brown and white to complement reverse french nails in the same colors. Buy these nails at Shein.
32. Brown Croc Print French Coffin Nails With Rhinestones
In comes the glam brown nail design! Studded with triangular-shaped rhinestones and enhanced by croc print and french tips, this look is beyond gorgeous.
33. Light Brown French Nails With Daisies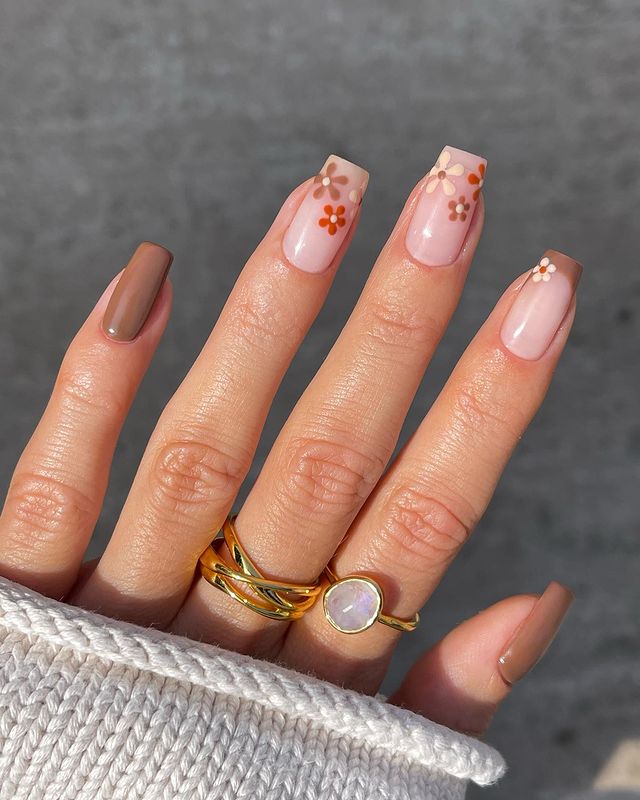 Flowers make any nail design super cute, especially daisies! Pop a few daisies on to jazz up your light brown nails. Paint them in shades of cream, orange and brown too, to brighten things up.
34. Chrome Brown Almond Nails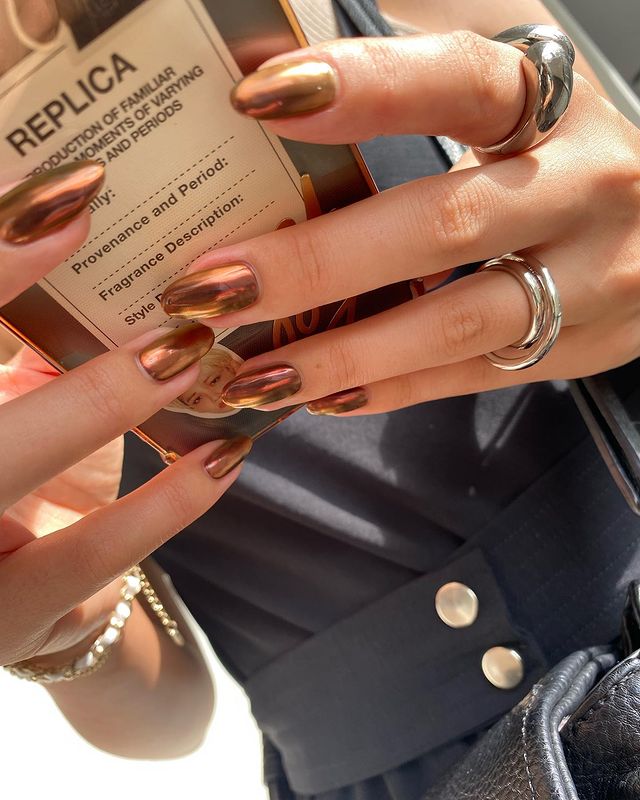 That chrome finish is blinding in the most beautiful way! If you want your brown nails to look out of this world stunning and keep all eyes on you, then a metallic brown lacquer is all you need.
35. Brown Picasso Marble French Square Nails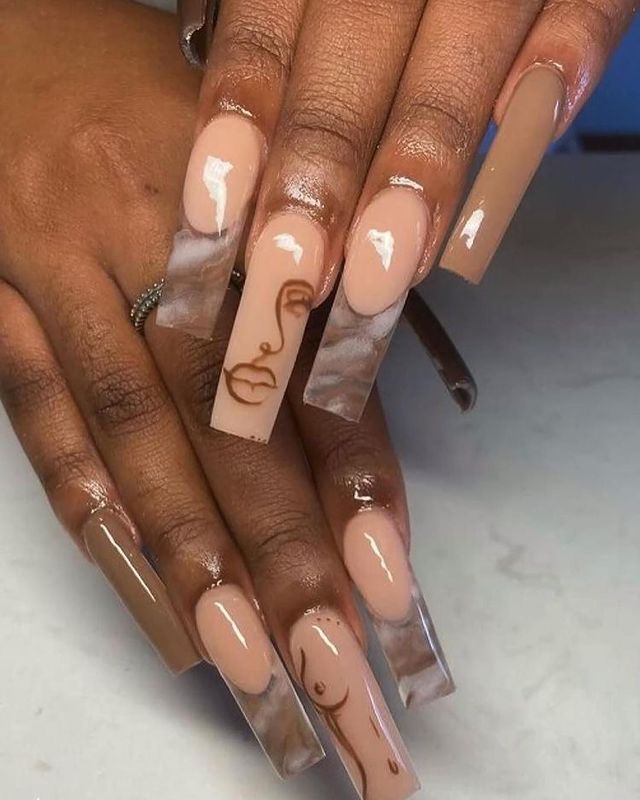 Get your Picasso on with an artistic face and body design painted on your nails. I promise you, it will be the highlight of the entire look, but it won't hurt to add some classy marble french nails in the mix.
36. Brown French Almond Nails With Hearts and Sequins
Brown french almond nails with hearts, a checkered print design, leaves, and sequins? What more could a girl ask for?
37. Glossy Brown Almond Nails With Leaves
It's the high sheen finish for me! That glossy top coat is taking these brown nails to another level, and I love how those cute leaf designs bring this look back down to earth.
38. Brown Marble Swirl Deep French Coffin Nails
The marble effect has become so popular that it's now a part of everyday nail designs. Make it a part of yours, fashioned into a brown-themed manicure with french tips for a classy touch.
39. Cocoa Brown Almond Nails With Silver Swirls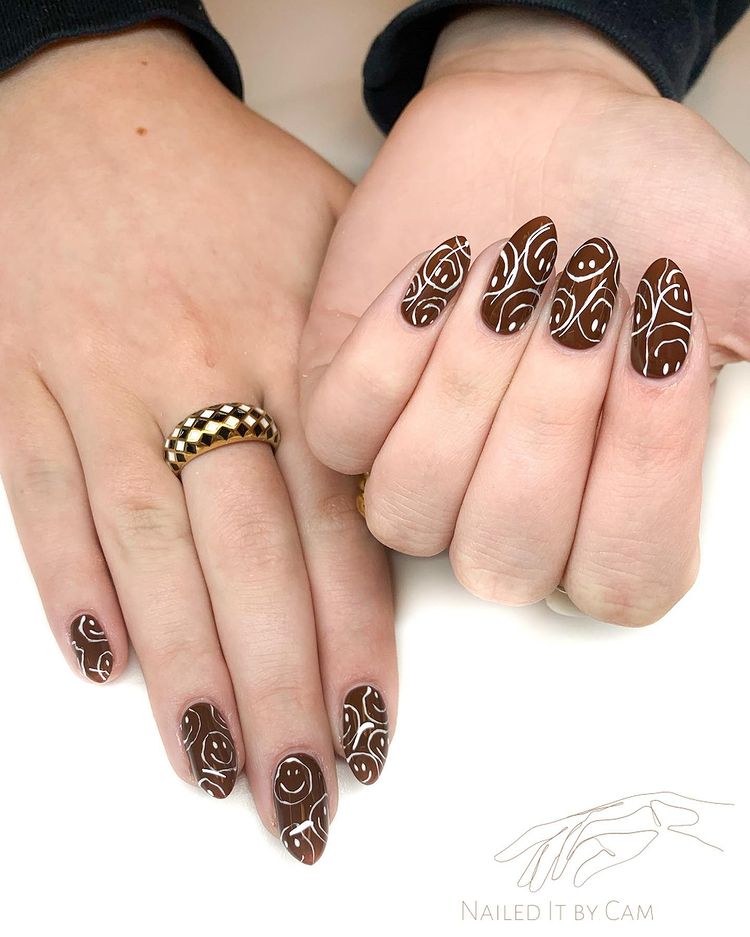 I'm loving everything about this look—the cocoa brown color, the winding metallic silver swirls, everything. It all comes together as a creative and ultra-classy design.
40. Brown Coffin Nails With Gold Foil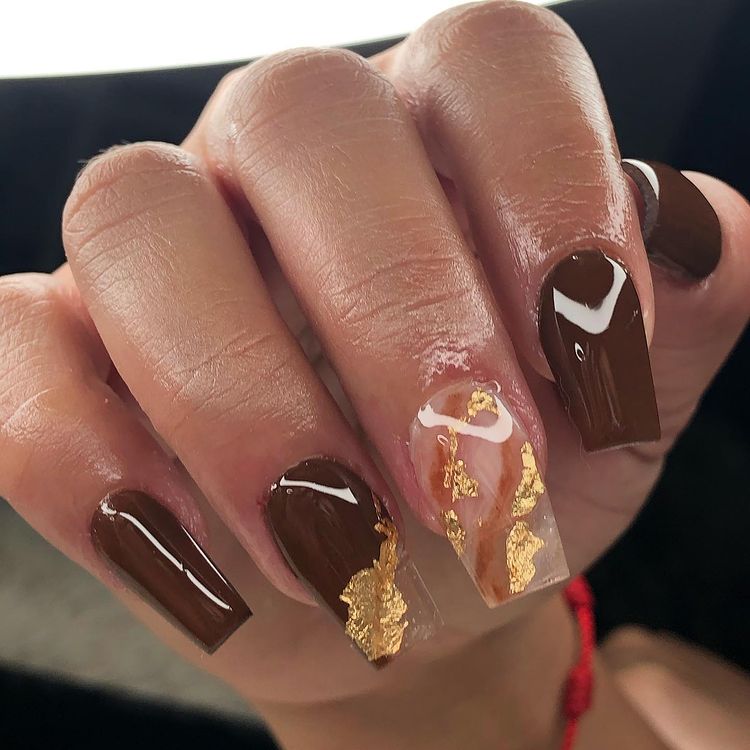 I know what I want, and brown nails embellished with gold flakes are it! The middle finger is given a different look from the rest, with light brown swirls and gold foil dressing up a translucent nail.
41. Brown Marble French Square Nails With Gold Glitter
You'll find tons of brown nail looks for fall that include glitter. It's one of the easiest and most beautiful ways to enhance color. Most times, gold glitter will be used, as seen in this look. Gold and brown make a stunning combo and mirror the theme of fall perfectly.
42. Brown French Coffin Nails With Glitter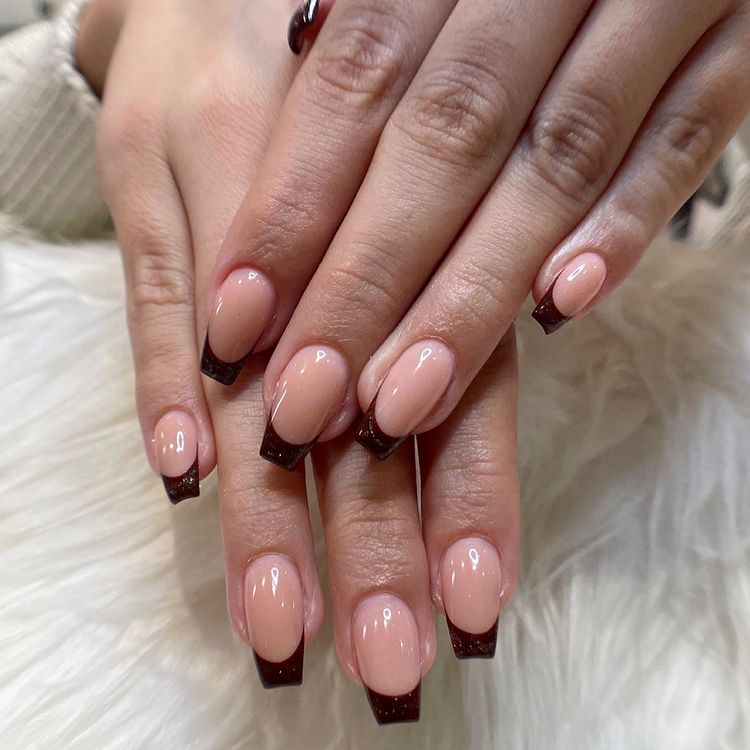 It's the small specks of glitter that make these brown french tips so captivating. Such a classy set with such simple details.
43. Brown and Nude French Square Nails
Here's a more sophisticated take on brown french nails. The perfect thin line at the tip of the middle finger and the spots of brown on the pinky both add so much personality and modern flavor to this design.
44. Brown and Nude Gradient Coffin Nails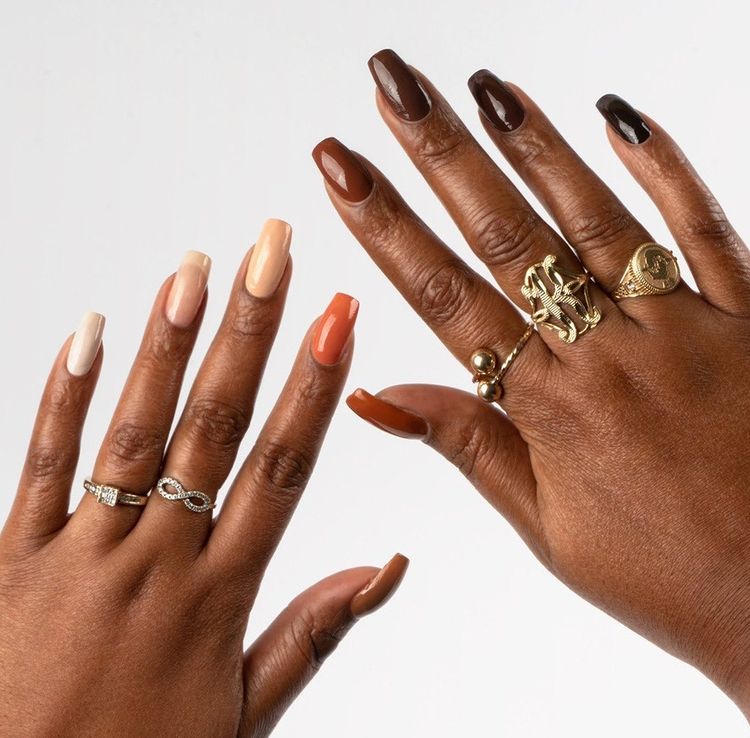 Nude on one hand, brown on the other—this look is a masterpiece. What's so great about it is how simple it really is. It's a gradient design of the lightest to darkest shades of nude and brown, and the whole look is just flawless.
45. Brown Coffin Nails With Rose Gold Glitter
A classy look is never hard to come by when you pair brown nails with glitter. The nude pink rose gold sparkle transforms this look from one of mere simplicity to evening wear-ready.
46. Short Mocha Brown Angled French Almond Nails
There's so much confidence emanating from this look. Could it be the effortless and chic angled french tip design? It could very well be the mocha brown hue. I say it's all of the above.
47. Short Light Brown and Pastel Pink Nails
For adorable nails, pair light brown with pastel pink but don't stop there. Add texture with a white marble design and sparkling silver lines at the tip of each brown nail.
48. Brown and Black French Rim Stiletto Nails
For the girl who loves to make an entrance, you should definitely get these fly brown stiletto nails. What makes them so amazing? They're each lined with black, creating a sleek french rim design.
49. Mocha Brown French Almond Nails With White Swirls
Let's do mocha brown french nails with white swirls on top. It's femininity and simplicity all in one trendy look.
50. Multi-Shade Brown Negative Space Coffin Nails
It's abstract, and it's gorgeous. All the reasons you need to rock this look. Patches of light and dark brown are the stars of this design, with a touch of white bringing some color contrast.
51. Matte and Glossy Dark Brown French Coffin Nails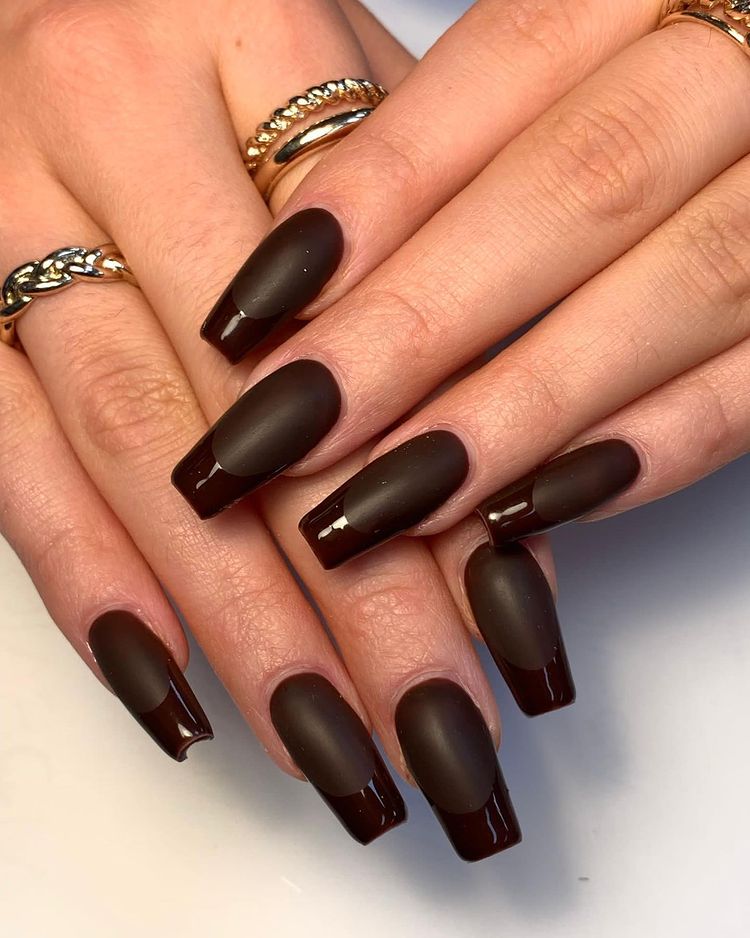 The moment I see a matte to glossy nail design, I instantly fall in love. Moreover, it's a deep brown look which makes it flattering all the more.
52. Brown Sweater Coffin Nails With Gold Glitter
What better way to rock a cozy sweater design than with brown nails? The warm undertone fits the vibe perfectly, and the glitter-embellished pinky adds a fun feel that makes this look party-ready.
53. Brown Ombre French Stiletto Nails With White Swirls
I'm all for posh nail designs and brown ombre stiletto nails decorated with white swirls.
54. Brown French Almond Nails With White Hearts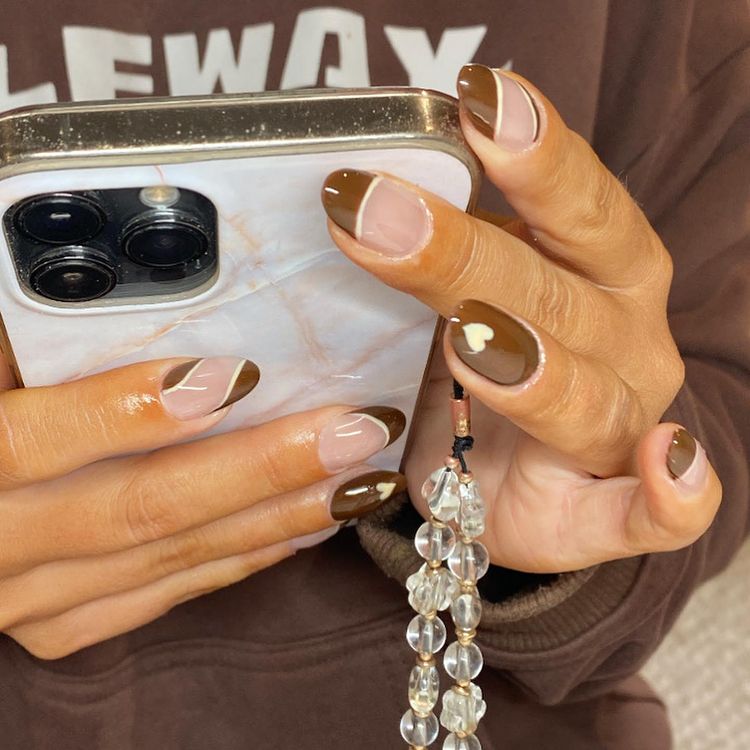 We're accustomed to french nails and how classy they are, but you can still add some pizzazz in your own little way. For this look, hearts are adding that cute touch, painted in white on the ring fingers.
55. Brown Ombre French Coffin Nails With Glitter and Butterflies
Add some butterfly decals to your nails to bring them to life and enhance the theme of autumn. Complete the design with glitter and enjoy a super cute, soft, glam look.
56. Brown, Off White, and Gold Coffin Nails With Sequins
Look stunning in a set of brown and off-white nails embellished with gold glitter all over your ring and middle fingers. I also love the colored sequins added to each nail. They complete this glamorous look perfectly.
57. Light Brown Coffin Nails With Flowers
I love that as opposed to a white base, these floral designs were placed over light pink nails. Paired with brown nails, the entire look is fresh, girly, and classy too.
58. Brown Freestyle Double French Nails
Looking for a nail design that has it all? This set features some of the hottest trends; sweater art, plaid print, glitter, and double french tips to top it all off.
59. Brown French Coffin Nails With White Polka Dots
Polka dots are still as fashionable as ever. Painted over brown french nails from small to large, these dots bring a trendy vibe to a classic look.
60. Brown French V-Tips With Swirls and Glitter
I just love how smooth and stylish this look is. The colors work so well together, which is why it's a great idea to go for multiple shades to get the brown nail design you want.
61. Brown and White Swirl Coffin Nails
Brown swirls over white nails are the bold look we all need. Plus, it's effortlessly classy, which is a given when your base is white, and you've overlayed it with a chic neutral-like brown.
62. Brown Sweater Coffin Nails
I'm definitely feeling this look, not just for fall but winter too. It's all thanks to the nifty sweater nail design. It instantly gets me in the mood for Christmas.
63. Brown and White Abstract Almond Nails
Brown and white strikes again, and I'm all for the abstract design. It certainly helps that this set features almond nails which is one of the classiest nail shapes ever.
64. Chocolate Brown Marble Coffin Nails
What I love about marble nails is they are easy to achieve and never fail to look irresistibly classy. Painted in brown over a nude base, this look reminds me of chocolate swirls.
65. Light Brown French Almond Nails With Dots
Now, this look is what you call fall fabulous! It's more than just the french tip design that stands out but what makes this look so chic are those cute dots painted at the crown of each nail.
Summary and Top Picks
I've fallen deeper in love with brown nails, and I hope you have too because as we enter fall, these are the designs that are leading the way. Brown is a neutral shade, so it's no wonder it's this versatile. 
Its warm undertone is my favorite part, but there are a few other qualities I've come to admire. These qualities are evident in my favorite designs from this compilation:
#34 Chrome Brown Almond Nails: I'm still hung up on the metallic glow this look has. It gets me in the mood for a fun and fashionable fall season.
#42  Brown French Coffin Nails With Glitter: It's the effortless elegance of this look that stands out for me. The specks of glitter are few, but they do so much for this design.
#46 Short Mocha Brown Angled French Almond Nails: French nails are classy but angled french nails are ultra-chic, and that's what I love about this look.
What about you? Which of these brown nail designs blew you away? Let me know in the comments below!