Leg tattoos have been popular for a long time. Lately, back-of-thigh tattoos are especially trendy. There's something alluring about back thigh tattoos. They're edgy and a little provocative.
Designing a tattoo on the back of your thigh is tricky. There are placement and size factors to consider. I'm a fan of tattoos that follow the natural shape of the thigh to accentuate curves and enhance visibility.
If you're like me, choosing a tattoo is easier with visual inspiration. Here's a collection of my top picks for back-of-the-thigh ink.
1. Delicate Floral Tattoos
Under the bum, tattoos add a little sass to any shorts. This delicate floral tattoo is a perfect accompaniment to denim cutoffs. I love the chic farmer vibe they give.
2. Ornamental Dotwork Mandalas
These beautiful mandalas perfectly trace the curve of her thigh. It creates a fitted look I adore. There's something beautiful in the asymmetrical approach to these mandalas. While each is symmetrical in itself, they're two different designs. 
3. Cameos and Stocking Lines
Garters and stockings are lingerie staples. The long vertical lines on the backs of her thighs resemble stocking seams. The cameos are a lovely accent, playing up the cabaret vibe with a pin-up girl and flowers. 
4. For the Cat Lover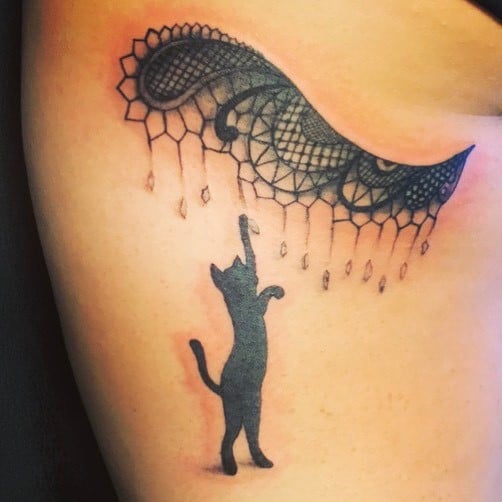 Who doesn't love a playful little kitten? This one is batting innocently at the fringe on what appears to be a lace garter. It's silly and sassy at the same time. Nobody here but us kittens. 
5. Fine Line Dreamcatcher and Dragonfly
Dreamcatchers protect us from bad dreams, while dragonflies represent change and self-realization. This tattoo provides insightful designs with lotus and lily blossoms for a soft feminine touch. Simply stunning. 
6. Neotraditional Frog and Poppies
Poppies are some of my favorite flowers to see inked in color. The bright red enhances this eye-catching design. I like the use of a frog over other popular animals in this design. Frogs often represent physical strength. #strongwomen
7. Butterfly Transformation With Floral Finish
Butterflies are a classic tattoo choice, even when it's going on the back of a thigh. They represent transformation and change, which is precisely what this one is doing. The floral element softens the look of the stark black lines on the wing.
8. Black Lace Bow on Thigh Back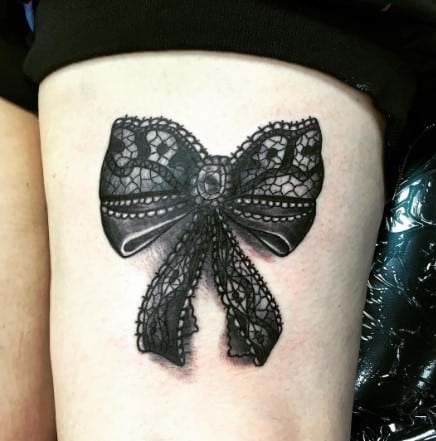 Another homage to lacy lingerie. This sweet little bow with a bejeweled center is striking in black and gray. The fine detail and shading on the lace stand out against the back of her thigh. 
9. Matching Back of Thigh Flowers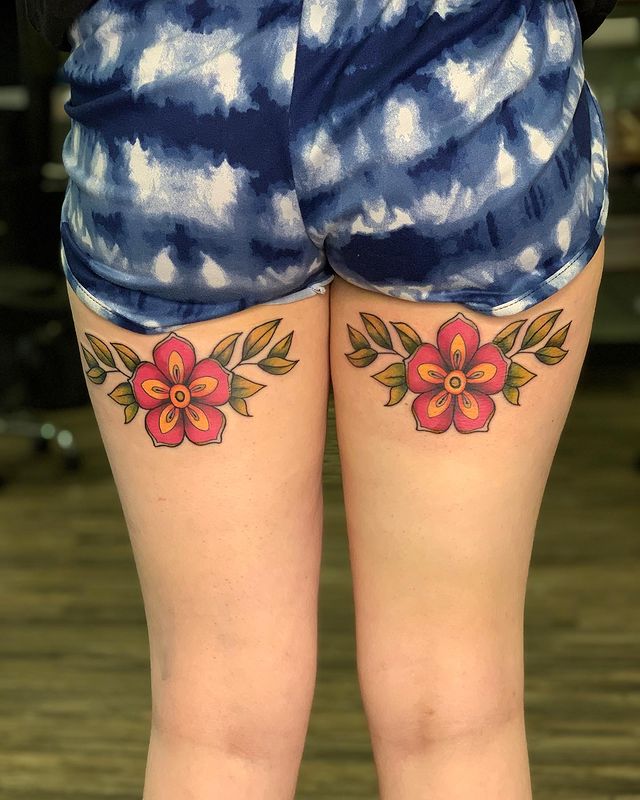 Love, love, love! These magenta and yellow flowers in neotraditional tattoo style really pop. I'm head over heels for the color choice and placement. This design draws the eye but maintains an element of innocence.
10. Realistic Pet Tattoo
Memorializing a beloved pet for all time in ink is a commitment. This back-of-the-thigh tattoo is adorable. A realistic fluffy feline framed by decorative vines. 
11. Traditional Style Portrait Tattoos
These vintage-inspired pieces tell the story of a couple of lovers. "Perfectly imperfect" is exactly how all the best love stories begin. I love the botanical element of leaves framing the two portraits. 
12. Sands of Time Tattoo With Stippling
Stippling uses dots to create shading. This gorgeous hourglass tattoo is the perfect place for dot work. There's something mystical about this design. The mandala framework is beautifully done. 
13. Flowers in a Heart Stencil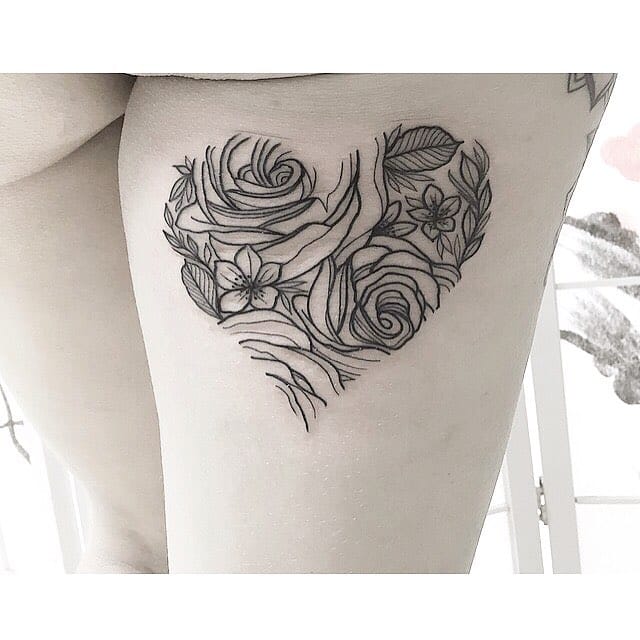 Flowers and hearts are both popular tattoo options. This heart tattoo with floral filling brings these elements together. The big blooming roses fill the heart frame and give this design a romantic feel. 
14. "We're All Mad Here" Alice Tattoo
"Alice in Wonderland" tells the story of a young girl in a magical and confusing world. Sounds a lot like everyday life, minus the Cheshire cat and talking caterpillar. The detail in this piece is exceptional. 
15. Geometric Roses Times Two
Geometric shapes are huge in tattoos right now. These matching diamonds with arrow accents are a great representation of their appeal. I love how the artist chose to fill the designs with roses. So classic and timeless.
16. Moth in Flight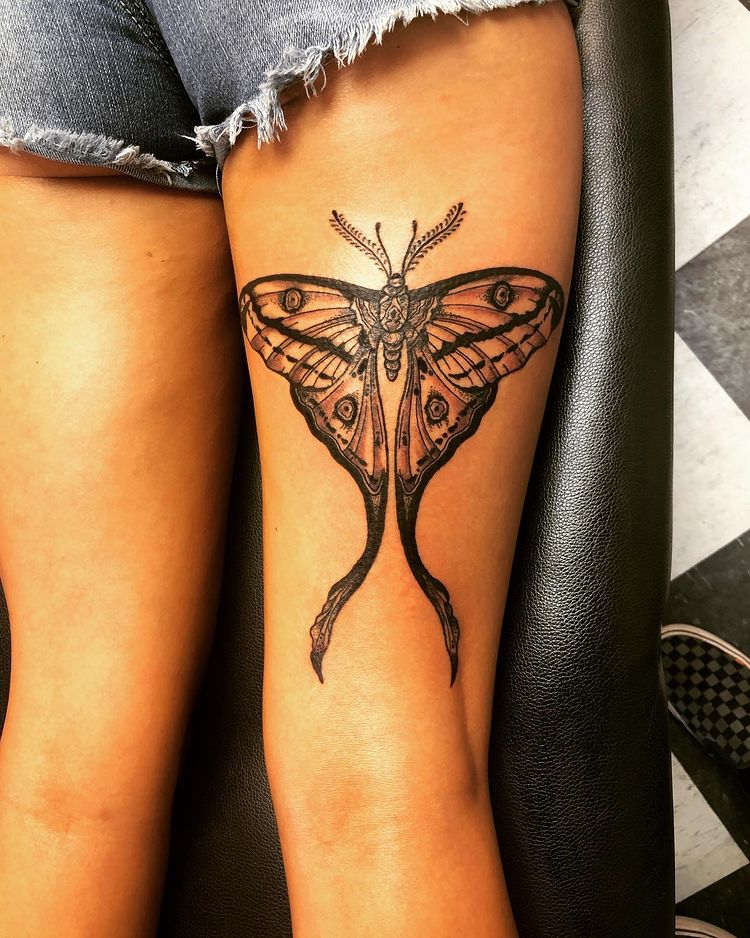 Moths are mysterious. They're like little nocturnal butterflies that love the light. This long flowy moth looks ethereal, taking flight on the back of her thigh. The elongated wing tips give it an otherworldly look. 
17. A Snake Among Flowers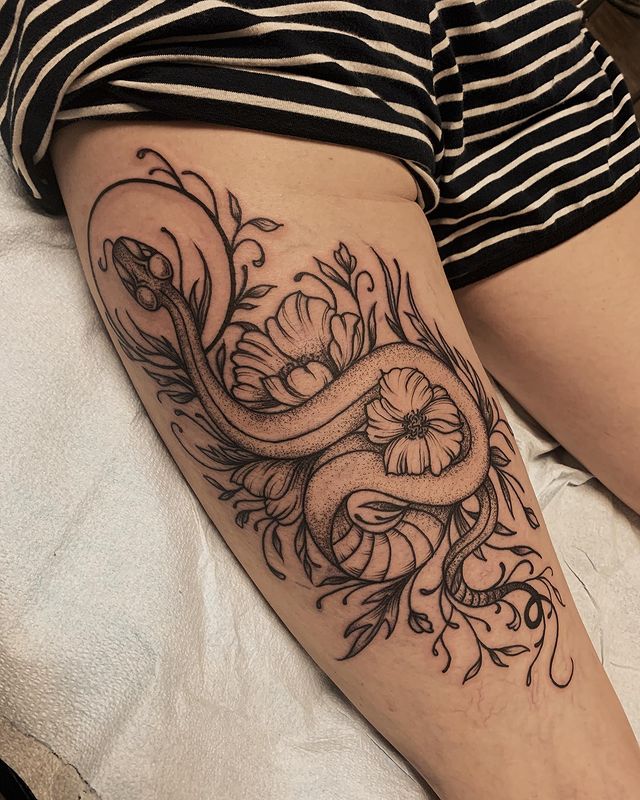 Snakes represent renewal. They're cunning and powerful but go unnoticed, slithering through grass and flowers. The stippling in this piece creates a delicate and natural glow to the design. I love it. 
18. Wolf and Lion Tattoos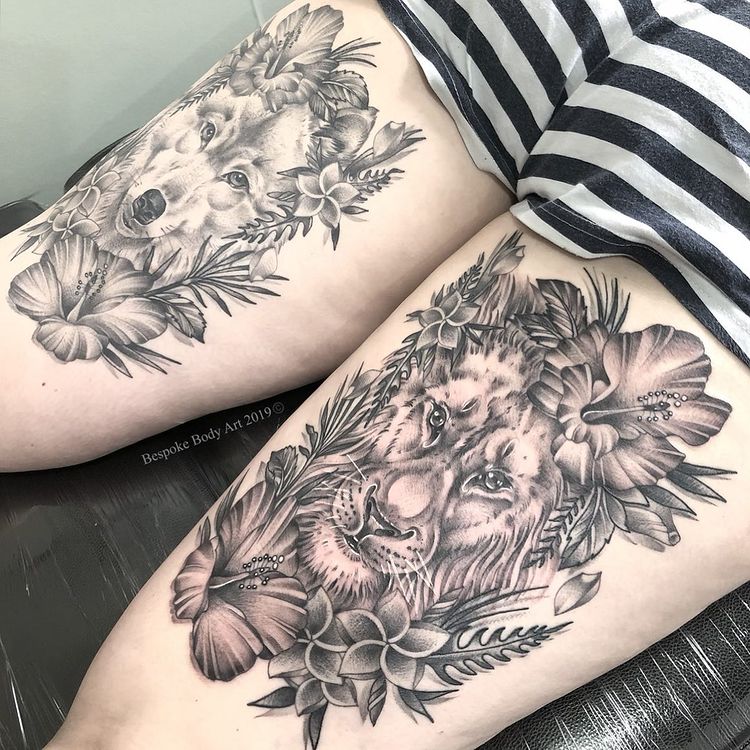 Wolves and lions are strong predators. They both represent strength and loyalty. I can tell by looking at these tattoos that the woman who chose them is fierce. The tropical flowers provide a much-needed touch of feminine warmth. 
19. Wordy Thigh Tattoo
Word tattoos are common on the thighs. I love seeing wordy tats because it tells me what thought went into the design. This back-of-the-thigh quip is short and sweet: "Wild." Me too, girl, me too. 
20. Delicate Jewel Ornamental Tatoo
The blue gemstone in this tattoo really stands out against the black lace. I'm obsessed with the highlights on the beading. It gives them an opulent iridescent glow.
21. Black Work With Linework Tattoo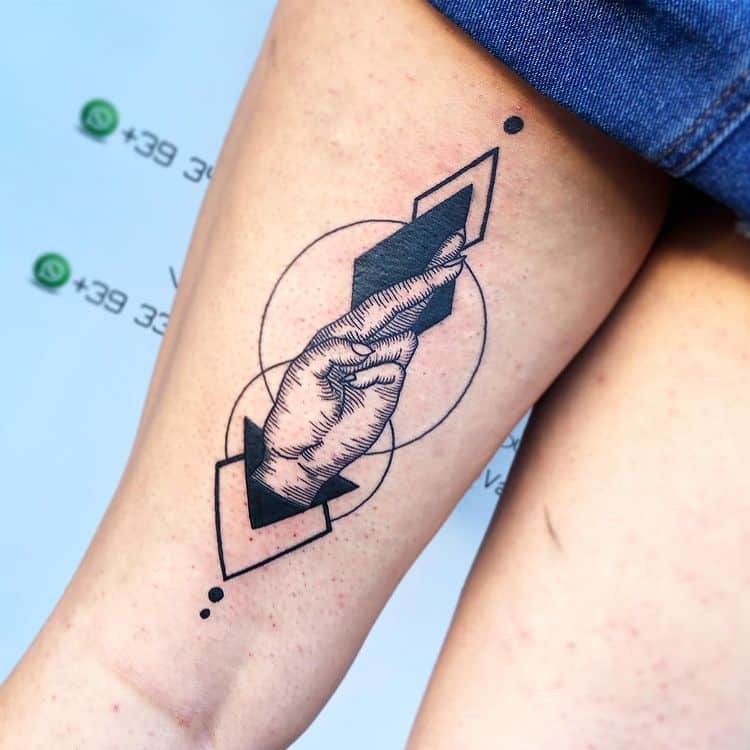 We cross our fingers for luck, but we also cross them when we're lying. This tattoo carries many meanings. I really love the full black geometric shapes in this piece. It's a bold move to use so much black. It suits the delicate linework.
22. The Sun and The Moon on Thighs
The sun is thought to have masculine energy, the moon feminine. Bringing them together creates the perfect balance. Each of us has a little of each energy. I like the way these tattoos appear suspended amidst decorative gems.
23. Late 1990s Flash Back Tattoo
What millennial didn't love the 1997 sassy animated comedy, "Daria"? I love seeing tattoos like this. They take me back to my youth. A little dash of nostalgia and a whole lot of colored ink, and you've got two conversation pieces.
24. Mooney Moth With All-Seeing Eye
Another moth, but a very different design. This moth is all about embellishments. An all-seeing eye rests on its head, coinciding with moon phases stretched across its wings. 
25. Owl Dreamcatcher Tattoo
Owls are a lovely addition to a dreamcatcher tattoo. They represent wisdom and hope, while the dreamcatcher stands for protection. Sometimes we protect ourselves by being smart and hopeful. 
26. Giant Black and Gray Flowers With Butterfly in Color
Tattoos like this always have me thinking about the deeper meaning. Why is the only color in the butterfly? Perhaps because they represent change and metamorphosis. I love the big, bold flowers in this piece. 
27. Moon Child Script Tattoo
A moon child is someone born in the Cancer zodiac sign. The sign of Cancer is ruled by the moon, hence the name. I love that this tattoo references both the zodiac and a love for all things lunar. 
28. Popular Culture Thigh Tattoos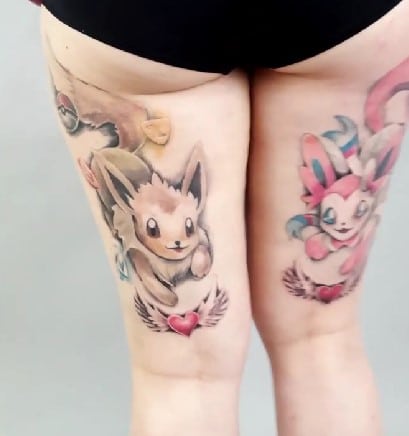 I'm not even a big Pokemon fan, but I love the soft anime look of these pokemon thigh tattoos. The pastel colors and lack of harsh outlines give them a whimsical look. 
29. Meaningful Collage of Femininity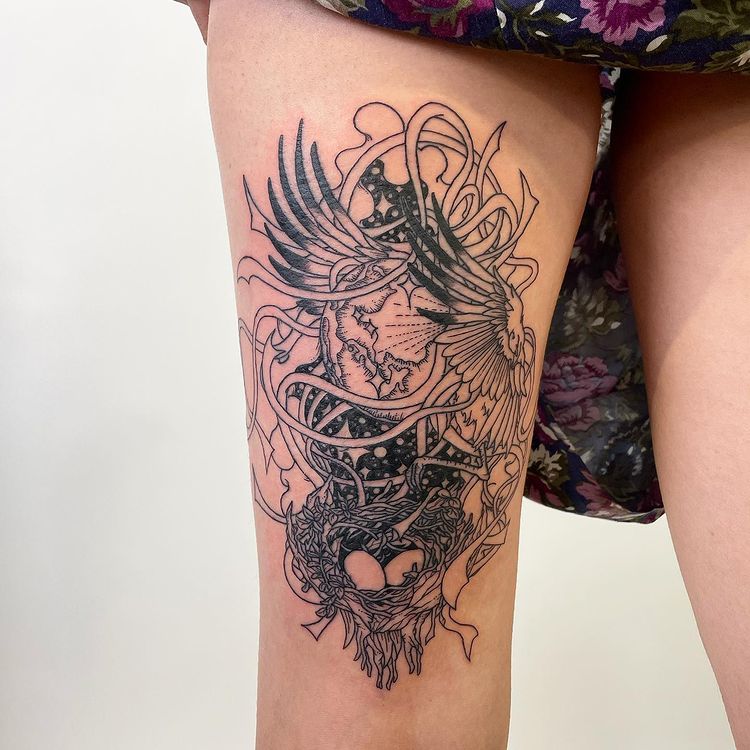 Wings circling the world and a nest with small eggs an homage to fertility. If you look closely at this piece, you can see the night sky with twinkling stars. The whole thing is tied together with wild loopy ribbons. 
30. Blue Flowers and Octopus Tattoo
I've been seeing more octopus tattoos lately, and I have to admit, I love them. Octopuses are thought to be magical and extremely smart. This beautiful little guy stands out among bright blue peonies. 
31. Stunning Colorful Roses
Roses stand for love, so I'm not surprised I love this rose tattoo so much. The orange, burgundy, and red colors complement each other. Using white instead of black creates a real highlight on the petals. 
32. Adorable Piglet in a Pile of Flowers
There are so many meanings for pig tattoos. This one looks like a cross between beauty and luck. There's a knowing twinkle in its eye, and the full moon behind it tells me there's something magical going on here.
33. Long Dangling Mandalas
These tattoos are a combination of mandala and lingerie. The decorative dangling jewels and lace give it a garter-like appearance. In contrast, the giant lotus blossoms play up the mystical healing element.
Summary and Top Picks
Back-of-the-thigh ink makes perfect peek-a-boo tattoos. You can hide them away or show them off in your favorite high-waisted shorts. I hope some of my favorite designs have given you plenty to think about for your next tattoo.
While I love all the tattoos I talked about above, these are my top three:
#3 Cameos and Stocking Lines: The back of the thigh is the perfect place for a lingerie-inspired tattoo. I love the way these long lines resemble stocking seams. 
#16 Moth in Flight: Moth tattoos are super trendy. This ethereal design has otherworldly vibes about it I love. 
#31 Stunning Colorful Roses: I've seen many rose tattoos, but this cluster of orange, red, and burgundy is a winning combination. 
I adore tattoos that catch the eye and get people talking. After checking out these back-of-thigh designs, which one do you think is the most captivating? Comment and let me know!